Live coverage of this event has concluded.
The lineup of national teams that will compete in the World Cup's knockout round added Argentina, Australia, France and Poland on Wednesday.
Sixteen teams, including the United States, will play for a chance to make it to the tournament's quarterfinals.
Although Mexico and Tunisia bested their opponents Wednesday in their final round of group play, they failed to advance and are headed home.
What happened at the World Cup on Wednesday
Tunisia topped France, 1-0, and Australia bested Denmark, 1-0.
Tunisia's win wasn't enough to get the team to the knockout rounds: France and Australia move on.
Argentina topped Poland, 2-0, and both teams qualify for the round of 16.
Mexico bested Saudi Arabia, 2-1, but won't advance to the next round.
Mexico's coach says his contract is up; team failed to advance
Mexico's coach is out of the job after the team failed to advance out of its group for the first time since 1978.
The team beat Saudi Arabia on Wednesday 2-1, but it wasn't enough to advance after Argentina bested Poland 2-0 in a match played simultaneously.
"I must say that I assume all the responsibility for this massive failure," Mexico coach Garardo "Tata" Martino said.
Martino had been roundly criticized for the lack of scoring and for other choices including his decision to leave all-time leading scorer Javier "Chicharito" Hernandez off the team.
After the match, Martino said his contract with the Mexico had ended with the final whistle.
For much of the second half of the final Group C matches, Mexico was winning 2-0 and Poland trailed Argentina, 2-0. Those scores meant El Tri was tied with Poland in the live standings — equal in points, goal differential and goals scored. But Poland was ahead thanks to little-used tiebreaker of having drawn fewer yellow cards than Mexico.
Those wild series of factors forced Mexico into a frantic final push for one more goal, but the aggressive play exposed El Tri to a counter-attack that Saudi Arabia seized for a goal in the dying moments of stoppage time, sealing Mexico's fate.
"We needed one more goal. I didn't know exactly what happened at the end," said veteran Mexico goalkeeper Guillermo Ochoa. "For us, the object was to score three or four goals. It's a shame."
Ochoa wasn't ready to say if he'd still be with the team in 2026 when Mexico, the United States and Canada will host the World Cup.
"Tonight I'm sad so I have to think about that. But maybe that could happen," he said.
History making all-female officiating crew set to take pitch
French referee Stéphanie Frappart will become the first woman to take charge of a men's World Cup game when she handles Germany vs. Costa Rica on Thursday in Qatar.
FIFA also picked two women as assistants to Frappart — Neuza Back of Brazil and Mexico's Karen Diaz Medina — to complete an all-female refereeing team on the field.
A fourth woman match official FIFA picked for this World Cup, Kathryn Nesbitt of the United States, will also be working at the Al Bayt Stadium as the offside specialist in the video review team.
Two other women, Salima Mukansanga of Rwanda and Yoshimi Yamashita of Japan, are also on the FIFA list to referee games in Qatar.
FIFA made the historic appointments for the 44th of the 64 games being played in Qatar.
Frappart previously was picked for fourth official duties.
The 38-year-old Frenchwoman has been promoted in the men's game by European soccer body UEFA and in her home country.
She was refereed men's games in World Cup qualifying and the Champions League, and this year's men's French Cup final. She also took charge of the 2019 Women's World Cup final for FIFA.
Argentina and Poland advance to round of 16
Mexico defeated Saudi Arabia, 2-1, but it wasn't enough and the team was eliminated by a goal-differential tiebreaker.
For much of the second half, Mexico led 2-0 while Poland trailed Group C winner Argentina, 2-0.
Those 2-0 results would've sent Poland through on the rarely used yellow-card tiebreaker, as Mexico had drawn more of those cautions over three matches.
That created a surreal final few minutes in two stadiums as Mexico pushed for a third goal and Poland defended against a possible third score by Argentina — and all while not picking up any unnecessary yellow cards.
But the desperate Mexican push left El Tri vulnerable to counterattacks and Saudi Arabia's Salem Al Dawsari broke through late in stoppage time, giving Poland an edge in goal differential.
Argentina takes 2-0 lead over Poland
Julián Álvarez's goal in the 67th minute gave Argentina a 2-0 lead and pushed Poland to the brink of elimination.
Poland and Mexico, winning 2-0 against Saudi Arabia, are tied in live standings with four points and a net zero in goal differential.
Poland would go through, at this moment, based on yellow cards.
Any goal in the final few minutes of both of these matches would likely tilt it for either Poland or Mexico.
Mexico's goal explosion suddenly puts El Tri in contention
Mexico's Henry Martín and Luis Chávez each scored shortly after halftime, giving El Tri a 2-0 lead over Saudi Arabia and a glimmer of hope.
Argentina took a 1-0 lead over Poland to take first place in live standings and drop Poland into a tie with El Tri for second.
Poland, which entered the day on top of Group C, would take that second advancement spot via goal differential at plus-1 vs. Mexico's zero. But Mexico, which hadn't scored in its two previous games, is now just one goal behind in this tiebreaker.
Lionel Messi's penalty stopped by Polish goalkeeper
If Argentina falls short, the soccer-mad nation will never forget the 39th minute against Poland.
All-time great Lionel Messi's penalty was saved in the bottom right corner of the net by diving Polish goalkeeper Wojciech Szczesny.
It was Szczesny's second penalty save of the tournament.
Soccer reaching breakthrough U.S. moment?
While U.S. coach Gregg Berhalter is focusing on his team's round-of-16 match against mighty Netherlands, the American skipper can't help thinking about the big picture.
"I don't know the final numbers, but I'm sure there was a lot of people watching," Berhalter said about Team USA's go-ahead win Tuesday, according to the Associated Press.
"You see how resilient this group is. You see how unified this group is. You see what type of energy and output they put into every single game. And then along the way, there's some pretty good soccer. That's the American spirit, the way this group plays, and I think people will appreciate that, especially back home."
The U.S. run to the final 16 in the 2010 World Cup inspired New Jersey teenager Matt Turner to devote himself to soccer. Eight years later, Turner was between the sticks for America on soccer's biggest stage.
"This is just an unbelievable experience for me, given my story," he said. "Almost everything is a carbon copy of the feelings that I felt as a fan in 2010. And to be able to have a say in the result that gets us through to the next round is huge — it was just very emotional for a lot of reasons for me."
Pelé's daughter says no reason to be alarmed by hospital visit
SAO PAULO — Brazilian soccer great Pelé was hospitalized in Sao Paulo to regulate the medication in his fight against a colon tumor, his daughter said on Wednesday.
Kely Nascimento added that there was "no emergency" concerning her 82-year-old father's health.
Hospital Albert Einstein in Sao Paulo later added in a statement that Edson Arantes do Nascimento, globally known as Pelé, was in stable condition after arriving Tuesday "for a reevaluation of the chemotherapeutic treatment of the tumor."
The hospital also said the former footballer "has full control of his vital functions" and was not taken to intensive or semi-intensive care units for treatment.
Kely Nascimento, who lives in the United States, made the comments in an Instagram post after what she called "lots of alarm in the media today concerning my dad's health."
All teams of competitive Group C have a path forward
The 2 p.m. EST matches featuring Argentina vs. Poland and Mexico vs. Saudi Arabia feature realistic hopes for advancement for all four teams.
Group leader Poland will make the round of 16 with a victory or draw.
Lionel Messi's Argentina can move on with a victory. A draw could also help as long as Saudi Arabia doesn't win.
Saudi Arabia, with this tournament's signature upset, can advance with a win. A draw could also help as long as Argentina loses.
Mexico has the toughest road, needing to win and for Poland to beat Argentina.
Why many Iranians are happy their team lost to the U.S.
Usually, when a team gets knocked out of an international tournament like the soccer World Cup, the nation is united in grief, pride in their performance or a mixture of both. After Iran's loss to the United States on Tuesday, however, many Iranians cheered their players' failure, saying they represented the repressive theocratic regime rather than the people it violently oppresses.
On Tuesday, those criticizing the team made their voices heard: This was the Islamic Republic's loss, not Iran's. Horn-honking cars flooded the streets of Tehran and other cities, according to footage posted on social media.
Meanwhile, there were thousands of tweets in Persian, or in English from prominent Iranians, saying how happy they were their own team had fallen at the first hurdle of the competition.
"For 43 years the regime brainwashed Iranians to hate America," Masih Alinejad, a New York-based Iranian journalist and activist, tweeted. "But see how people across Iran are celebrating the victory of the U.S. soccer team against the Islamic Republic."
Read the full story here.
Pre-dawn parties erupt in Australia as Socceroos move on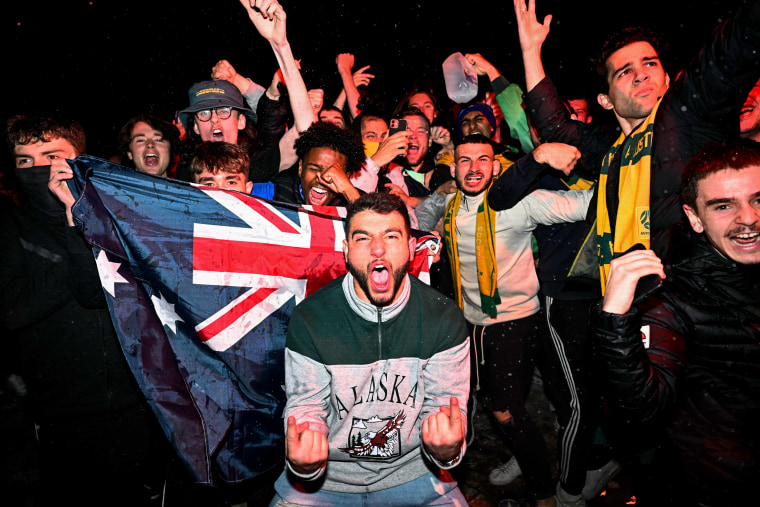 Soccer fans in Australia erupted in pre-dawn joy as the Socceroos beat Denmark, 1-0, and advanced to knockout play.
The match ended a little before 4 a.m. Thursday in much of the nation, but that early hour didn't stop thousands of Aussies from attending outdoor watch parties.
Prime Minister Anthony Albanese was awake for the early-morning action and called Australia's triumph a "magnificent win."
Qatar World Cup chief says 400 migrant workers died amid human rights concerns
More than 400 migrant workers died in Qatar in the years leading up to the World Cup, the man in charge of the body responsible for organizing the tournament has said, reigniting a debate over the treatment of those who built more than $200 billion worth of structures for the tournament.
Hassan al-Thawadi, the secretary-general of Qatar's Supreme Committee for Delivery and Legacy, told British journalist Piers Morgan on Talk TV that "the estimate is around 400, between 400 and 500."
After the interview, the Supreme Committee issued a statement appearing to contradict al-Thawadi, saying that he was referring to 414 deaths from across the whole country, not necessarily all related to the World Cup.
Read the full story here.
France and Australia advance to knockout play
Mathew Leckie's goal in the 60th minute gave Australia a 1-0 victory over Denmark, securing the Socceroos' spot in the round of 16.
Had Australia and Denmark tied, that would have opened the door for Tunisia to possibly advance if Carthage Eagles could score an upset victory over 2018 World Cup-champion France.
And that's exactly what Tunisia did, winning 1-0 thanks to 58th-minute goal by Wahbi Khazri. That score came as Australia and Denmark were scoreless, briefly putting Tunisia into second place in live standings.
France appeared to equalize in the dying moments of stoppage time but Antoine Griezmann's apparent goal was disallowed because he was ruled offside.
Tunisia and Australia take 1-0 leads in second half
In a matter of minutes, Tunisia's narrow path for advancement unexpectedly expanded but then Australia suddenly took control again in the overall standings.
Wahbi Khazri's strike in the 58th minute gave Tunisia a shocking lead against reigning-champion France.
To advance out of Group D play, Tunisia needs an upset win and then a draw between Australia and Denmark, who were scoreless at the moment of Khazri's goal.
But then Mathew Leckie scored in the 60th minute for the Socceroos, who were then put back in advancement position.
No goals, so far across Qatar
So far Wednesday, teams were coming up empty in Qatar, with scoreless matches in France vs. Tunisia and Australia vs. Denmark going into halftime.
If both Group D matches end in draws, the Socceroos would grab the second advancement spot. Here are the live standings:
1. France — 7 points (+4 goal differential)
2. Australia — 4 points (-2)
3. Denmark — 2 points (-1)
3. Tunisia — 2 points (-1)
United States will be underdogs against Netherlands
Oddsmakers listed the Americans as 2-to-1 underdogs in their round-of-16 match against the Netherlands on Saturday.
The United States needed late dramatics to beat Iran on Tuesday and finish second in Group B. Oranje won Group A with two victories and a draw.
France vs. Tunisia and Australia vs. Denmark at 10 a.m. EST
France has already secured a spot in the round of 16, while Tunisia has a narrow path forward: The team needs an upset victory over France to go with a draw in the other match.
An Australian victory locks up advancement, while a win by Denmark will likely put Danish Dynamite into knockout play.
From 2018 failure to 2022 glory: U.S. alive and well at World Cup
Christian Pulisic scored and injured himself in one glorious and painful moment on Tuesday, as the United States recorded a 1-0 victory over Iran and moved on to World Cup knockout play.
The Hershey, Pennsylvania native suffered an abdominal injury while crashing into Iranian goalkeeper Alireza Beiranvand in what turned out to be the winning play late in the first half.
Pulisic was substituted out at halftime but he says he'll be ready in time for the next match. The United States will play in the round of 16 against the Netherlands at 10 a.m. EST on Saturday in a game that'll be televised in Spanish on Telemundo and streamed on Peacock.
Making knockout play was a major achievement for the United States, which failed to qualify for the 2018 tournament in Russia.