Live coverage of this event has concluded.
Team USA's Christian Pulisic scored and injured himself in one glorious and painful moment Tuesday, as the United States recorded a 1-0 victory over Iran in its do-or-die game.
Pulisic, a Hershey, Pennsylvania, native, suffered an abdominal injury while crashing into Iranian goalkeeper Alireza Beiranvand in what turned out to be the winning play late in the first half.
Pulisic was substituted out at halftime, and his availability for America's next match was not immediately known. The team later said he had a pelvic contusion.
The United States will play in the round of 16 against the Netherlands at 10 a.m. EST on Saturday.
Making knockout play was a major achievement for the United States, which failed to qualify for the 2018 tournament in Russia.
What to know about U.S. 1-0 World Cup win vs. Iran
Christian Pulisic scored a first-half goal, the only goal in the game against Iran
The U.S. moves on to the round of 16, facing the Netherlands on Saturday
Pulisic has pelvic contusion, status is 'day-to-day,' team says
U.S. forward Christian Pulisic was diagnosed with a pelvic contusion, the men's national team said in an update Tuesday.
His status is "day-to-day," the team said in a tweet.
Pulisic was substituted out of Tuesday's match after falling into the Iranian goal moments after scoring the game-winning point.
The U.S. won the match 1-0 and advanced to the round-of-16. The team is scheduled to play the Netherlands on Saturday.
Photos: USA team and fans celebrate World Cup win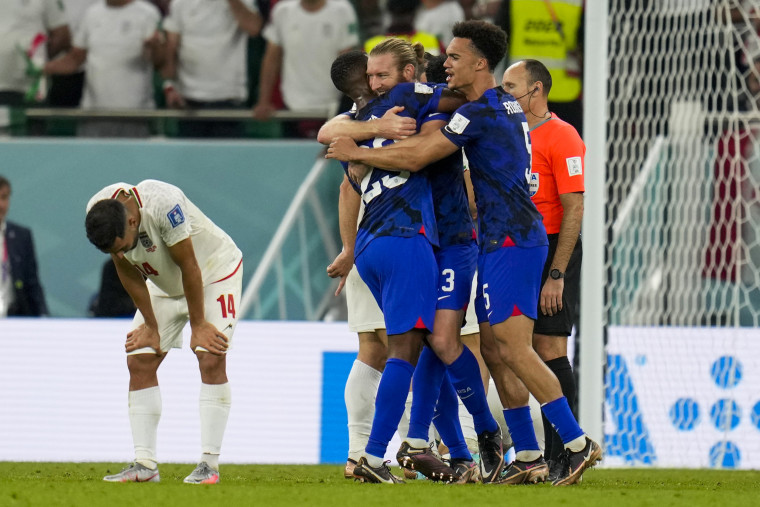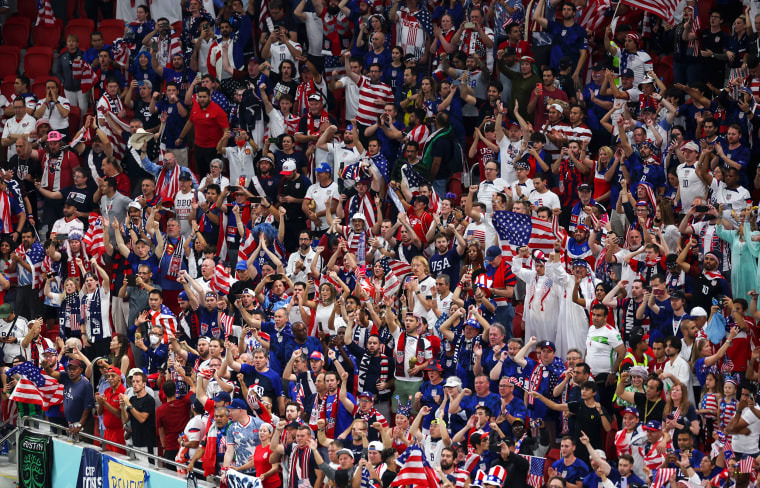 No word yet on the status of Christian Pulisic going forward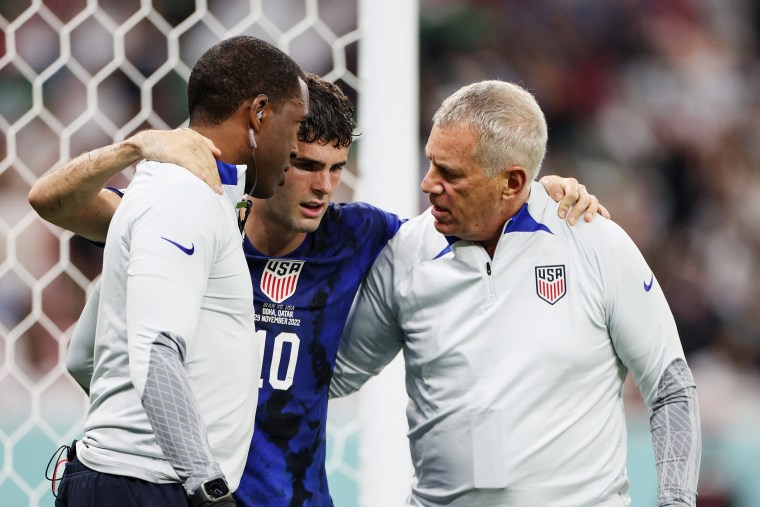 The health of American goal scorer Christian Pulisic was not known in the moments after the United States' 1-0 victory over Iran.
U.S. coach Gregg Berhalter said his star's status was unknown. The team has fewer than 96 hours to prepare for its round-of-16 game against the Netherlands on Saturday.
"No update on his status," the coach said. "I've been saying all along, it's a wonderful thing when one of your best players is also one of the hardest working, and he's certainly that. I can't say enough positive things about Christian."
The follically challenged Berhalter said the final moments of the match were almost too much to handle.
"I think I have less hair on my head now, but we'll take it and we'll move on," he said.
Biden celebrates USA's win: 'That's a big game, man!'
BAY CITY, Mich. — After finishing his speech Tuesday afternoon at a manufacturing plant, President Joe Biden worked the rope line, shaking hands, and then returned to the podium with an unexpected announcement: "U.S. 1 — Iran Zero. Game is over."
The crowd of workers at SK Siltron CSS started chanting, "U.S.A.!"
"You got it," Biden said. "That's a big game, man! ... God love 'em."
He then left the podium and went back to shaking hands.
United States survives a late Iranian challenge
Iran nearly drew a penalty in one of the final kicks of the United States' thrilling 1-0 victory.
Mehdi Taremi went down under pressure from Cameron Carter-Vickers but still pushed the ball through past U.S. goalkeeper Matt Turner, as it rolled toward the U.S. goal before a last-moment clearance by Walker Zimmerman.
Iranian players and coaches screamed for a penalty to be called against Carter-Vickers for putting a hand on Taremi's shoulders.
But officials ruled that contact wasn't enough for a whistle.
Final: United States 1, Iran 0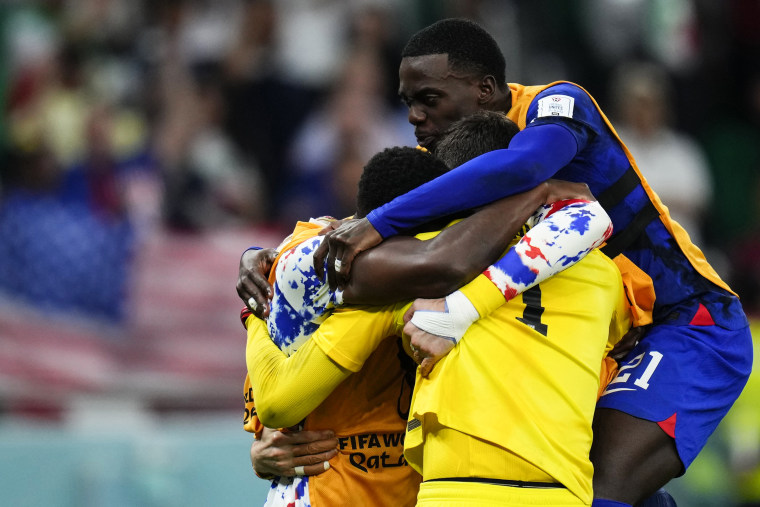 Christian Pulisic's goal late in the first half gave the United States a dramatic 1-0 victory over Iran in Qatar on Tuesday, sending America through to World Cup knockout action.
With this do-or-die win at Al Thumama Stadium in Al Khor, the United States finished in second place of Group B play with five points.
The Americans advanced to round-of-16 play and will play Group A winner Netherlands at 10 a.m. EST Saturday at Khalifa International Stadium in Al Rayyan.
Reaching the round of 16 marked a huge achievement for the U.S. program, which failed to qualify for the 2018 World Cup in Russia.
Final: England 3, Wales 0
The Three Lions won Group B with a dominating second-half effort against the Dragons.
United States 9 minutes to advancing
Officials added 9 minutes of stoppage time as the United States held a tenuous 1-0 lead over Iran.
Only a victory would put America through to knockout play.
Should Iran score an equalizer in the next 9 minutes, the United States would be sent home short of the round of 16.
England well on its way to round of 16
Marcus Rashford scored his second goal of the match, as England took a 3-0 lead over Wales and had knockout play well within its grasp.
The Three Lions, the likely Group B champs, would play Sunday against Senegal in the round of 16.
Three Lions roar out of the halftime changing room: England leads Wales 2-0
Marcus Rashford and Phil Foden scored in the first six minutes of the second half as England took a commanding, 2-0, lead over Wales.
An England victory would lock up first place in Group B for the Three Lions.
Christian Pulisic out of the match
American goal scorer Christian Pulisic was substituted out of the match at halftime.
Pulisic fell hard into the Iranian goal after scoring to give the United Sates a 1-0 lead. He was briefly sidelined as the Americans played with 10 men in the moments after his goal.
The U.S. starter was taken out in favor of Brenden Aaronson.
Live standings: England leading Group B if current scores stand
With the United States leading, 1-0, and English scoreless against Wales at halftime, here are the live standings:
1. England — 5 points (+4 goal differential)
2. USA — 5 points (+1)
3. Iran — 3 points (-3)
3. Wales — 2 points (-2)
Tim Weah called offside wiping out a second possible goal
The United States was an inch away from taking a commanding two-goal lead into halftime, but Timothy Weah was ruled offside.
Weah, the Brooklyn-born son of Liberian President George Weah, appeared to kiss a shot off the inside of the post and score in first-half stoppage time.
But replays showed he was a knee ahead of an Iranian defender as Weston McKennie passed to him.
45 minutes to glory: Americans take 1-0 lead into dressing room
The United States headed into halftime with a 1-0 lead over Iran, as the Americans found themselves 45 minutes away from advancing to the World Cup's knockout round.
If this match ends in a U.S. victory, America would have five points and finish no worse than second place of Group B. First-place England and Wales were scoreless at halftime of the other Group B match.
The Americans have dominated play so far, with 54% possession compared to just 30% for Iran.
Photos: Fans wear their colors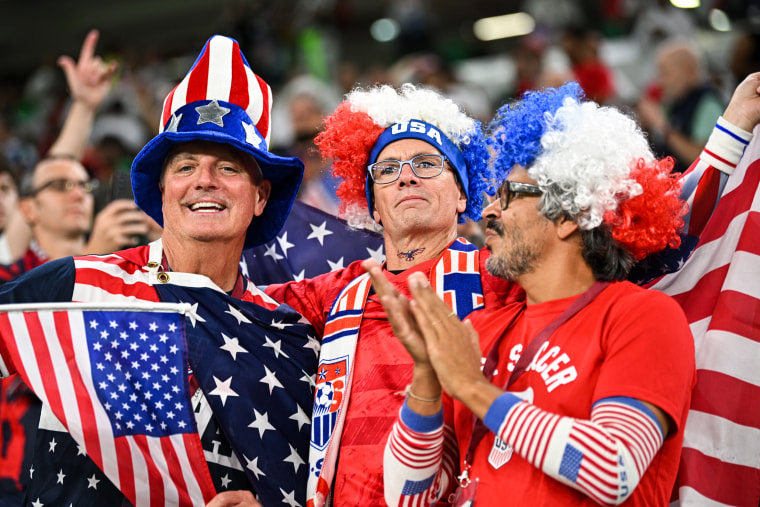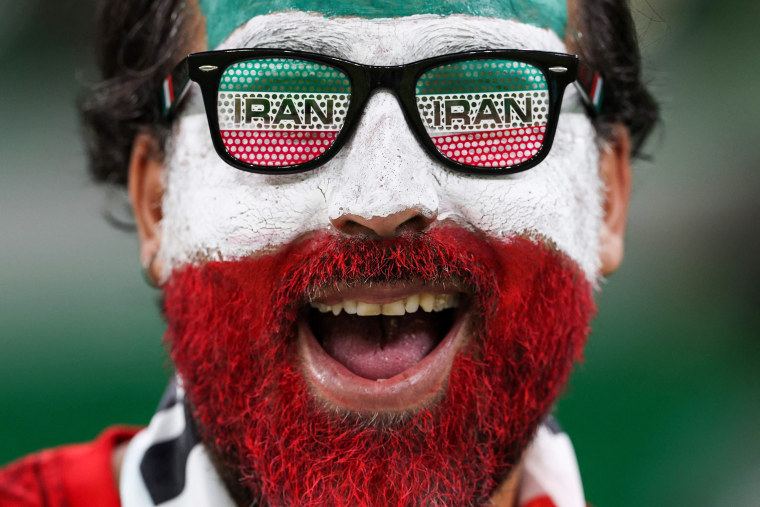 First blood: USA takes 1-0 lead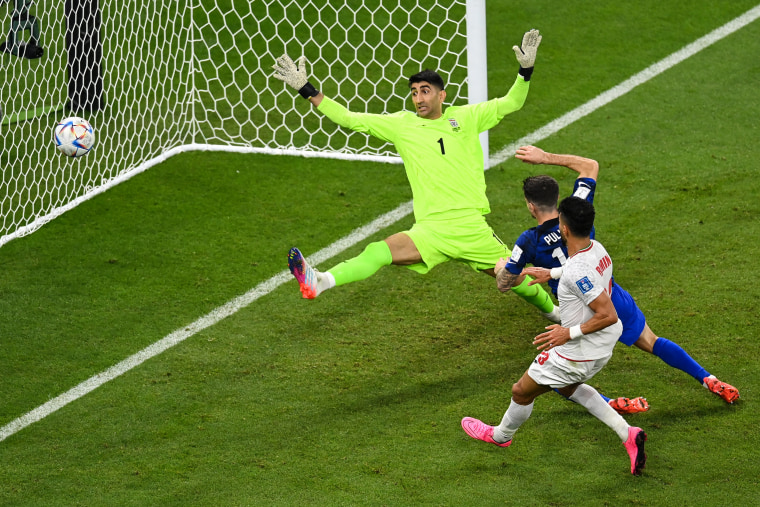 Christian Pulisic scored from close range in the 38th minute as the United States took a 1-0 lead over Iran.
Pulisic had to be helped off the field after crashing into the net as his American teammates played with 10 men moments after giving his squad the lead.
He converted a headed pass from Sergiño Dest to give America the crucial first goal.
Most Iranian players appeared to sing national anthem ahead of U.S. match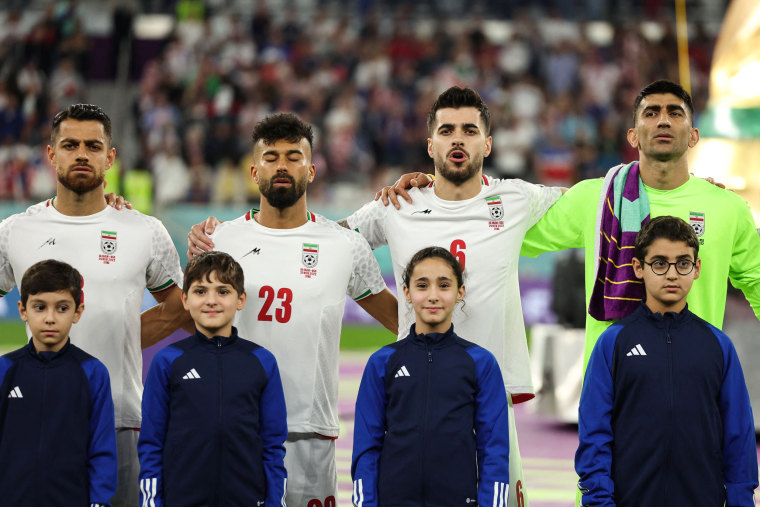 Almost all of of Iran's soccer players appeared to sing their national anthem ahead of the team's game against the United States.
Before their opener against England, Iranian players appeared to give a silent nod to anti-government human rights protesters back home by remaining silent during their anthem.
Players were criticized by Iranian officials and went back to singing the anthem ahead of their next match against Wales — even as fans inside the stadium booed and whistled.
One last reminder: How to watch USA play Iran in World Cup
The United States' must-win match against Iran starts at 2 p.m. ET and will be shown on Fox, in Spanish on Telemundo and streamed on Peacock.
The U.S. mission at Al Thumama Stadium in Doha, Qatar, is simple: Win and advance to the final 16. A loss or draw will send the Americans home.
The Americans come into this final match of Group B play with draws against England and Wales.
Iran has lost to England but beaten Wales, putting Team Melli in second place going into this crucial match.
Iranian lawmakers hope for win — and national holiday
Iranian parliament members petitioned President Ebrahim Raisi to declare Wednesday a national holiday should Team Melli advance to World Cup knockout play with a win over the United States, the government-aligned Tasnim News Agency reported.
Such a national celebration would be a welcome relief for government officials, who want to take attention off ongoing human rights protests across the republic.
An Iranian victory over the United States guarantees qualification for the round of 16. An Iran-U.S. draw could also put Team Melli through, depending on the results of the England-Wales match, which will be played simultaneously. 
White House throws its support behind Team USA
Netherlands and Senegal advance to knockout round
Kalidou Koulibaly's 70th-minute goal gave Senegal a dramatic 2-1 victory over Ecuador to advance out of Group A.
Ecuador only needed a draw to advance and appeared to have that point in hand when Moises Caicedo scored an equalizer just three minutes before Koulibaly's tie-breaking goal.
Netherlands beat host Qatar, 2-0, and won Group A with two victories and a draw.
The Group A champs will play the second-place squad of Group B at 10 a.m. EST Saturday in the round of 16. Senegal will take on the top finisher of Group B at 2 p.m. Sunday.
The United States is playing 'ee-RON' and not 'eye-RAN'
An Iranian journalist called out U.S. player Tyler Adams for mispronouncing the name of America's upcoming soccer opponent and questioned how he could play for Team USA in the context of America's racial divide.
"My apologies on the mispronunciation of your country," Adams told reporters Monday after saying his side was playing "eye-RAN" as opposed to the preferred pronunciation of "ee-RON."
Adams, whose father is Black, acknowledged his home nation's ongoing racial reckoning but concluded that: "I think as long as you see progress, that's the most important thing."
Qatar official estimates worker deaths linked to World Cup 'between 400 and 500'
DOHA, Qatar — A top Qatari official involved in the country's World Cup organization has put the number of worker deaths for the tournament "between 400 and 500," a drastically higher number than any other previously offered by Doha.
The comment by Hassan al-Thawadi, the secretary-general of Qatar's Supreme Committee for Delivery and Legacy, appeared to come off the cuff during an interview with British journalist Piers Morgan, portions of which Morgan posted online.
Hours later, a spokesman for the committee attempted to row back on al-Thawadi's comments.
"The Secretary General told Piers Morgan... that there were 3 work-related deaths and 37 non-work related deaths on the Supreme Committee for Delivery and Legacy's projects," according to a written statement to NBC News. "This is documented on an annual basis in the SC's public reporting and covers the 8 stadiums, 17 non-competition venues and other related sites under the SC's scope."
"Separate quotes regarding figures refer to national statistics covering the period of 2014-2020 for all work-related fatalities (414) nationwide in Qatar, covering all sectors and nationalities." 
Regardless of the later explanation, al-Thawadi's comments threatened to reinvigorate criticism by human rights groups over the toll of hosting the Middle East's first World Cup for the migrant labor that built over $200 billion worth of stadiums, metro lines and new infrastructure needed for the tournament.
In the interview, the British journalist asks al-Thawadi: "What is the honest, realistic total do you think of migrant workers who died from — as a result of work they're doing for the World Cup in totality?"
"The estimate is around 400, between 400 and 500," al-Thawadi responds. "I don't have the exact number. That's something that's been discussed."
But that figure hasn't been discussed publicly by Qatari officials previously. Reports from the Supreme Committee dating from 2014 through the end of 2021 only include the number of deaths of workers involved in building and refurbishing the stadiums now hosting the World Cup.
Those released figures put the total number of deaths at 40. They include 37 from what the Qataris describe as nonwork incidents such as heart attacks and three from workplace incidents.
In a later statement, the Supreme Committee said al-Thawadi was referring to "national statistics covering the period of 2014-2020 for all work-related fatalities (414) nationwide in Qatar, covering all sectors and nationalities."
Blinken takes neutral stance on World Cup match
Secretary of State Antony Blinken insisted there are no "geopolitical aspects" to the massive U.S.-Iran soccer match that's likely to determine each side's World Cup fate.
"Let's let the game speak for itself," he said.
America's top diplomat even played it down the middle in naming the sport the two teams are playing later today at Al Thumama Stadium in Doha.
"When it comes to, to soccer or football, as it's sometimes more properly known, let's get, let's let the athletes do their thing," he said. "I'm looking forward to a very competitive match between the United States and Iran."
The United States must win to advance to the round of 16.
U.S. men's team trains in Doha ahead of Iran match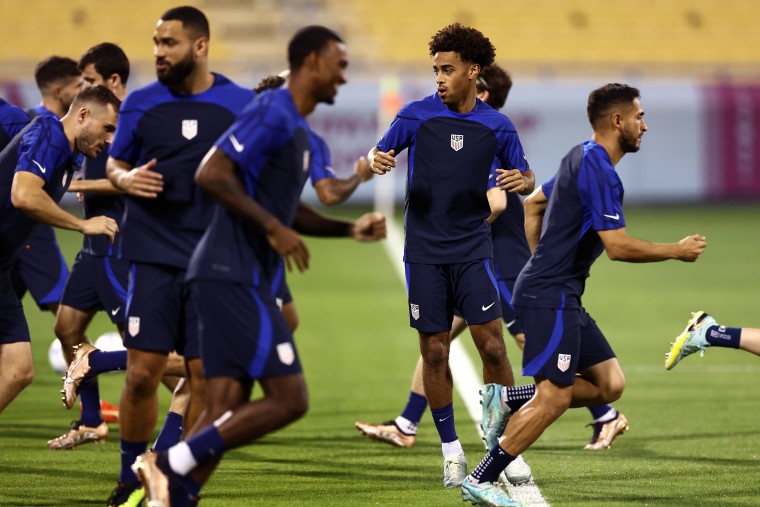 Protests have engulfed earlier matches this World Cup
Iranian soccer players appeared to have some sympathy for protesters as the team remained silent while the national anthem was played before its first World Cup match against England last week.
Players were criticized by Iranian officials back home for their apparent silent protest and went back to singing the anthem ahead of their next match against Wales — even as fans inside the stadium booed and whistled.
Then, over the weekend, the U.S. Soccer Federation briefly displayed Iran's flag on social media without the emblem of the Islamic Republic in support of protesters.
"We wanted to show our support for the women in Iran with our graphic for 24 hours," according to a U.S. Soccer statement.
That statement angered Iranian soccer and government officials who demanded that the Americans be thrown out of the tournament.
Second meeting between Iran and the U.S.
Tuesday's match marks just the second contest between the two sides in World Cup history. That previous game ended in a 2-1 Team Melli victory in France in 1998, which also kept the Americans from knockout play.
That 1998 game was played 17 years after 52 U.S. hostages were released by Iran following 444 days of captivity. The emotional scars of that crisis were still fresh in the minds of many Americans when the two sides met in Lyon.
Tuesday's match is also being played in the shadows of massive geopolitical events that have been unfolding thousands of miles away from the pitch in Al Khor.
Weeks of anti-government protests across Iran, led by women and students, have stunted public enthusiasm for the national soccer team.
The 1998 Team Melli victory over the United States sparked instant joy across Iran as fans flocked to the streets for celebrations.