LONDON — As Londoners paused to remember victims on the 10th anniversary of the 7/7 transit bombings on Tuesday, police and security experts warned that terrorism remains a threat due to the "wicked cult" of ISIS.
Many of the British capital's world-famous red buses pulled over as the city observed a minute's silence at 11:30am (6:30 a.m. ET) — one of a series of ceremonies marking the suicide bombings that killed 52 people and seriously wounded hundreds more during the morning rush hour.
Commuters were asked to make part of their journey on foot, recreating the defiance shown on July 7, 2005 when millions continued their daily routines to show they would not be cowed by the atrocity — the single worst on British soil.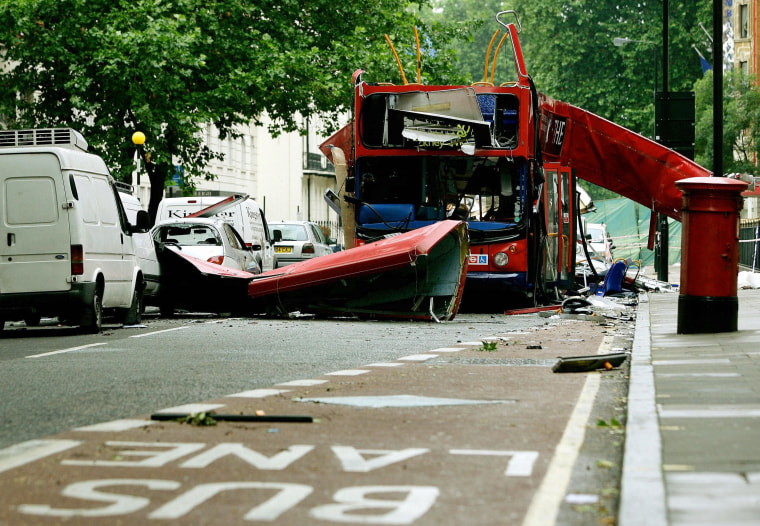 However, Prime Minister David Cameron warned: "Ten years on … the threat continues to be as real as it is deadly."
Experts agreed, saying the rise of individuals inspired by ISIS posed new issues for the security services.
"I think the threat has changed over the last 10 years and I think that this is more about lone actors now than it was," said Charlie Winter, researcher with the U.K.-based Quilliam Foundation.
The rise of ISIS has "shaped and honed its form of jihadism which is very different to al Qaeda's even though they have the same overall goal of establishing a caliphate," he said. "It's more effective in inciting [attacks]."
Britain's counter-terrorism chief echoed that concern, saying the rise of ISIS was "a new challenge" alongside the existing al Qaeda threat.
Metropolitan Police Assistant Commissioner Mark Rowley told ITV News: "What we have today is a much looser organization that's trying to create a cult... it's a wicked cult that's trying to generate a following of people who will act in their name."
He added: "Last year was the busiest we've ever had, we were making an arrest a day in the counter-terrorism network across the country. Under 20-year-olds made up 1 in 6 of those, women and girls were 1 in 9 of those, that's indicative of a reach of terrorism into different places than we've seen before."
Friends and relatives of the victims gathered privately at the four bombing sites at 8:49 a.m. (3:49 a.m. ET) to mark the time of the first attack, while Mayor Boris Johnson laid a wreath at the memorial site in Hyde Park.
At a later service at St Paul's Cathedral, 52 petals were dropped from the dome — one for each of the victims.
On social media, many used the hashtag #walktogether to mark their journey to work.
The bombings, of three subway trains and a bus traveling through Tavistock Square, were carried out by four bombers carrying backpacks containing explosives.