LONDON — Driving an old clunker in central London just got a whole lot more expensive.
Vehicles that don't meet certain emissions standards are now being hit with a £10 ($13.18) daily charge. The move is intended to reduce air pollution in one of Europe's largest cities.
"It's a slightly punitive slap on the wrist"
The new levy is in addition to the £11.50 ($15) congestion charge that all vehicles in the heart of the British capital need to pay between 7 a.m. and 6 p.m. That makes the total fee for some cars entering central London a whopping £21.50 ($28.41).
The "toxicity charge," or "T-charge" as it's known locally, is part of London Mayor Sadiq Khan's plan to make inner London a zero emissions city by 2040. It primarily affects vehicles more than 11 years old.
"I refuse to stand by while Londoners are killed by pollution," Khan wrote in a comment piece published on Monday in London's Evening Standard newspaper. "So I am implementing the most ambitious clean-air strategy of any city in the world to produce real results."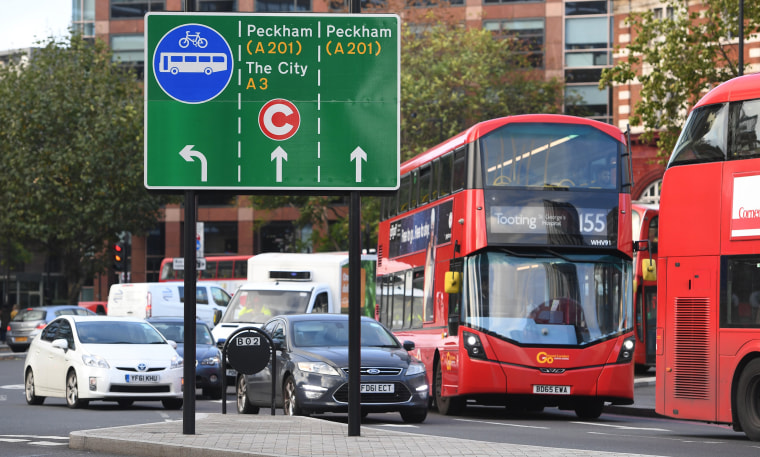 London is far from alone in having grand plans to fight air pollution. Los Angeles was one of 12 cities around the world, including Seattle, London, Milan and Vancouver, which pledged Monday to solely purchase zero-emissions buses for their public transport fleets from 2025, as well as to ensure that a major area of their cities are zero emission by 2030.
That L.A. is at the forefront of efforts in the U.S. to improve air quality is no surprise. It is one of the top 10 most polluted cities in the country, according to a report by the American Lung Association, while California is home to four of the top five most polluted cities in the U.S.
In Europe, Milan, Madrid, and Paris are among many European cities with low-emission zones, though the standards and charges vary from city to city.
Health danger
The health data supporting Khan's push for a zero-emissions city is compelling. Pollution is the largest environmental cause of disease and premature death, according to a study published last Thursday in the medical journal The Lancet.
"Diseases caused by pollution were responsible for an estimated 9 million premature deaths in 2015 — 16 percent of all deaths worldwide — three times more deaths than from AIDS, tuberculosis, and malaria combined and 15 times more than from all wars and other forms of violence," the study found.
There's also a personal reason that Khan may have made air pollution a key priority. He suffers from asthma, a condition he said he developed as an adult.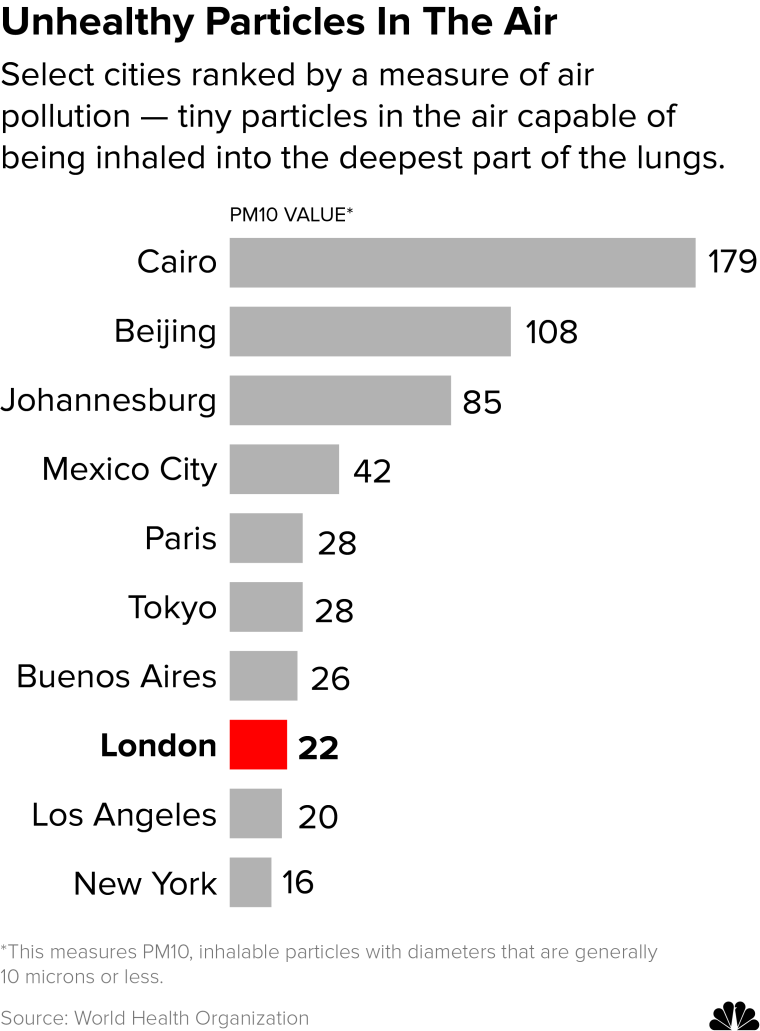 Khan's office as well as Transport for London, the government body responsible for the city's transport systems, insists that the T-charge, as well as future charges planned for vehicles exceeding European emission standards, have nothing to do with raising revenue.
"The charge is more of an encouragement," said Guy Pitt, a spokesman for Transport for London. "We are not trying to make money. It's a slightly punitive slap on the wrist that we hope might bring forward when drivers are going to change their behavior."
More than 70 percent of London residents support the levy, according to a poll commissioned by the British Heart Foundation. However, there have been complaints that the charges on older vehicles will hit the poor hardest.
Business organizations have also spoken out strongly against the charge, saying that while the goal of reducing pollution is worthy, further charges in an already expensive city aren't the way to create change.
"We want cleaner air, but we are worried that business is unfairly impacted by an accelerated scheme of measures which seem to punish businesses and increase costs," said Rod Mckenzie, the director of policy for the Road Haulage Association, a trade association for transport and logistics operators.
Despite resistance, environmental health experts warn that more needs to be done to avoid damaging consequences for city residents' health.
"In terms of air quality improvement this is a move in the right direction, but it is not in itself going to have a huge impact," said Roy Harris, a professor of Environmental Health at the University of Birmingham, who has also worked as a consultant to the World Health Organization on air pollution. "The need to replace a vehicle and the possible costs involved affect small proportion of people. At the individual level there are some that will feel hard done by from the charge. At a population level there is strong case for making changes."