/ Source: Associated Press
LONDON — At least 12 people were confirmed dead after a blaze ripped through a high-rise apartment block in London as residents slept Wednesday morning. At least 78 others were injured.
Police said that they expected the death toll to rise and that they could not provide a figure for the number of people who remained unaccounted for.
More than 250 firefighters battled the inferno through the night, and by late afternoon they had gone through most of the building. Steve Apter, safety director of the London Fire Brigade, said the incident "continues to be challenging."
Local resident Tim Downie told NBC News that he saw "people dangling children out the windows to try and get them to safety" as flames spread upward.
Another witness, Samira Lamrani, said a woman wrapped a baby up "in some sort of thick blanket" and then let go of the child from around the ninth floor. "Miraculously, the baby just sort of dropped in a straight line, and a guy just ran forward and the baby fell into his arms," she said.
Several others recounted watching people jumping from Grenfell Tower to escape the flames and smoke.
Local officials said they believed that several hundred people were in the building, which dates to the 1970s. The high-rise had a "stay put" policy in the event of a fire — with residents urged to shut their windows and doors and await rescue.
London Fire Brigade Commissioner Dany Cotton called it an "unprecedented incident," adding that a "number of fatalities" had been confirmed. Police later put the death toll at six, but they warned that the figure was likely to rise.
"In my 29 years of being a firefighter, I have never, ever seen anything of this scale," Cotton said. "This is a major fire that's affected all floors of the 24-story structure from the second floor upwards."
Photos: Fire Rages Through High-Rise Apartment Block
She highlighted that "very large numbers" were rescued by emergency crews early on. But almost nine hours after the blaze broke out, Cotton said "we have absolutely no idea" how many people remained unaccounted for.
Michael Paramasivan, 37, was wearing only underwear and a robe when he fled the seventh floor about 35 minutes after the blaze was reported.
He described the scene in the stairwell as an "absolute horror story."
"There was smoke everywhere, people screaming and shouting," Paramasivan told NBC News. "It all happened so fast, but it was really, really frightening. I'm shaking."
He added: "They say you're supposed to put a towel under the door and wait for rescue, but I wasn't going to hang around. ... There was some kind of alarm, but it was barely audible. It certainly wouldn't have woken you up."
Grenfell Tower has about 130 units. It is about a mile northwest of Kensington Palace and near the Portobello Road market tourist attraction.
Anxious relatives also gathered to wait for news of their loved ones at a local community center. Above a cellphone number, one poster there read: "My friend Khadija lives on the 20th floor of the Grenfell Tower. We can't get through to her, if anyone had seen her please let me know."
The London Fire Brigade sent 40 vehicles to the scene after being called at 12:54 a.m. Wednesday local time (7:54 p.m. ET Tuesday). At least 20 patients were in critical condition, officials said.
By noon (7 a.m. ET), flames were still visible from some of the apartment block's windows. Authorities suggested that the fire could burn for days.
Streets up to a mile away were covered in a layer of ash as a police helicopter buzzed over the area, an ethnically and economically diverse part of west London. Some residents hurried along the streets trying to find news of neighbors or family members.
Sajad Jamalvatan, whose mother lives in Grenfell Tower, told NBC News that he "saw with my bare eyes someone jumping from the building."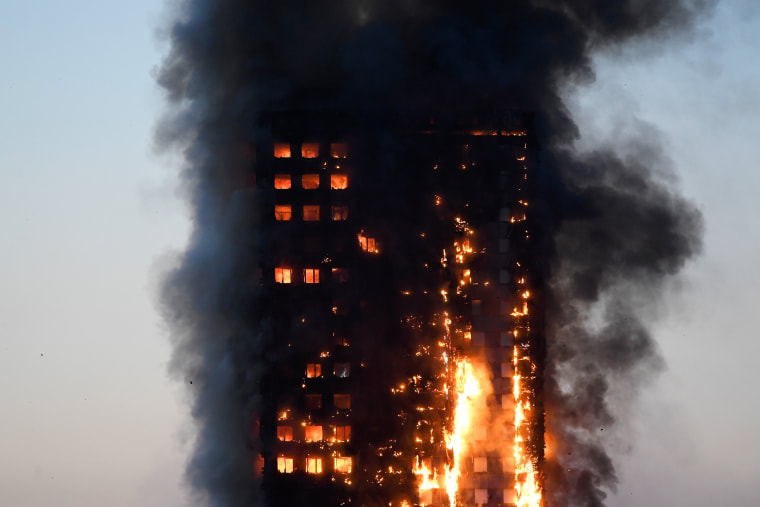 Kidan Opbekke, 39, was returning to her home in a nearby street after working a night shift when she saw the aftermath of the blaze.
"A friend of mine ... she cannot find her daughter," Opbekke said, sobbing. "She got out from the fire, but she cannot find her daughter."
Opbekke added: "This is terrible. There is nothing we can do except pray. We just came here to pray. Why, why did this happen?"
At nearby Latymer Community Church, shocked survivors were being given water and food. Al Manaar Mosque also opened its doors.
"We will be providing temporary shelter and food for anyone of any faith or no faith affected by the fire," said Abdurahman Sayed, the mosque's director.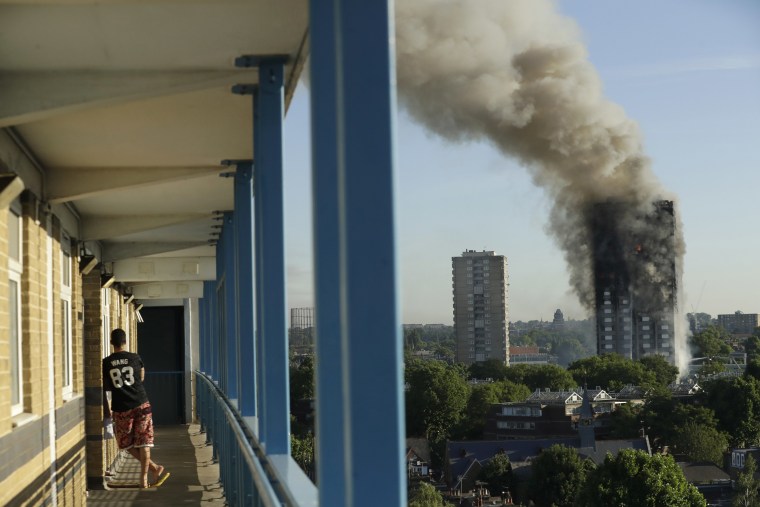 Authorities said the cause of the blaze remained unclear. Forensic investigators with cameras and protective suits were spotted at the scene, and a structural engineer was sent to monitor whether the high-rise remained stable.
A newsletter distributed by Grenfell Tower's managers in May 2016 advised that "you are generally safest to stay put in your home to begin with; the fire brigade will arrive very quickly if a fire is reported."
It added that "smoke detection systems have been upgraded and extended" as part of a $12.8 million refurbishment project.
Rydon, the firm that carried out the refurbishment, said in a statement Wednesday that its work "met all required building control, fire regulation and health and safety standards."
However, residents complained about fire safety standards in November — warning that only a serious blaze would make authorities listen.
"I wasn't surprised, because we've been talking about this kind of thing happening," David Collins, former chairman of the residents association, told NBC News' British partner ITV News. "We said amongst ourselves a few times the worst that could happen would be a tragedy, and then people would wake up to the mismanagement of this estate."
The Kensington and Chelsea Tenant Management Organization acknowledged in a statement that it was "aware that concerns have been raised historically by residents."
"We always take all concerns seriously and these will form part of our forthcoming investigations," organization said. "While these investigations continue with our co-operation, our core priority at the moment is our residents."
Alastair Jamieson, Chloe Hubbard, Mo Abbas, Will Clark, Emma Ong, Nick Bailey, F. Brinley Bruton, Rachel Elbaum, Sophie Harris, Tony Hemmings and Jason Cumming reported from London. Alex Johnson reported from Los Angeles. Erin Dean, E.D. Cauchi and Rima Abdelkader reported from New York. The Associated Press contributed to this report.
CORRECTION (June 14, 2017, 4:15 p.m.): An earlier version of this article misstated when the fire broke out. It was Wednesday morning, London time, not Wednesday night.