LONDON — They prayed for victims of the high-rise apartment fire and recent terror attacks, only to find themselves targeted in Britain's latest horror story.
Residents of Finsbury Park, where an attacker drove a van at crowds gathered near local mosques and a Muslim welfare center, expressed fear for their safety and anger at authorities in the wake of Monday morning's attack.
The attack unfolded in the middle of a hot summer night as Muslims in the north London district gathered to talk and eat during a break between the traditional post-fast prayers of tarawih and tahajjud.
"There were people everywhere in the street, it was a busy time," said Ibn Omar, 25. "There was screaming and shouting, just pandemonium."
Ahmed Shakair, 25, left prayers at the nearby Muslim welfare center and witnessed a vehicle mounting the sidewalk with all four of its wheels.
He said there had been prayers for the Grenfell Tower victims before worshippers broke off to eat. "I came out ... and started walking away when I heard screaming," he said. "I saw a white van hurtling along at 40-50 miles an hour then it swerved onto the [sidewalk] ... and smashed into a group.
Shakair added: "Remember there were 400-500 people on the street coming out at the end of prayers. So there were lots of people around."
Related: Brave Imam 'Stopped All Forms' of Assault on Suspect
He recounted seeing "bodies all over the ground."
Omar said it had been "an attack on Muslims practicing religion" — and one which occurred during the holy month of Ramadan.
"We have been warning that this would happen, that it is dangerous for Muslims because of far-right terrorism, but not enough has been done about it," he said. "We're not safe in our own community. If this was an affluent area then maybe the politicians, the authorities, they would care more. But this is a Muslim area, a mixed area. It is like what happened with the fire — people get ignored because they are poor."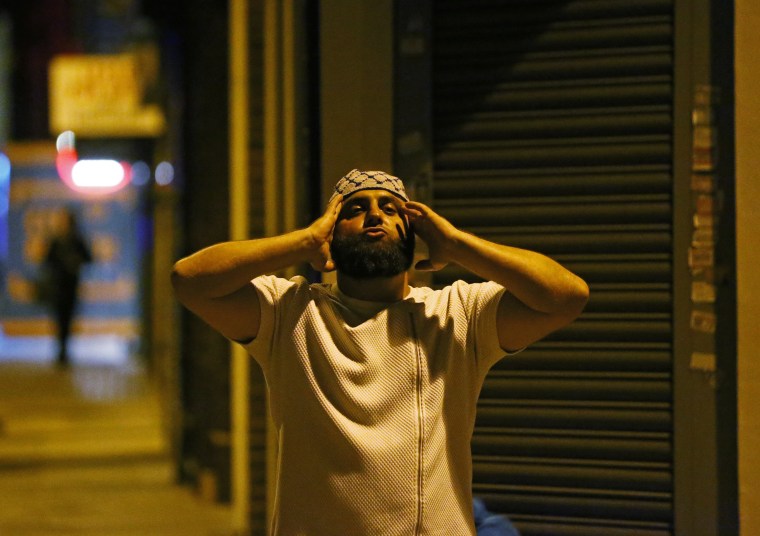 Many expressed similar sentiments, claiming that officials and local media had been slower to label the incident terrorism in comparison to recent attacks. However, Prime Minister Theresa May later said it had been declared a terrorist attack by police after only eight minutes.
Ahmed Kaballo, 28, said: "I am angry at the police response. It would have been different had the terrorist looked Muslim."
Abdul Abdullah, 16, who regularly attends the nearby Finsbury Park Mosque, said there was "a lot of confusion and anger" in the area.
"I could see police here really quickly," he said, but added that it felt like victims were "treated in the street for ages until ambulances came."
Officials said it took 14 minutes for the first ambulance to arrive. The service aims to arrive at 75 percent of its serious call-outs within 8 minutes.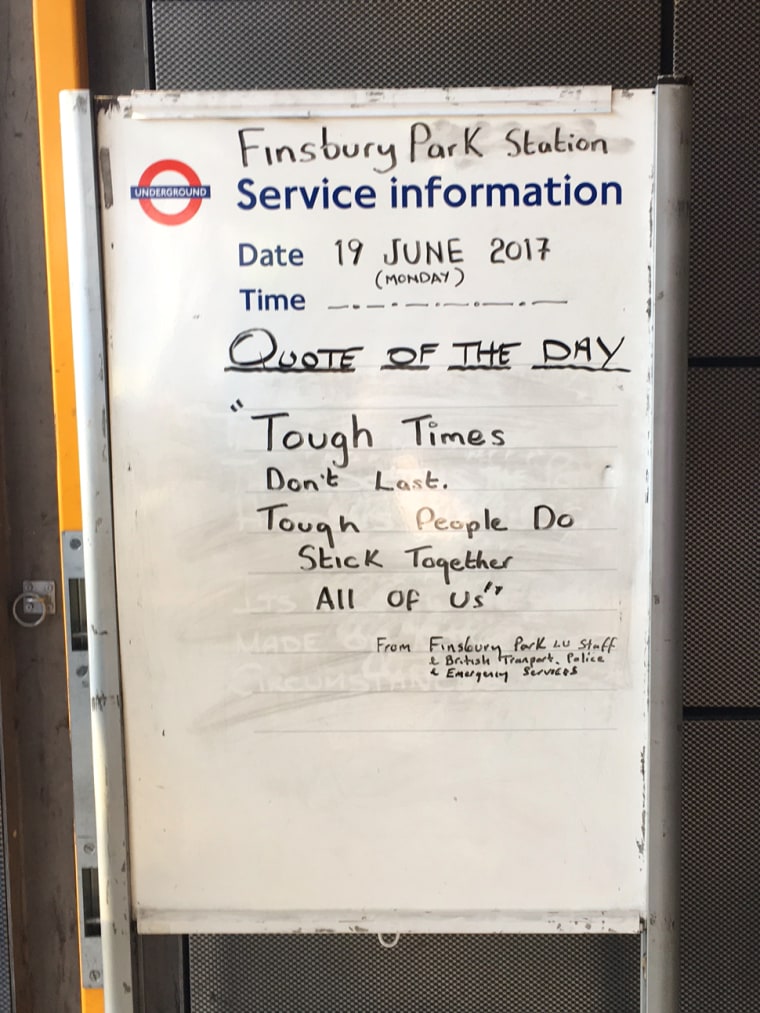 However, Abdullah was hopeful that the attack would not divide the local area. "The last thing we need in this multicultural, mixed area is something coming between people and driving a wedge," he said.
Others were frustrated that Finsbury Park was still stigmatized by the extremist history of its main mosque, which was once the haunt of radical Islamic cleric Abu Hamza but is under new ownership. In 2014, it was given an award for its transparency.
Jamal Ahmed, 23, a trainee lawyer, said: "I think [the attack] happened here because people think this is an area riddled with extremism and terrorists, which is so far from the truth. If you go around the corner to Finsbury Park Mosque there are flowers laid outside. The community is pulling together."
He added: "This is not the time for revenge or retaliation. Everyone thinks Muslims are bloodthirsty people, but it's not true. There is a certain prejudice and hypocrisy against ethnic minorities in Britain in general. Not just Muslims but all ethnic minorities."
British government minister Sajid Javid visited the scene Monday, acknowledging local concerns and promising more police would be deployed.
"I want people to feel as safe as possible," he said. "We've got to listen to local leaders about what more it is that we can do."
London Mayor Sadiq Khan said the van driver had attempted to attack "our shared values."
He added: "We will not allow these terrorists to succeed ... We're going to carry on being a united city."
However, Khan pointed out that "unfortunately there has been a spike in hate crime after the other attacks."