LONDON — Nearly 100 high-rise towers around the U.K. have failed fire safety tests to their exterior cladding conducted after London's deadly apartment block blaze, officials said Tuesday.
The June 14 fire at Grenfell Tower left at least 79 people dead, sent shock waves throughout Britain and plunged the government of Prime Minister Theresa May into crisis.
Cladding added during a recent refurbishment is suspected of worsening the blaze, and May said a "major national investigation" is being conducted into the use of the material.
Officials have pressed landlords to submit samples for testing, with the minister in charge of local government, Sajid Javid, saying he was concerned with the pace of submissions. The facility analyzing the samples can test up to 100 a day.
In addition, inspectors in London's borough of Camden found that hundreds of fire doors were missing in five high-rise social housing blocks. The local government estimated it needed to order 1,000 new fire doors, according to Javid.
"Clearly something has gone wrong there, drastically wrong," Javid told lawmakers in Parliament Monday. "But it's an example of, again where these issues need to be looked at very carefully why this is happening in this day and age in our country."
Cladding has been fitted to the exterior of hundreds of concrete housing blocks built in England the 1960s and 1970s to improve their appearance or insulation. Officials estimate that up to 600 buildings around the country may have cladding similar to Grenfell Tower's.
Contractors at Grenfell used a non-fire-resistant outer layer — a practice not illegal under current British regulations — and it is suspected this material helped the blaze spread rapidly.
The deadly blaze is now the subject of a police investigation and an official public inquiry.
"You can't look at one individual bit and say 'fix that and ignore the rest of it.'"
While illegal in the European Union and the U.S., cladding similar to that used in Grenfell Tower may have been used on buildings in other countries around the world, according to experts.
"Regulations aside, [fire safety and materials used in tall buildings] is an international issue," said Matthew Needham-Laing, a leading litigation lawyer and construction expert. "We know of fires in China ... fires in the Middle East, fires in this country and also in France.
Related: 600 High Rises Have Grenfell Style Cladding
"It's a problem that has to be addressed. It's how you address it really."
In Dubai, which has has seen several large high-rise fires, fire regulations were changed, said Michael Kortbawi, a corporate and insurance law specialist at BSA Ahmad Bin Hezeem & Associates.
"Most buildings in Dubai were built with materials that are not up to standard, based on information we collected," he said.
"The new fire regulations are not retroactive and didn't force buildings that are already built to change," said Kortbawi. "When the time is up for renovations then the buildings will have to replace unsuitable materials."
High rises in countries including Australia and Israel could also be vulnerable to rapidly-spreading fire, according to local media reports in those countries.
The Times of Israel reported that the Israeli government had amended the building code to enable some construction projects to use the same material as Grenfell Tower.
Meanwhile, Australia's Herald Sun newspaper said that fire safety experts feared poor oversight of construction firms could lead to a similar tragedy there.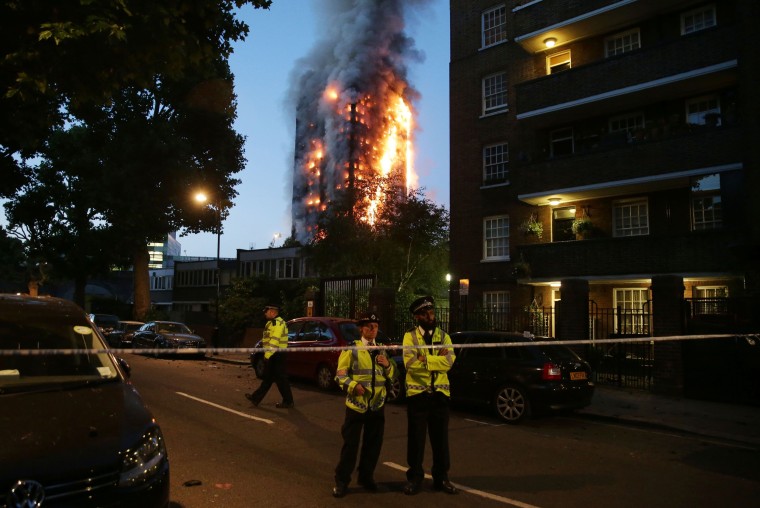 Arconic, the company that which supplied the cladding for Grenfell Tower, announced Monday that it was stopping sales of the material for use in high rise buildings, Reuters reported.
Fire safety expert Stephen MacKenzie has called for a Europe-wide inquiry, and potentially even a U.N. investigation, because British safety regulations were the template for many other countries.
Construction company Rydon was hired to carry out an $11-million refurbishment at the Grenfell Tower, including adding what's known as "rainscreen" cladding, but said the project "met all required building regulations."
Lawyer and construction expert Needham-Laing explained that a flammable exterior cladding doesn't necessarily make a a building unsafe.
"You may use an element of the building that you know can be combustible in certain circumstances but you then ... put in these other factors that mitigate it," he said.
"It might be a sprinkler system, it might be a drencher system on the external face, it might be additional staircases, it might be a means of regulating the smoke.
"You can't look at one individual bit and say 'fix that and ignore the rest of it.' It's the whole thing."