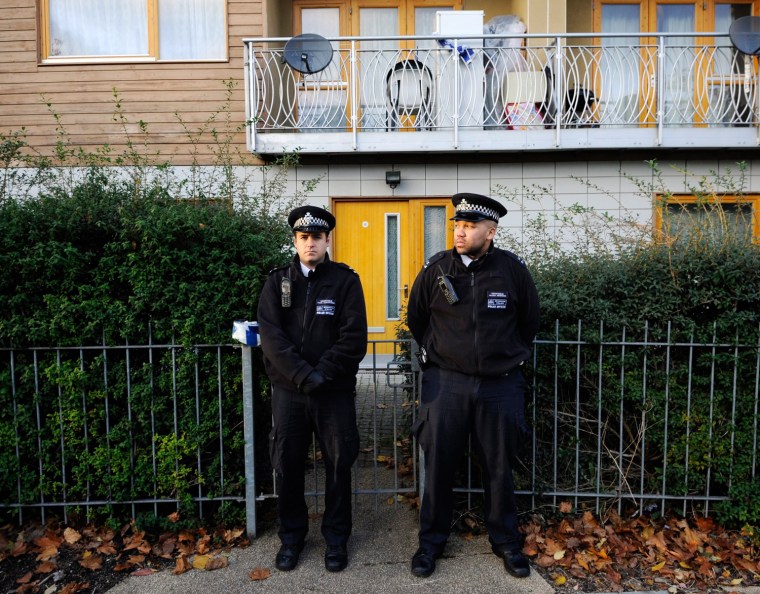 LONDON -- One of the three women allegedly held captive in a London home for 30 years wrote hundreds of love letters to a neighbor, according to reports.  
"I'm like a fly trapped in a spider's web," the 30-year-old wrote in one of the notes to Marius Feneck, which were obtained by Britain's Mail on Sunday newspaper. Feneck, 26, lives two floors above the South London apartment where police say the woman was held as a slave.
"I want you to know the truth," she wrote. "These monsters here are absolutely evil and racist.... They said they'd harm you if I don't promise to stay away from you... and then they imprisoned me here, locking all the doors and windows.
"I daren't try anything because I know they'll do something evil to you if I do," she added. "So I'm like a fly trapped in a spider's web." 
Feneck told the newspaper that along with the notes and poems, she also sent him dozens of photographs of herself. 
When contacted by NBC News on Monday, police declined to comment on the letters. However, authorities confirmed that they were probing 13 addresses.
Three "emotionally fragile" women were rescued last month from the home after calling the anti-slavery Freedom Charity, an organization that battles against forced marriage.
The alleged victims were identified as a 69-year-old Malaysian woman, a 57-year-old Irish woman and a 30-year-old British woman. They are currently being cared for by the health professionals, police said. 
After nearly a month of investigation, police arrested a 72-year-old man and a 67-year-old woman who came to the United Kingdom in the 1960s.  
Metropolitan Police Commander Steve Rodhouse said in a statement Saturday that to the outside world they may have appeared as a "normal" family adding that they were shackled by "invisible handcuffs."
"It is not as brutally obvious as women being physically restrained inside an address and not allowed to leave," he added. "What (investigators) … are trying to understand is what were the invisible handcuffs that were used to exert such a degree of control over these women."
He added that two of the victims had met the male suspect through a shared political ideology and they lived together in what "you could effectively call a collective."
It was unclear if the 30-year-old woman was born into captivity at the London house, but police said they believed she has lived with the suspects and the other victims her entire life and has had little contact with the outside world. The only official documentation police found for the woman was a birth certificate.
Detective Inspector Kevin Hyland of the Metropolitan Police's Human Trafficking Unit, said on Friday that police do not currently believe the women were subjected to sexual abuse, but were subjected to physical abuse in the home described as "beatings."
U.K. Home Secretary Theresa May wrote in Britain's Sunday Telegraph newspaper that tackling modern slavery in Britain was a "personal priority," saying many other victims were "hidden in plain sight" across the country.
Related: