Updated at 11:48 a.m. ET: An area of central London was evacuated by armed police Friday after a man "with a grievance" stormed a fifth floor office, leading to reports he had taken some workers inside hostage.
Police, explosives experts and hostage negotiators were sent to the building, on the city's Tottenham Court Road. Officers found no hostages, and the man was arrested at the scene. Nobody was injured. 
Earlier, the suspect was seen tossing papers and electrical equipment out of the window of the office, which belongs to a truck driver training company.
London's Metropolitan Police Service spokesman described the suspect as a 50-year-old man "with a grievance" who was in a "very distressed state".
The incident began at 11:59 p.m. local time (5:59 a.m. ET). Pictures posted on Twitter showed the items being thrown from the window onto the street below.
A large section of the street - one of the busiest in the city, leading north from Oxford Street - was sealed off, and a nearby Underground station closed to passengers, causing widespread congestion.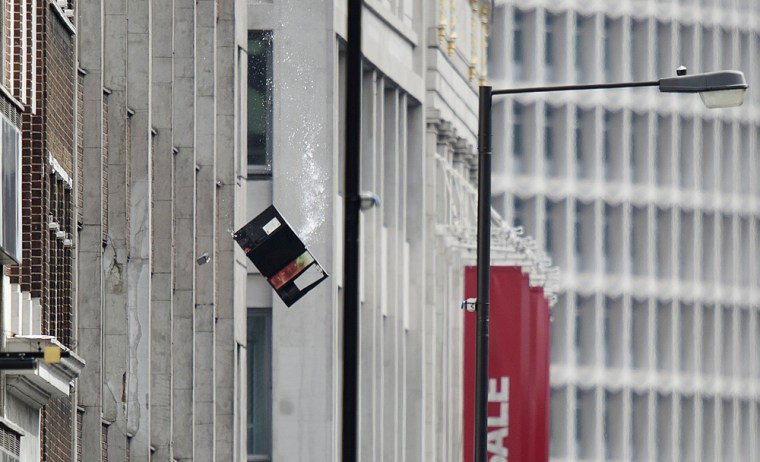 The building, Shropshire House, is close to the offices of news website, The Huffington Post UK. The site's executive editor, Stephen Hull, posted on Twitter that Abby Baafi, 27, an employee of the HGV company, said the suspect had failed a training course and wanted his money back.
Tamsin Kelly, who works in a neighboring building, told the BBC: "Two men ran into the building and said the man had a flamethrower and canisters of gas.
"The two men told us they had been let go as they were parents and we were told to leave the building."
Leon Farrell, 25, a product manager who works for AOL in Capper Street, just off Tottenham Court Road, told the BBC: "Someone ran in to our office white as a sheet and said there was someone who had taken a few people hostage but let them go as they had kids."
More world news from msnbc.com and NBC News:
Follow us on Twitter: @msnbc_world