LONDON — British authorities have lowered the nation's terror threat level from critical — the highest level — to severe after the arrest of a second man in connection with the rush hour attack that injured dozens at a packed London subway station last week, officials said Sunday.
The 21-year-old was arrested in Hounslow in West London just before midnight Saturday, police said in a statement. The arrest came as detectives continued to comb through a home south of London.
Home Secretary Amber Rudd said Sunday that the decision to lower the threat level is an indication that "good progress" is being made into the investigation of Friday's attack that injured 30 people. She cautioned that it is still an ongoing investigation.
On Saturday, the Met announced it had detained an 18-year-old near the Port of Dover — a key ferry terminal between Britain and France — calling it a "significant" arrest. Officials did not release the name of either man.
Despite the lowered threat level, Rudd said on Sunday the second arrest suggested this was not a lone wolf attack. She added that it was "too early to reach any final conclusions."
Officials were still searching a property south of London in the county of Surrey that belongs to a couple known in the community for fostering hundreds of children since the 1970s.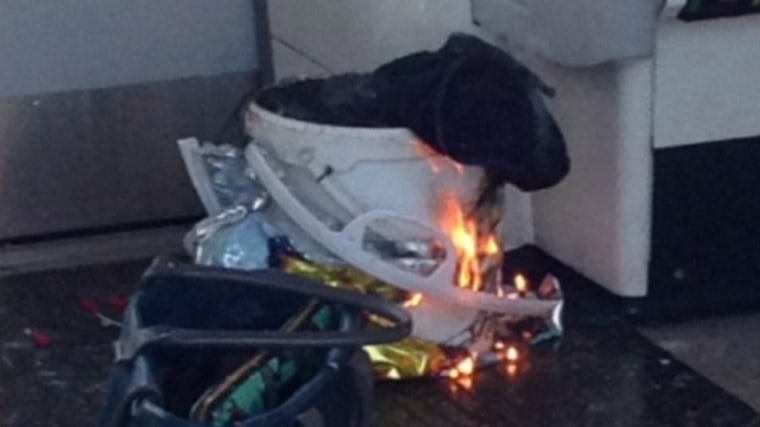 The pair were given an MBE — an award bestowed by the queen to individuals for outstanding service to the community — and described as "beautiful people" by neighbors, according to NBC News' British partner ITV News.
It is unclear how the couple — or even the house being raided — may be related to the investigation. When ITV reached out to the pair the couple declined to comment.
After the detonation on a packed subway car at Parsons Green Tube station in southwest London on Friday, hundreds of soldiers were deployed at strategic sites around the city to free up police to hunt those behind the incident — the latest in a series of attacks in the country's capital.
Photos of the incident shared on social media showed a bucket on fire in the subway car, with wires apparently protruding from the plastic bag the container had been carried in.
ISIS made a claim of responsibility for the attack, without providing any supporting evidence.
On Sunday, Rudd also repeated British officials' displeasure at President Donald Trump's comments on the case, telling the BBC that Trump's tweet in the immediate aftermath of the attack was "pure speculation" and unhelpful to an ongoing operation.
Trump had suggested that the "loser terrorist" responsible for the attack "are sick and demented people who were in the sights of Scotland Yard" — another name for London's Metropolitan Police Service.
His remark drew a rare rebuke from British officials, who consider the U.S. their closest ally.
Prime Minister Theresa May said on Friday: "I never think it's helpful for anybody to speculate on what is an ongoing investigation."