LONDON — The detonation of a device aboard a subway train in the British capital on Friday was being investigated as terrorism, police said.
Authorities confirmed 29 people had been injured at Parsons Green Tube station in southwest London. None of their wounds — mostly superficial burns — were considered serious or life-threatening.
Investigators were examining the remains of an improvised explosive device.
"I just had this feeling, 'Was I going to die?'"
Metropolitan Police Deputy Assistant Commissioner Neil Basu, the senior national coordinator for counterterrorism policing, said the detonation was being treated as a "terrorist incident."
On Friday evening, the prime minister raised the threat level for international terrorism from severe to critical — the highest level and an indicator that "an attack is expected imminently."
Police said no arrests had been made. Multiple law enforcement officials briefed on the investigation said Friday evening authorities in the U.K. had identified a person they believe is responsible for the attack. There was an active manhunt underway, the officials added.
London subway stations are well-equipped with surveillance cameras.
ISIS made its customary claim of responsibility for the attack, without providing any supporting evidence.
One photo shared on social media showed a bucket on fire. Wires appeared to be protruding from the plastic bag the container had been carried in. The photos do not show any extensive damage to the inside of the train.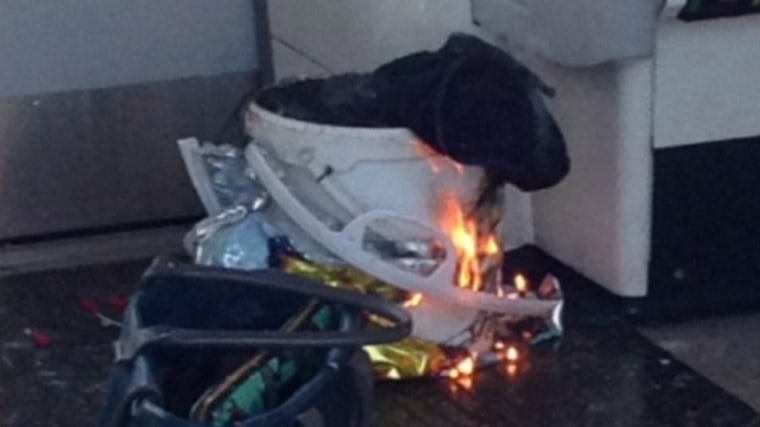 The Twitter user who posted the image — @rrigs — said he believed the bucket was linked to the incident. He added that a "fireball flew down carriage and we just jumped out open door."
Citing two intelligence officials briefed on the incident, NBC News Investigations reported that U.K. authorities were trying to ensure there were no additional devices. The officials added that authorities believe the contents of the 5-gallon bucket detonated prematurely. It did not explode — but instead "flashed" and burned. The device, which was set off by a timer, was left next to one of the subway car's doors.
Luke Walmsley, 33, who was six train cars up from the fire described "complete pandemonium, complete terror" aboard the train.
"We heard the first scream and we saw a flash and smoke and people started running immediately," he told NBC News.
Walmsley said that several people suffered "severe brown burns" to their heads. "It was a really acrid burning smell," he added.
Charlie Craven, 29, said he boarded the train seconds before it ignited.
"A massive bang occurred, we didn't know what happened," he said. "We looked around and the first thing we saw was an orange fireball ... coming toward you."
Related: Nannies, Moms Race to Find Their Kids After Subway Blast
Craven said he managed to jump over a fence and run away down the train tracks. "There was this mass hysteria of people shouting, screaming trying to get away from the situation," he added.
Emma Stevie, a 27-year-old makeup artist, said she just boarded the train at Parsons Green when confronted with "a massive stampede, a human crush of people."
"There were ripped trousers and lots of shoes came off our feet," she recalled. "I saw a woman with head injuries having gauze applied and a boy with his face crushed against some steps. A woman was shouting, 'I'm pregnant, I'm pregnant.'"
Stevie added: "Within five seconds my whole day had changed, I thought maybe my life had changed. I just had this feeling, 'Was I going to die?'"
Commuter Sylvain Pennec posted a video showing the bucket burning.
Pennec told The Guardian that he "heard a boom and when I looked there were flames all around" just before the train pulled into Parsons Green station, which is located above ground on the District line.
Police ordered commuters and residents to avoid the area. A cordon was set up around 500 yards from the station.
The London Ambulance Service confirmed a hazardous area response team was sent to the scene around 8:20 a.m. local time (3:20 a.m ET). The London Fire Brigade said eight vehicles and around 50 firefighters were at the station.
Mayor Sadiq Khan urged residents of the city to remain "calm and vigilant."
He added: "As London has proven again and again, we will never be intimidated or defeated by terrorism."
After reviewing the photo of the burning bucket, NBC News security analyst Duncan Gardham said that it appeared that a homemade detonator possibly involving Christmas lights had "activated but failed to set off the main charge."
He added: "That means the bomb-maker has got a long way down the road to making a viable device."
Related: 90 Percent of London Police Don't Carry Guns. Here's Why.
London's transit system was the target of a series of coordinated suicide bombings on July 7, 2005. Often referred to as "7/7," the attacks during the morning rush hour killed 52 people and seriously wounded hundreds.
The U.K. has been the target of three previous deadly terror attacks this year. A total of 33 people have since been killed in vehicle-and-knife rampages on London Bridge and nearby Borough Market as well as Westminster Bridge. A suicide bomber also targeted an Ariana Grande concert in Manchester.
President Donald Trump President Donald sent a series of tweets about Friday's incident, and stated that he wished the travel ban into the U.S. was stronger.
British Prime Minister Theresa May rebuked Trump for suggesting British intelligence officials knew who perpetrated the attack. Asked whether Trump knew something that the British public did not, May said: "I never think it's helpful for anybody to speculate on what is an ongoing investigation."