MAINZ, Germany — Is the "Eighth Wonder of the World" buried in a small northern German city?
A group led by white-haired retirees thinks so — and guided by gut instincts and determination has taken to digging up the streets of Wuppertal in search of the Nazi-looted Amber Room.
"We are no treasure hunters," Karl-Heinz Kleine, 68, told NBC News. "But we believe that Erich Koch, the former Nazi chief administrator in East Prussia, may have secretly brought looted art to his home town of Wuppertal — including the Amber Room."
Often referred to as the "Eighth Wonder of the World," the Amber Room was a lavish and intricate chamber decorated with amber plates, given to Peter the Great by Prussia's Friedrich Wilhelm in 1716. Hitler's troops stole the jewel-encrusted chamber in 1941 — reportedly packing it up into 27 crates — and shipped the treasure to Koenigsberg. It later disappeared.
Kleine, who is retired agricultural engineer, and six companions have been searching since 2008 for the Amber Room. The group, which describes itself as "syndicate for the exploration of historical events" — obtained permission from the city of Wuppertal to officially search for former tunnels and bunkers under selected parts of the city.
"Wuppertal is believed to be home to about 170 tunnels, bunkers and underground storage facilities," Kleine explained. "We go out on our excursions almost every day and have been digging below surface at least a dozen times already," sometimes remaining underground for days.
City spokeswoman Kathrin Petersen confirmed to NBC News that Kleine has been allowed to "look behind walls or do some of his own drilling during scheduled building or restoration projects."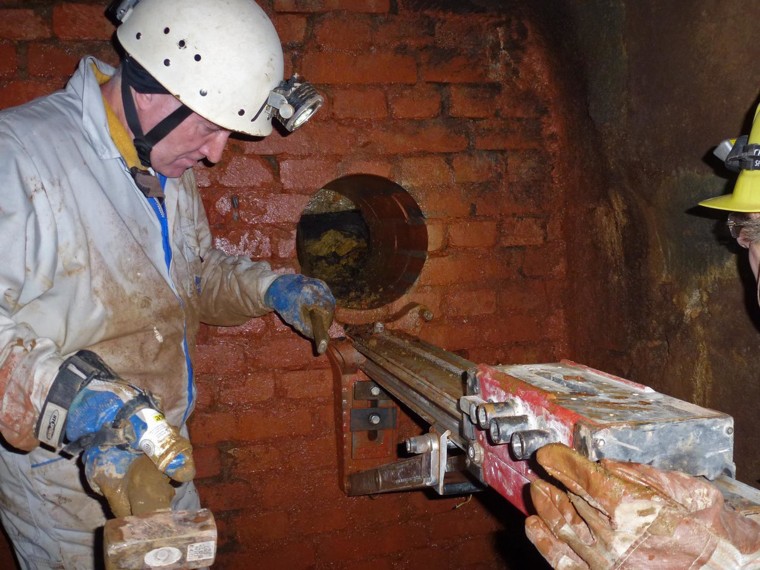 Kleine and his compatriots pore over dusty books for clues on where to dig — and their decisions are aided by the group's secret weapon: one member's intuition.
"We do not need maps," Kleine said, because 63-year-old Wilfried Fischer "has the seventh sense and finds locations for us when he is out walking his dog."
A local building company had been supporting Kleine and his team with a large core drill, but the group is now in need of money more sophisticated machinery. Kleine said the lack of funds and equipment has left the four pensioners and their three younger colleagues —including one professional firefighter — to roam the streets on foot, in search for new potential excavation points.
Whatever the hobby historians find would need to be returned to its rightful owners, but the group said it would be entitled to 3 percent of any discovery's estimated value under German law.
"To date, we have only found an old well, which can now be visited by tourists, and, yes, lots of experience," Kleine admitted, but said he's 100 percent certain the treasure will be found.