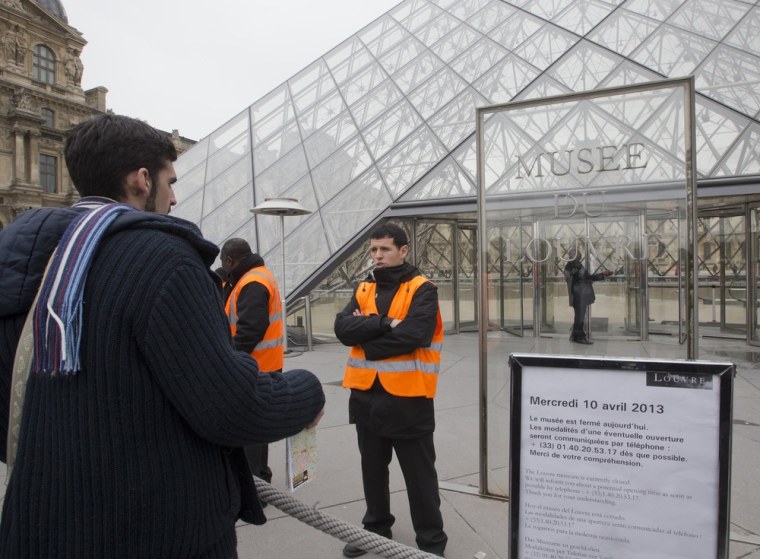 PARIS - Tourists caught no glimpse of the Mona Lisa, Winged Victory or Venus de Milo on Wednesday due to a one-day closure of the Louvre, as guards protested that pickpockets were rampant at the world's most visited museum. 
Two hundred museum guards exercised their right to a work stoppage, forcing the museum to shut its doors for the day, union representatives said. 
The CGT union said guards were "fed up" by attacks and threats directed at them and visitors over the past few months by pickpockets.
The secretary general of the national union for museums (SNMD), David Maillard, said petty thieves were multiplying at the site, visited by nearly 9 million people each year.
"There are thefts and threats every day. The guards are fed up with being assaulted by pickpockets," Maillard told Reuters, adding that the unions want better security at the museum.
The Louvre, which confirmed the closure on its website, could not be immediately reached for comment, but unions said the museum would reopen on Thursday.
Paris police regularly patrol the city's most crowded tourist sites, such as the Eiffel Tower and the Louvre.
But thieves who often operate in organised gangs are a constant frustration for authorities as they are easily able to exploit tourists and can lose themselves in crowds.
Many of those arrested do not hold French nationality or are minors, complicating judicial pursuit. 
Reuters contributed to this report.
Related:
Clashes, riot police, at French anti-gay marriage protest