It's often said that love finds people in the strangest of places.
For U.N. Primatologist Laura Darby and her husband Adam Singh, that place was a remote African village and their love flourished while they were busy fighting to save the lives of five orphaned chimpanzees.
The couple had been dating, on and off, for a year when Darby was offered a research opportunity: Leave New York and travel to the Democratic Republic of Congo to study chimpanzees in their natural habitat.
Singh, who had only left the country once before, had a big decision to make.
"I was worried about leaving my job and everything," he said, but "If you have someone that loves you that much, don't throw it away.
He quit his job at the University of Maryland and started packing.
In October, 2008, the couple set out for Aketi, a small village in northern Congo, where the Wasmoeth Wildlife Foundation was running a conservation and research project.
The trip started out with a standard, if long, commercial flight from the U.S., continued with a flight on a small Congolese plane that the couple describes as "the scariest flight of their lives," and culminated in a 200-mile motorcycle ride along the bumpy dirt tracks through the tropical forest.
"It was — grueling," Darby said "I started feeling like John Wayne, having to walk bowlegged."
Along the way, they and their drivers had to stop regularly to get around felled trees and cross rivers on narrow steel beams. They rode for six long days before reaching their new home — after a final rain storm that left them soaked to the bone.
"The cavalry arrived," said fellow American Primatologist Cleve Hicks who greeted them.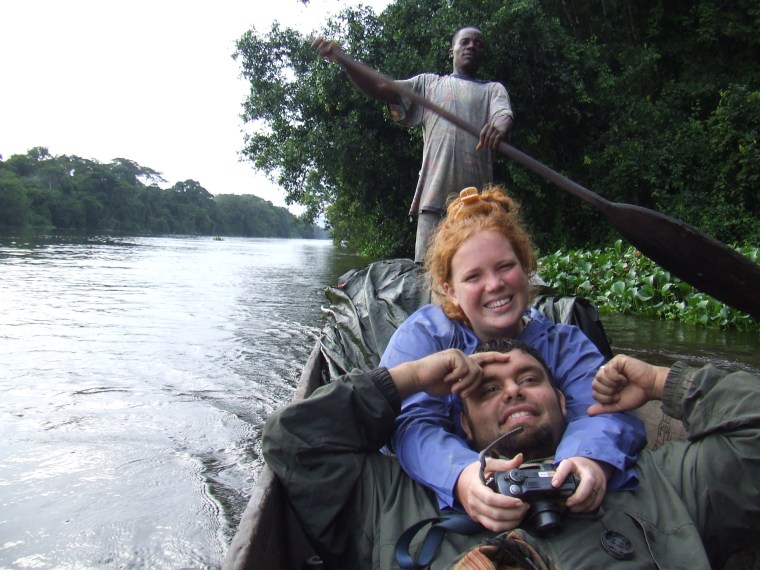 Hicks, who had already spent many months in northern Congo studying the Mystery Apes of the area — as scientists had dubbed a chimpanzee population deep in the forest of northern Congo — had to soon leave Africa to go back to the U.S.
He was handing over more than a research project. He was caring for four baby chimps he had rescued from the poachers' illegal pet trade in the area. Darby and Singh had just taken charge of four young lives.
"Baby chimpanzees are like children," Darby explained. "You need to make sure that they're eating the right kinds of food, that they're healthy and that you're monitoring them."
And by the time Hicks left, they had rescued a fifth chimpanzee.
Then, in December, Darby suffered a bad bout of Malaria. She was vomiting and sweating profusely. Singh offered his help but Darby sent him away.
"She's like, no, no, don't help me clean up, I'm disgusting" Singh recalled. B
But, instead of backing off, he made her what must be one of the most romantic — and bizarre — marriage proposals ever, right there and then.
"I'm like, no, no, this is how we're going to get old together," he said "we're gonna be together forever. Let's get married."
The couple, who still laugh every time they tell the story, were instantly engaged.
"When you love someone," Singh says, "you just take care of them, you just love them and you don't make excuses for it."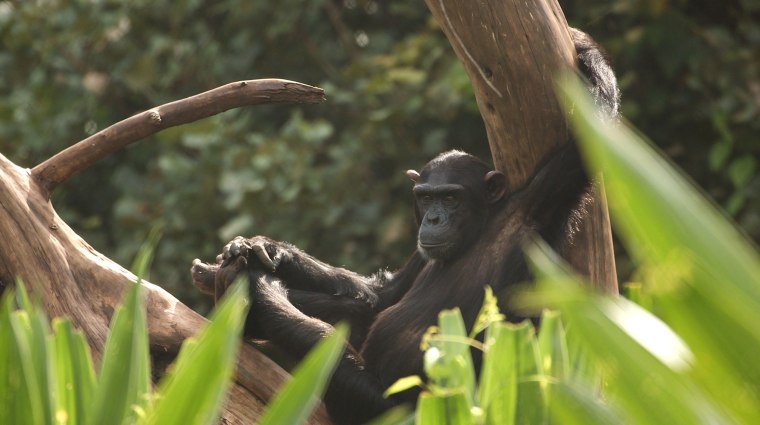 And, with their chimps, whom they now call "the Aketi Five," they formed a very unusual, but loving family.
In a video greeting card they sent their families back home for Christmas, the couple holds a chimp between them as they send holiday greetings "from our family, to your family."
But the family idyll was soon shattered by the realities of life in a remote and dangerous part of Congo. Corrupt local officials were making increasingly outlandish demands for bribes in return for permission to continue caring for the orphaned chimps. One of them demanded $8000.
"'There is nothing that you could do," to protect the chimps, that official said, according to Darby. "I could go right now, take your chimpanzees and put them in my cooking pot."
By the spring of 2009 the couple decided they had to leave Aketi. And take the chimps with them. But how? They asked Cleve Hicks for help and together, they managed to secure official permission to transport the chimps to the Lwiro Center for the Rehabilitation of Primates in Eastern Congo, one of only two sanctuaries in Congo. The International Primate Protection League was willing to pay for a missionary flight departing from the remote village.
At dawn, on the appointed day, Darby, Singh and their local staff placed the chimpanzees in makeshift wood and vine crates and ferried them, along with all of their belongings, across a river to an airstrip they had prepared.
Afraid that the corrupt officials would catch up with them, they hid behind some bushes as they waited for the plane.
When a small propeller powered plane started circling overhead, the couple breathed a sigh of relief. But the sound of the plane landing, a sound that hadn't been heard in that remote corner of Africa in decades, sent dozens of curious villagers running to the airfield.
"When you love someone, you just take care of them, you just love them and you don't make excuses for it."
And, soon enough, one of the corrupt officials showed up, with several of his men. They held the plane door open and tried to offload the chimp crates. One man was yelling at Darby in the local language.
"He was angry he wanted his money," she says. Singh, a black belt jiu jitsu master, came to her defense and things were starting to get physical.
Pressed for time to complete the multi-legged flight before sundown and with the chimps restless at the back of the plane, pilot Jon Cadd, was anxious to get going. Cadd, the program manager of Mission Aviation Fellowship for Eastern Congo is a missionary with decades of experience flying in war-ridden countries
"We said we really have to go, sorry, and closed the door" Cadd says. His co-pilot started the propeller and the crowd was forced to step back from the plane as it started rolling down the dirt runway.
As the plane took off, Darby looked around. "Adam and I just started weeping," she said. Singh told the pilots he had prayed hard for them to come and airlift the chimps out of harms way. His prayers had been answered. The Aketi Five were safe.
Seven years later, Darby and Singh, now a married couple, reunited with their baby chimps at the Lwiro sanctuary as NBC News cameras were rolling. It was as emotional as any other family reunion.
"You are not really sure what's going happen when you take in these chimps as little orphans," Darby said standing in front of the chimpanzee enclosure.
"To be honest, a lot of the orphans don't make it."
One of "her" chimpanzees — now a fully grown, powerful ape — extended a hand beyond the fence as Darby's eyes welled. She and Singh still live in Africa. Darby is now a U.N. employee who works to find policy solutions for saving and protecting the great apes.
But the Aketi Five will always be much more than wild animals who survived. They are family.