LONDON — What's in a name? For the uneasy European neighbors of Macedonia and Greece, quite a lot actually.
In one of the strangest international disputes still playing out on the world stage, these two countries have been quarreling for more than a quarter of a century about what Macedonia should be called.
It's not just symbolic: The dispute has seen Greece block Macedonia's potential accession to NATO and the European Union, as well as imposing a brief but crippling trade embargo in the mid-1990s.
"The key objective is to try to ... stop Russians causing mischief"
Some analysts even claim this perpetual state of limbo could create opportunities for further Russian meddling on Europe's southeastern flank.
This week has given hope, however, to a possible thaw in this long-running impasse.
Both governments agreed to renew efforts to find a solution Tuesday, and a fresh round of discussions with a United Nations mediator are due to begin later this month.
This came after Macedonian Prime Minister Zoran Zaev suggested Sunday that a final compromise could come within the next six months, according to Reuters.
"I'm the most optimistic I've been for many years," according to Jonathan Eyal, the international director at the London-based Royal United Services Institute think tank, who has acted as an E.U. adviser on the former Yugoslav states. "The question is whether they will pluck up the courage to finally do it."
Loggerheads
The argument dates to 1991, when Macedonia broke away from the fragmenting socialist federation of Yugoslavia and chose its official name.
Greece vehemently objected, saying "Macedonia" was a Greek word dating to an ancient kingdom of the same name. It also pointed to its own northern region of Macedonia and the millions of ethnic Greeks who live there and regard themselves as Macedonians.
Its fledgling neighbor disagreed, citing its own historical precedent, and the two countries have been at loggerheads since.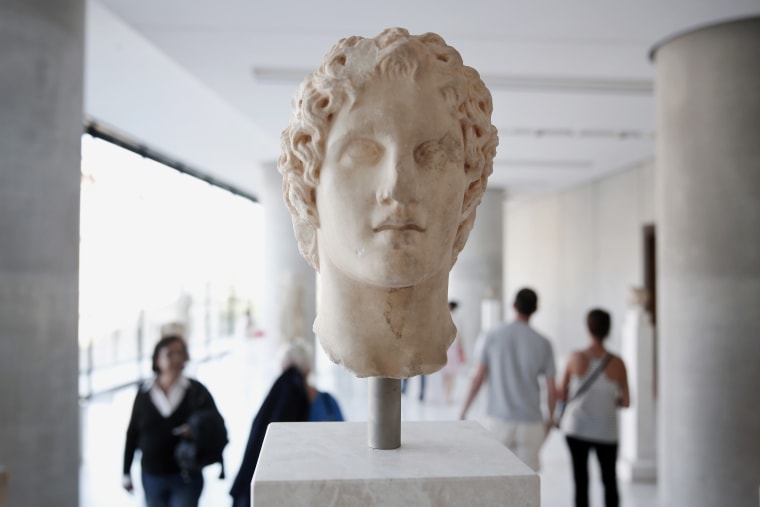 One of the key figures at the center of all this is no modern politician but a towering figure of the ancient world. Both countries claim historical ties to Alexander the Great, the ruler whose military campaigns redrew vast swathes of the world map 2,300 years ago.
What's changed now is that Greece's government, led by the left-wing party Syriza, does not share the nationalist or patriotic tendencies of previous administrations.
With Syriza's future uncertain ahead of elections next year, politicians in Macedonia may believe that the window of compromise is about to slam shut, Eyal said.
An emerging possibility is that some sort of qualifier — such as "Nova Macedonia," meaning "New Macedonia" — could be adopted. Since a 1995 accord, the country has been referred to as the Former Yugoslav Republic of Macedonia, or FYROM, at the United Nations.
The dispute has hurt Macedonia not only economically and internationally but also stunted its fledgling development in other areas, according to Biljana Vankovska, a professor at the University of Skopje, in Macedonia's capital.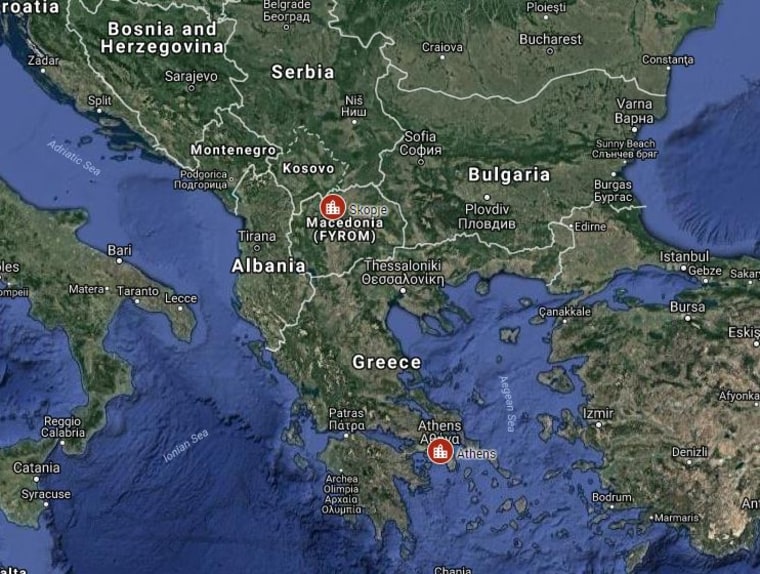 The trade embargo of the 1990s had "huge economic consequences for the already devastated country," according to Vankovska, and she said it also created an ideal environment for "burgeoning organized crime, smuggling, and gray economy in general."
The Macedonian government claims most of its people would favor a solution that would allow them to enter into NATO and the E.U. But Vankovska is skeptical.
"The overwhelming majority of ethnic Macedonians ... are not willing to trade with their identity for any foreign-policy reward," she said.
One section of the population who may be open to the idea are the 25 percent who identify as ethnic Albanians, Vankovska added. Albania, the country, is already in NATO, and membership for Macedonia would be a unifying force for the region's diaspora.
'Suspended animation'
The ripples of this nomenclature feud have been felt beyond the borders of Macedonia, a landlocked country of around 2 million people that's the size of New Hampshire.
Macedonia has sent troops to support the U.S.-led wars in Iran and Afghanistan, but NATO says it must resolve its dispute with Greece before it can formally join.
Officials in the tiny country, as well as some Western analysts, have suggested that its lack of formal membership puts it under threat from meddling by Moscow.
Montenegro, another former Yugoslav state to the north, claimed that in 2016 a group of Serb and Russian nationalists attempted a coup to sabotage its imminent NATO membership. The Kremlin denies involvement in the alleged plot.
Some, such as Vankovska, feel that such worries are overblown and calls them a "cheap political trick" by Macedonia's government. But others, like Eyal at RUSI, do see danger in having states like Macedonia in what he calls "suspended animation" — neither allied with Russia nor the West.
"The key objective is to try to maintain stability in what remains one of Europe's least stable countries and to try to stop Russians causing mischief like they did when Montenegro tried to join NATO," he said. "There's no question that the Russians are interested in the region."