Nearly two dozen people were killed and dozens more were injured when torrential rains triggered flash floods in the capital of Macedonia, the Red Cross said Sunday.
Government spokesman Aleksandar Gjorgiev told The Associated Press a state of emergency had been declared for two weeks in the most affected areas, which included the capital of Skopje, the city of Tetovo and surrounding suburbs.
The Red Cross reported that 22 people were killed, more than 60 people were injured and four were still missing after the floods destroyed hundreds of homes and wiped out electricity. More than 1,000 people were evacuated from their houses, according to the Red Cross.
After a meeting of the National Crisis Management Center, Health Minister Nikola Todorov said many of the injured had fractures and contusions.
The European Commission said more than 20 inches of rain fell in parts of Skopje within two and a half hours, washing through homes and sweeping cars off roads.
Mayor Koce Trajanovski described the damage as "the worst Skopje has ever seen."
He said that the deadly deluge created hazardous rainfall accumulations within only 20 minutes."It was like a water bomb has fallen," he said.
Macedonia's Prime Minister Emil Dimitriev pledged support to victims and cut a vacation short to visit Skopje, he said in a statement.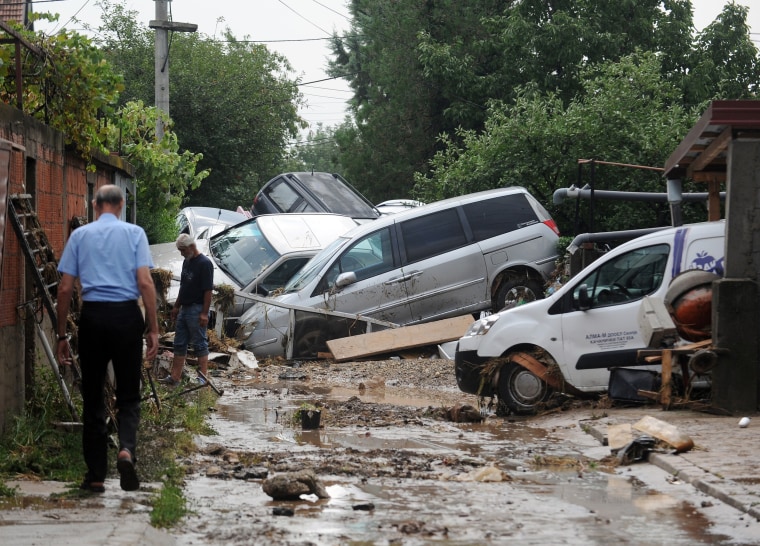 Albania, Macedonia's neighbor to the west, also promised to provide assistance, according to a foreign ministry statement.
The government of Skopje had issued a warning for people to remain in their houses Saturday ahead of the floods, but witnesses said that's where many people drowned when they became trapped by the wall of water.
Skopje's city council held an emergency session and decided to provide financial help to victims' families, giving 180,000 denars ($3,260) to each. Authorities said they will open shelters for people from affected areas.
A the city of Tetovo set up a fund for affected residents.
Tetovo Mayor Teuta Arifi said crews were working to clear debris from streets in anticipation of more rain expected Sunday.
Weather.com meteorologist Chris Dolce said the next round of rain could last in Skopje and Tetovo through the beginning of the week.