/ Source: Associated Press
LONDON — The campaign of French presidential front-runner Emmanuel Macron appears to have been targeted by hackers who may be linked to Russia, according to research by the Japanese anti-virus firm Trend Micro.
The Macron campaign's spokesperson, Laurence Haim, confirmed that the campaign was the target of a "sophisticated" phishing attack in a phone call with NBC News Tuesday.
She said that the attempt was "absolutely not successful," but that hackers tried to gain access to campaign workers' passwords so that they could access their email. She added that the campaign could not confirm that Russians were behind the attack.
The Macron campaign's digital security director, Mounir Mahijoubi, said that the campaign had spotted "a number of suspicious phishing and other kinds of attacks. They were highly sophisticated attempts to get into the campaign's email accounts." Five or 10 attempts, he said, were particularly noticeable, but the hackers were not successful because staff had been "thoroughly trained to be careful with their emails and to spot suspicious activities."
Mahijoubi also said he could not prove that the hackers were linked to Russia.
Trend Micro researchers first detected the phishing campaign targeting the Macron campaign in March and April of this year, Chief Cybersecurity Officer Ed Cabrera explained in a joint interview with NBC News and Christopher Dickey of The Daily Beast Tuesday.
Cabrera explained that the hackers try to trick users into using lookalike websites so that they give up their passwords.
"They conduct these well-crafted phishing campaigns to compromise individuals," said Cabrera.
The Tokyo-based firm said it recently detected four Macron-themed fake domains being set up on digital infrastructure used by a group it has followed for years called Pawn Storm.
Trend Micro cannot definitively say that Russia is behind Pawn Storm, but says that a "pattern of life" points to Russia, based in part on who the group targets. American spy agencies and a variety of threat intelligence firms accuse Pawn Storm, also known as Fancy Bear or APT28, of being an arm of Russia's intelligence apparatus. Fancy Bear was allegedly involved in the hack of the Democratic National Committee.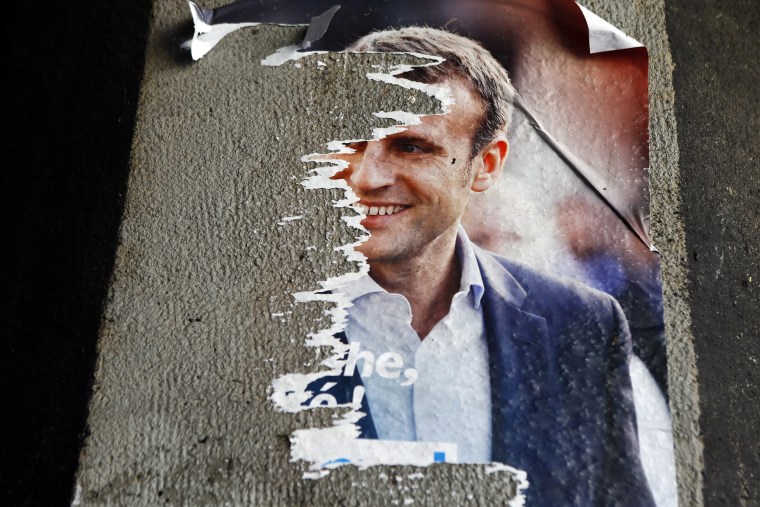 Russian government officials have long denied claims that they are responsible for any state-sponsored hacking.
Kremlin Spokesman Dmitry Peskov dismissed allegations of any Russian interference in the French elections on Monday.
"These are utterly erroneous allegations, and rather primitive," Peskov told journalists in Moscow.
"Russia has never interfered, doesn't interfere and will never interfere into electoral processes in other countries," he said.
In the second round of the French presidential election, political newcomer Macron will face far-right opponent Marine Le Pen in a runoff election on May 7.
The election presents voters with a stark choice: Macron's vision of a tolerant France and a united Europe with open borders against Le Pen's "French-first" platform that calls for closed borders, tougher security, less immigration and dropping the shared euro currency to return to the French franc.
Macron won the first round of the election on Sunday with 24 percent of the vote, but observers have been watching closely for any interference.
Many observers feared a repeat of the U.S. electoral contest in 2016, when hackers allegedly backed by Moscow grabbed emails from Democratic campaign workers. Pilfered documents subsequently appeared on WikiLeaks and other websites, putting the Democrats on the defensive during Hillary Clinton's campaign for the presidency against Donald Trump.