President Emmanuel Macron said France's position on Taiwan had not changed and that he favored the current "status quo" in respect of the island, after he was asked to clarify comments that prompted a backlash in the United States and Europe.
Germany's foreign minister, meanwhile, begins a visit to China on Thursday aiming to reassert a common European Union policy toward Beijing days after Macron's remarks suggested disarray in the continent's approach to the rising superpower.
In an interview with news outlet Politico and daily Les Echos, Macron had cautioned against being drawn into a crisis over Taiwan driven by an "American rhythm and a Chinese overreaction."
That brought criticism from some politicians and commentators in Europe and the United States, with former President Donald Trump accusing him of "kissing ass" to Beijing.
"The French and European position on Taiwan is the same one. We're in favor of the status quo. This policy is constant and hasn't changed," Macron said at a news conference during a state visit in the Netherlands.
"It's the One-China policy and a Pacific resolution of the situation. That's what I said in my one-to-one meeting with Xi Jinping, that's what was said everywhere, we haven't changed," he said.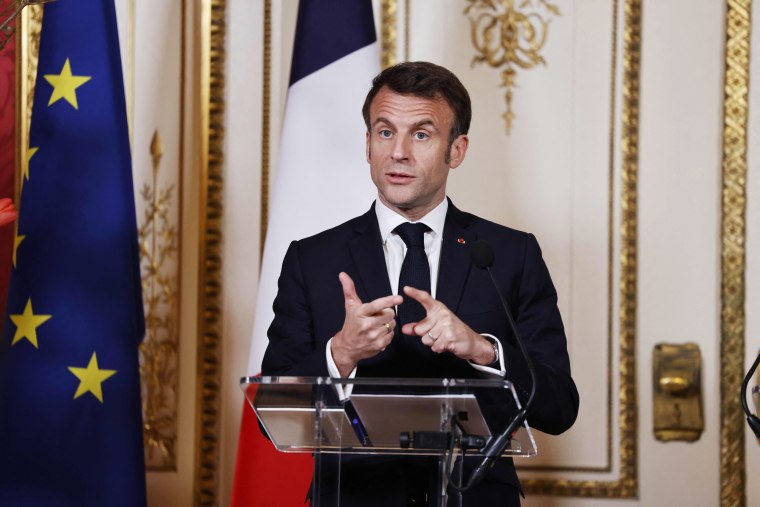 Macron did not mention Taiwan in his public statement to the press at the Great Hall of the People in Beijing last week, an omission that commentators criticized.
The French leader also said he shared a vision of an "open Indo-Pacific region" with President Joe Biden, even if they each had their own approach on China.
"I can tell you he wants to avoid any escalation in spite of the current tension," Macron said.
Macron added that a French military ship had gone through the Taiwan Strait in recent days despite Chinese military exercises around the island and demonstrated France's robust engagement in the region.
China has never renounced the use of force to bring the democratically governed island under its control.
"So no, France does not support provocations, does not engage in fantasy politics and considers the status quo, respect and clarity are the best allies of European strategic autonomy," Macron said.
He said Trump's comments were an example of the escalation sought by some. A French diplomat told reporters earlier that Macron did not want to get drawn into the "tension" strategy of the Republican leadership of the U.S. Congress on Taiwan.
The meeting between Taiwan President Tsai Ing-wen and House Speaker Kevin McCarthy in California last week — prior to China's drills — was a "provocation," the diplomat said.
The Dutch Prime Minister, who was hosting Macron for a two-day state visit, said he had a very successful meeting with Macron and did not distance himself from his guest's comments, but reaffirmed his belief in the Western alliance.
"Our strong transatlantic relation is there for very good reasons, the U.S. is an essential partner for our freedom and safety," Dutch Prime Minister Mark Rutte said.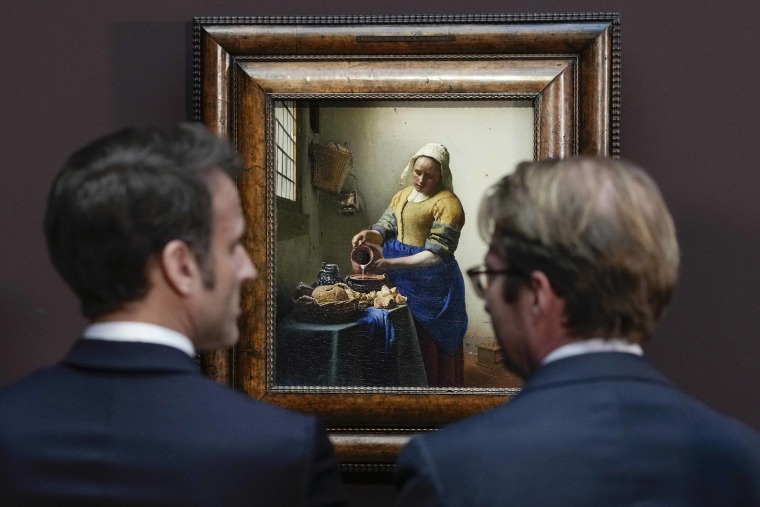 "But at the same time, we agree that an open and strategically autonomous Europe should be capable to develop those relations also with other parts of the world. To be a player, and not the playing field," he added.
As a result of Macron's comments, the stakes of the inaugural trip by German Foreign Minister Annalena Baerbock have risen, with many E.U. members hoping Berlin will use this opportunity to set out a clear and united E.U. line on China, analysts said.
"Now it is about damage control to a large degree. ... But the cloud of Macron's visit is very big and still it's very unclear how this balance will play out in the end," Alicja Bachulska, a China-EU relations researcher at the European Council on Foreign Relations in Warsaw, told Reuters.
Even without Macron's remarks the trip would have been delicate for Baerbock, who has been more hawkish on China than Chancellor Olaf Scholz and is drafting a China policy aimed at reducing Germany's economic dependence on Beijing.
Speaking ahead of her visit, Baerbock said the top of her agenda would be reminding China of its responsibility to influence Russia to end its invasion of Ukraine and underlining a common European conviction that a unilateral change in the status quo in the Taiwan Strait would be unacceptable.
The foreign minister is due to meet her counterpart, Qin Gang, and China's top diplomat, Wang Yi, on the two-day trip.