French President Emmanuel Macron has warned that a "nationalist leprosy" risks dragging Europe back to the 1930s.
He said the spread of populism was dividing Europe and weakening it against rivals such as China and Russia.
His pitch for European unity came ahead of a crucial round of soft diplomacy. More than 60 world leaders, including President Donald Trump and Russian counterpart Vladimir Putin, are expected to attend a commemoration in Paris on Sunday marking 100 years since the end of World War I.
Almost 117,000 Americans were killed during World War I, which ended with an agreement between U.S. allies and Germany signed at 11 a.m. on Nov. 11, 1918 — Armistice Day.
Macron began a six-day tour of World War I battlegrounds Sunday night, accompanied by his wife, Brigitte, and German President Frank-Walter Steinmeier.
The armistice brought peace to France, but Germany saw street fighting between far-left and far-right factions, the end of the monarchy, hyperinflation and poverty — conditions that allowed the Nazis to flourish.
Macron, who is keen to position himself as a centrist European figurehead similar to Germany's Angela Merkel, drew dark parallels between Europe's current crisis and those that tore it apart at the start of the last century.
"I am struck by similarities between the times we live in and those of between the two world wars," he told Ouest-France newspaper in an interview published Friday.
"In a Europe divided by fears, the return of nationalism, the consequences of economic crisis, one sees almost systematically everything that marked Europe between the end of World War I and the 1929 crisis," he said.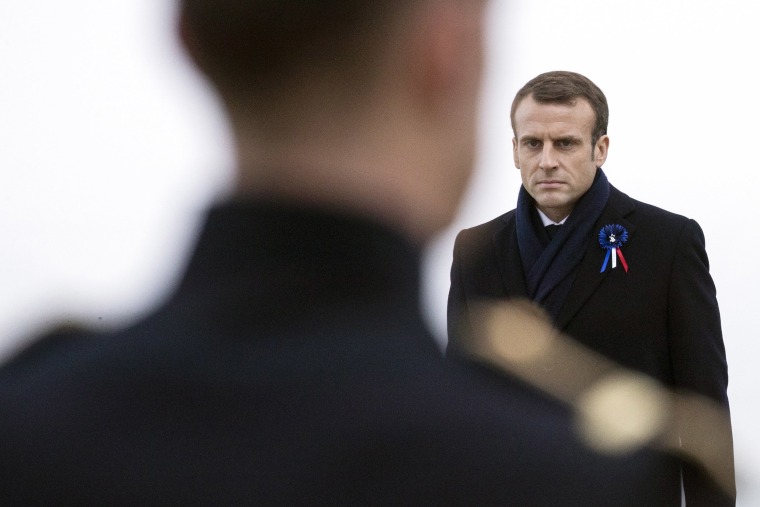 Europe must "know how to fight back," he added.
In addition to Brexit, Europe has been rocked by the rise of nationalist governments in Hungary and Poland and populist parties in Italy.
"Europe faces a risk — that of being broken up by the nationalist leprosy and of being pushed around by foreign powers," Macron said.
That means "having security depend on U.S. choices, having China play an ever-greater role when it comes to essential infrastructures, and Russia sometimes tempted to try its hand at manipulation, and have financial interests and markets sometimes play greater roles than those of states."
He avoided mention of Trump's July visit to Europe, in which the U.S. president demanded NATO allies increase their defense spending and said Germany was "totally controlled by Russia."
Up to 19 million people are estimated to have died during World War I, including at least 8 million members of the military.
Much of the conflict was fought on French and Belgian soil; the mounds of trench lines still scar the land along the frontiers of eastern France and its borders with Germany, Luxembourg and Belgium.
On Friday, Macron will lay wreaths with British Prime Minister Theresa May in the town of Albert to honor British soldiers who died at the Battle of the Somme.
On Saturday, he and Merkel will hold a joint ceremony at the train car where the 1918 armistice was signed.