MANILA, Philippines — Madonna made surprise visits to two shelters for orphans and street kids, taking selfies with children a day before her two-night concert stint in the Philippine capital.
Pictures on her Instagram account showed her carrying a baby in one arm while holding hands with a girl guiding her on a tour of the Hospicio de San Jose orphanage in Manila Tuesday. At the Bahay Tuluyan shelter for street kids, she sat on a tarpaulin mat with children.
"Chillin' with my Homies at the Bahay Tuluyan Foundation Inc. giving shelter to orphans street children trafficking/abuse victims in Manila!!" Madonna said alongside one selfie.
Officials at the shelter were told Monday that Madonna's dancers were going to visit, but they did not find out that the star herself was also coming until an hour before her arrival, said Catherine Scerri, the deputy executive director of Bahay Tuluyan.
She said the children did a couple of dances before being joined by Madonna's dancers. Madonna asked officials about the center's program and whether the children were going to school, but she spent most of her 45-minute visit with the kids, Scerri added.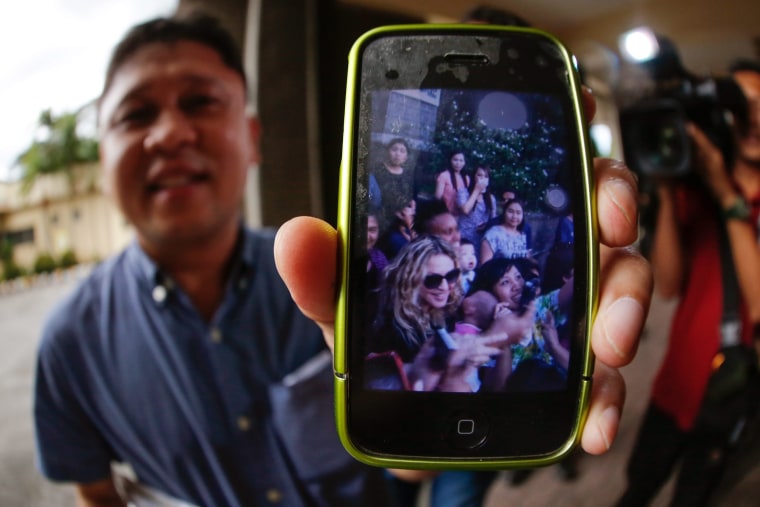 Madonna plays Manila's Mall of Asia Arena on Wednesday and Thursday, the latest stops on her "Rebel Heart" world tour.
Archbishop Ramon Arguelles of Lipa, an outspoken Philippine Roman Catholic leader, has discouraged Filipinos from attending the concerts.
"Why is the Catholic Philippines the favorite venue for blasphemy against God and the Holy Mother?" he said in a text message to reporters Tuesday.
He stopped short of calling for a boycott, like he did in 2012 when Lady Gaga held a concert in Manila, but said in the text that "all God-loving people should avoid sin and occasions of sin."