The search for survivors continued into the early hours Sunday after a flurry of aftershocks hit southwestern Japan the day before, sending rescuers scrambling to reach victims trapped under debris.
Earlier, two big quakes killed at least 35 people, while about 190 others suffered serious injuries, the Japanese government said.
Evacuation orders were issued for areas vulnerable to landslides amid powerful thunderstorms in the area, government spokesman Yoshihide Suga said in a Saturday night press briefing.
Photos: Stronger Japan Earthquake Triggers Landslides and Collapses Homes
"There are still sporadic aftershocks from this morning's earthquake, and so there is still a need to be vigilant," Suga warned.
Saturday's massive quake killed 26 people on top of the nine who died in a temblor two days earlier, he said.
The United States Geological Survey reported the magnitude-7.0 earthquake struck at 1:25 a.m. Saturday in the city of Kumamoto on the island of Kyushu, at a depth of 25 miles.
Thursday night, a magnitude-6.5 quake shook the same area. There were more than 130 aftershocks.
Roughly 69,000 people have evacuated the Kumamoto Prefecture where at least 100,000 homes lost electricity and 385,000 are without running water, Suga said.
On Saturday afternoon, 2,000 soldiers were active in the rescue and relief efforts following the two quakes, but Suga said that number will increase to 15,000.
There have been no irregularities reported at any of the nuclear power plants in the region, according to Suga.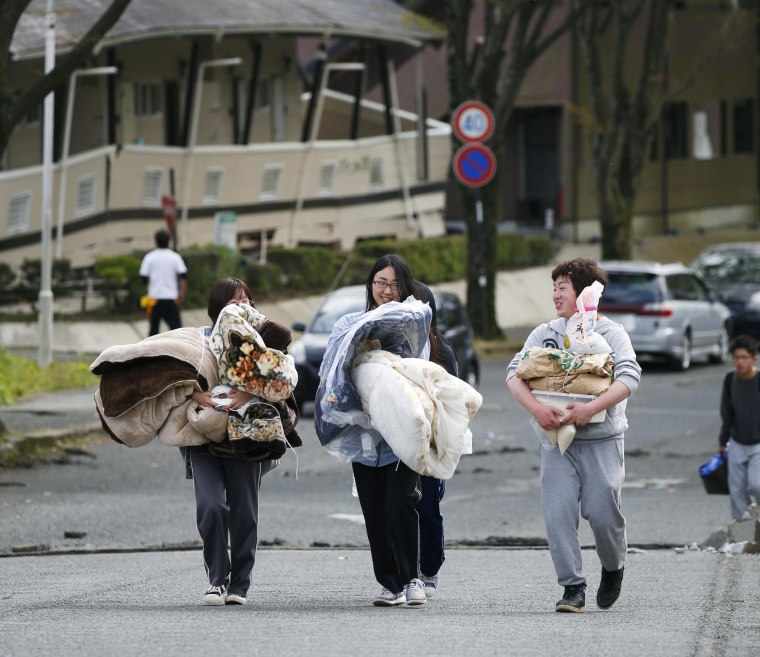 Saturday's earthquake briefly triggered a tsunami advisory that the Japan Meteorological Agency later lifted. At least five aftershocks rattled the region, the strongest of which was a magnitude-5.8, the USGS said.
Since Saturday's quake was bigger, Thursday's was technically a foreshock, a Meteorological Agency official, Gen Aoki, told a news conference.
The greatest seismic activity was from Kumamoto Prefecture to Oita Prefecture, Gen Aoki, director of Japan Meteorological Agency earthquake and monitoring division, told reporters Saturday.
Related: Powerful 6.5-Magnitude Earthquake Rattles Japan, Killing at Least 9
"In those areas where the tremors were strong, there is a higher risk of homes collapsing and landslides so we urge everyone to pay particular attention to tremors and rain," Aoki said.
The Fire and Disaster Management Agency said 66 people were trapped inside a nursing home in Mashiki, the hardest-hit town, and rescue efforts were underway, the AP reported. No other details were immediately available.
"The shaking was so violent I couldn't stand still," said Hironobu Kosaki, a Kumamoto police official, after Thursday night's quake.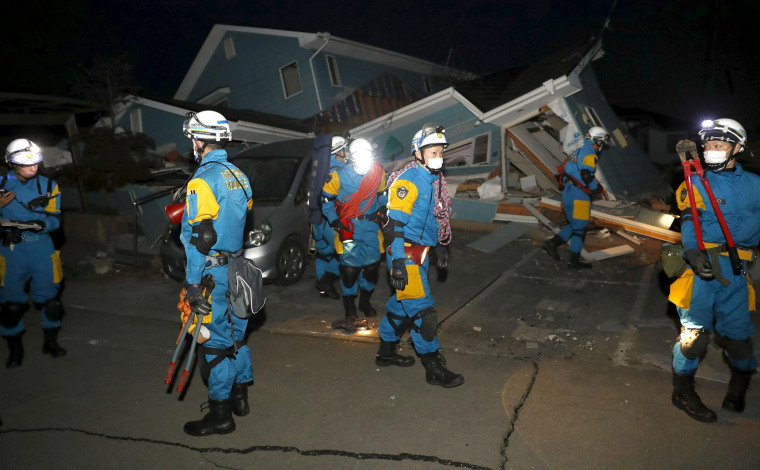 There was a glimmer of good news after Friday's devastation: A baby who was buried under rubble for hours was rescued unscathed.
U.S. State Department spokesman John Kirby said the U.S. has been in touch with authorities in Japan and isn't aware of any Americans who have been affected by the quakes.
"Our thoughts and prayers go out to everyone affected by the earthquake, this second one as well, and we are monitoring it as best we can," he said at the State Department briefing Friday.