Italians fed up with the country's lousy postal service may now have found a culprit: Police say they discovered more than a half-ton of undelivered mail in a rogue postman's garage.
The postal police said the 573-kilogram (1260-pound) stash in the Vicenza home of the 56-year-old postman was the biggest seizure of mail ever undertaken in Italy.
The missing mail had been collecting for the past eight years and included utility bills, bank statements, old phone books and political propaganda mailings from the 2010 regional elections.
Police were tipped off when volunteers from a recycling center reported receiving 25 big yellow containers from the postal service, with mail still inside.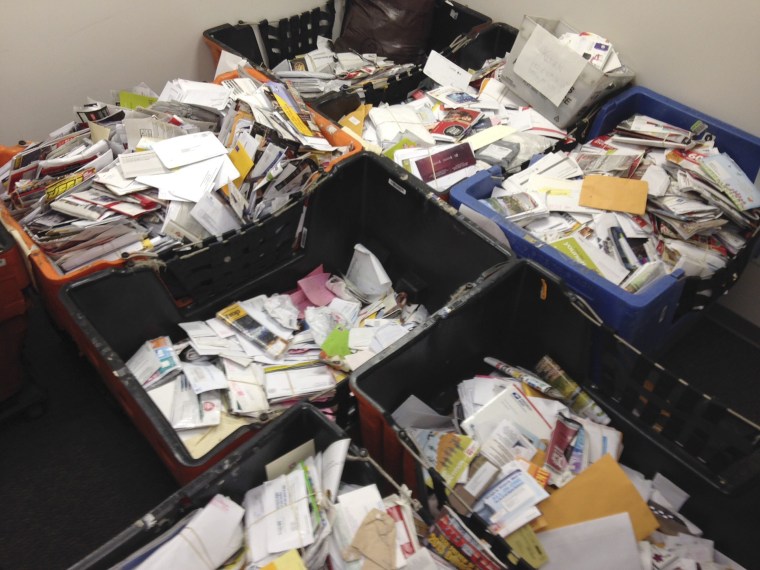 He joins other postal workers accused of pilfering vast amounts of their customers' mail.
In New York City, for instance, a mail carrier in the Flatbush section of Brooklyn was charged in 2014 with hoarding more than a decade's worth of the stuff — about 40,000 pieces of mail — in his work locker, his car and his home. Federal prosecutors later dismissed the charged against the mailman, Joseph Brutocao, according to the New York Daily News.
In North Carolina, 53-year-old Gary Collins pleaded guilty last year to "detaining and delaying" more than 1,800 letters and parcels, according to the U.S. Attorney's Office in the state's Western District, while in Philadelphia, a postal worker was charged in 2015 with secreting away 22,000 parcels, NBC Philadelphia reported.
In Italy, the postal police say the mail will now be delivered to its rightful owners — a few years late.