A strong earthquake hit Tuesday morning off the east coast of Japan near Fukushima, the site of the 2011 earthquake-spawned tsunami that killed almost 19,000 people, Japanese and U.S. agencies said.
Little damage was reported. At least five people suffered minor injuries, and almost 2,100 others had been evacuated to shelters, national broadcaster NHK reported. Three small boats capsized off Miyagi Prefecture, the Japanese Coast Guard said, according to the Kyodo news service.
Two U.S. military officials, meanwhile, told NBC News there were no early reports of injuries or damage to U.S. military installations.
The Japan Meteorological Agency initially put the earthquake, which hit about 6 a.m. Tuesday (4 p.m. ET Monday), at magnitude 7.3 at a depth of about 19.6 miles. It later revised the magnitude to 7.4.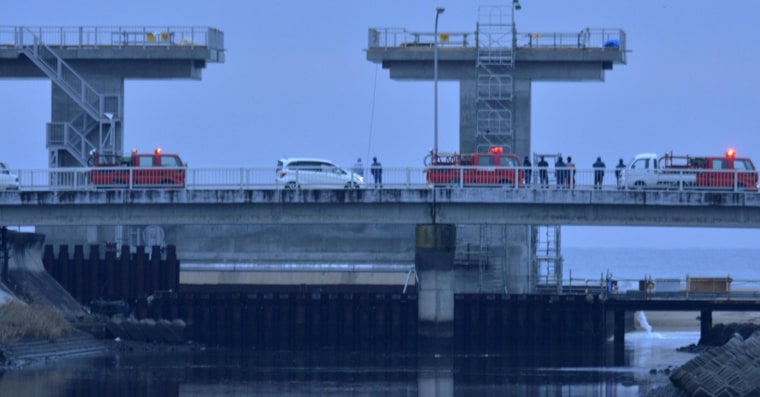 The weather agency issued an early tsunami warning for Fukushima and Miyagi prefectures and urged immediate evacuations before it lifted all advisories late in the afternoon.
Speaking to reporters in Argentina, where he is making a state visit, Prime Minister Shinzo Abe said the government would work closely with local authorities to ensure people's safety.
The U.S. Geological Survey, which put the quake at magnitude 6.9, described it as having moved along a lateral slip, saying quakes along faults that move laterally don't create the vertical movement associated with large tsunamis.
Top tsunami waves of no more than about 3 meters (10 feet) were expected. The first wave, measuring 60 cm, or about 2 feet, arrived in Onahama port in Iwaki City in Fukushima Prefecture at 6:49 a.m., the weather agency reported.
Jake Emen, an American staying in a 16th-floor hotel room in Tokyo, almost 150 miles away, told NBC News that his room began "rumbling" about 6 a.m. and then started to sway for several minutes.
"After settling down, an emergency announcement was made by the hotel indicating the building was stable but to avoid using elevators until they were tested," Emen said.
More than 18,500 people were killed by a tsunami that was created after a magnitude-9 earthquake hit northeastern Japan on March 11, 2011. The Fukushima Daiichi Nuclear Power Station suffered meltdowns in three of its six reactors, leaving a huge area of land unusable for decades.
The main government spokesman, Chief Cabinet Secretary Yoshihide Suga, said in a televised briefing that there was no imminent danger to the cooling system for spent fuel. But he said the No. 3 reactor at Fukushima Daini, the facility's sister plant, had stopped functioning and was under review.
Fukushima Daini wasn't affected by the 2011 earthquake and tsunami.