The Pakistani teen marked for death because she campaigned for girls' education went back to school Tuesday for the first time since a Taliban gunman shot her in the head five months ago, a family spokesperson said.
Malala Yousafzai is attending classes in Birmingham, England, and not her homeland, where the Taliban had vowed to make another attempt on her life.
Still, it was a sweet victory for a 15-year-old who endured multiple surgeries to reconstruct her skull and restore her hearing after she was shot on her way home from school Oct. 9.
"It's what I dreamed," she said in a video released by the public relations firm that works with her family.
"I dream for all the children that they should go to their school because it's their right…their basic right."
She wore the school's green uniform top over a long black skirt, her head covered in a dark scarf, with a pink backpack slung over her shoulder.
She joked about the overcast weather in Britain with her father, saying, "I wish I could see the sun."
Malala was already a well-known activist in Pakistan when a militant stormed her school bus and opened fire, wounding her and two other girls and sparking international outrage.
The Taliban, which opposes education for girls, later said it wanted to punish her "Western thinking."
She said in the video that being able to go back to school was "the happiest moment."
"Today I will hold my books, my bag and I will learn. I will talk to my friends and I will talk to my teacher," she said.
"I want to learn how to bring change in this world."
Her two wounded friends, whose injuries were less severe, are also back at school in Pakistan's Swat Valley, where they are protected by government guards, the Christian Science Monitor reported.
"Before I was a normal girl," Kainat Riaz, 16, told the paper. "Now I am afraid to go out and can't go anywhere freely."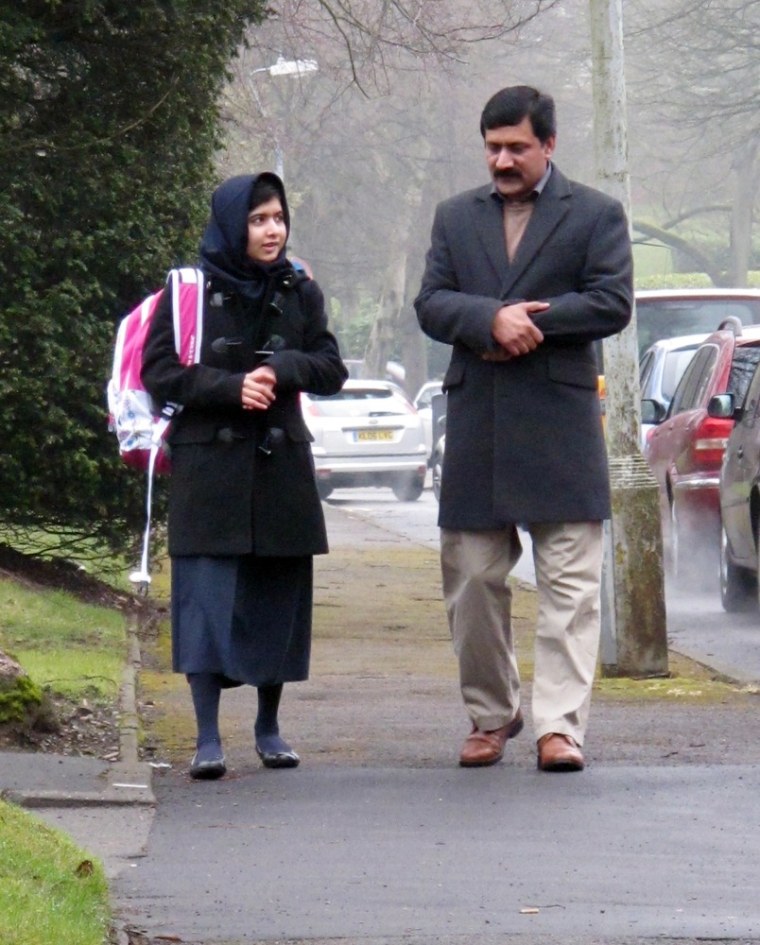 NBC Islamabad Bureau Chief Amna Nawaz contributed to this report
Related:
Malala, teen champion of girls' rights, nominated for Nobel Peace Prize
Thousands rally in Karachi for Malala, 14-year-old Pakistani girl shot by Taliban
'Spy of the West': Al-Qaida, Taliban struggle to justify attack on Pakistani teen