When Malala Yousufzai left her hometown in 2012 it was with a Taliban bullet wound to her head.
But the youngest-ever Nobel Peace Prize winner was greeted with cheers and tears on Saturday as she finally returned to Mingora despite the ongoing threat to her life.
The 20-year-old global advocate for girls' education arrived with her family in the Swat Valley town in a helicopter provided by the Pakistani military.
It is part of her first return visit to Pakistan; she flew into the capital, Islamabad, before dawn on Thursday flanked by heavy security and plans to return on Monday to Britain where she has been receiving long-term treatment and education.
Malala won international acclaim after she was shot by the Taliban for her campaign to improve education for women. She was riding home in her school van.
On Saturday, she returned to her childhood home accompanied by her father, mother and younger brother. She sobbed upon entering the home where relatives, former classmates and friends had been anxiously waiting since morning to welcome her with flowers and hugs.
"I am happy you, the people of Swat, are united to fight for peace," Malala said on Saturday. "We can't forget that worst period when female education was banned and our schools were blown away in Swat. It is part of our history and will remain in the history when people were terrorized and were deprived of living a peaceful life."
Malala said she waited for the moment for more than five years and said she often looked at Pakistan on the map, hoping one day to return. She said she plans to permanently return to Pakistan after completing her studies in Britain.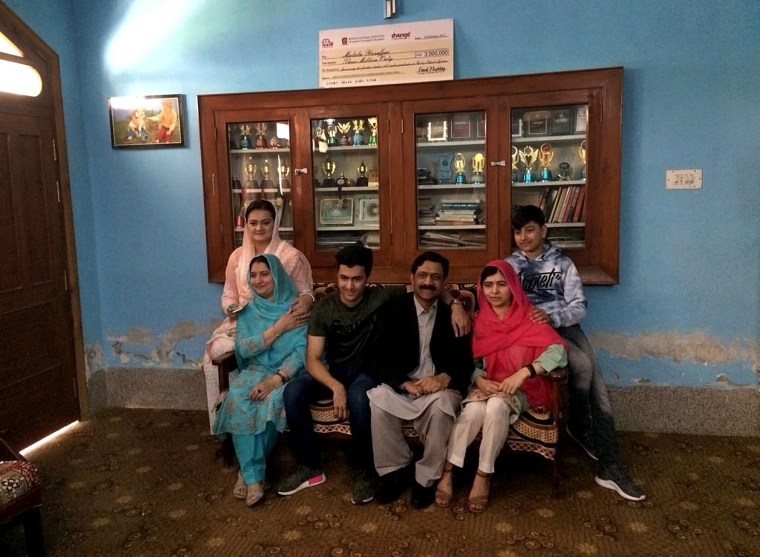 "It is still like a dream for me, am I among you? Is it a dream or reality," she said.
Her father, Ziauddin Yousafzai, a former teacher in a school that educated girls, told NBC News how excited the family had been to finally return to the area.
"I kissed the land and couldn't control my emotions," he said.
A relative told NBC News on condition of anonymity that Malala wanted to visit her hometown during this week's trip "at any cost."
"There are extraordinary security arrangements," the relative added.
Security was visibly increased in Mingora on Friday. The Pakistani Taliban had warned that it would target Malala again if they got the chance.
She had asked authorities to allow her to go to Mingora and to Shangla village, where a school has been built with aid from her Malala Fund.
Malala ended her whirlwind visit with a trip to an an all-boys cadet college before immediately returning to the Islamabad.
Malala has delighted in telling the Taliban, that instead of silencing her, they have amplified her campaign voice. She has also written a book, spoken at the United Nations and met with refugees.
"I believe our next generations will learn from the past and will go to schools and get education," Malala said on Saturday. "If we don't learn from the past experience then we would never be able to learn."
She received initial treatment in Pakistan and later was taken to England for further care. She stayed on to continue her education and became the youngest person to be awarded the Nobel Peace Prize in 2014.
Malala is nonetheless a polarizing figure in Pakistan, where some critics on social media have tried to undermine her efforts to promote girls' education. She told reporters Friday that she expected criticism from militants, who had a particular mindset, but doesn't understand why some educated Pakistanis oppose her.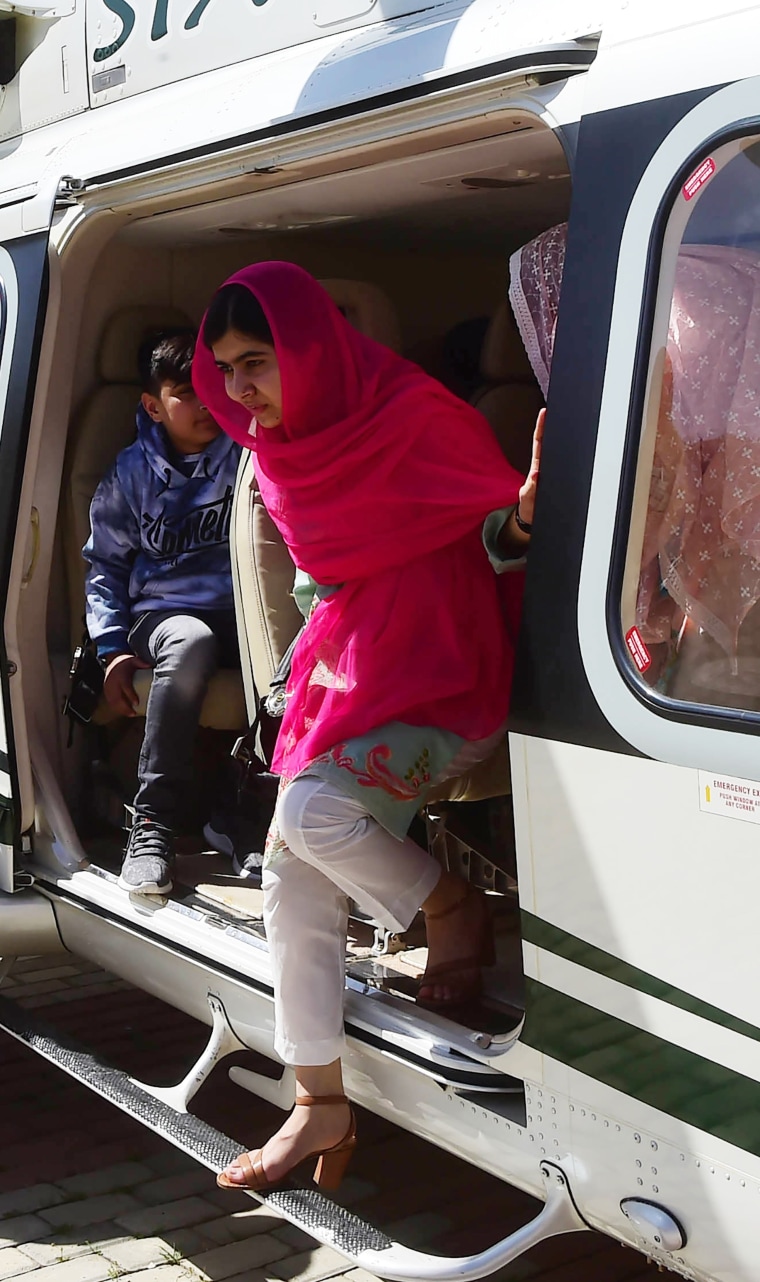 "Those who do criticize have an absurd kind of criticism that doesn't make any sense," she said in an interview publuished Saturday in Pakistan's English-language newspaper, The News.
"What I want is for people to support my purpose of education and think about the daughters of Pakistan who need an education," she said. "Don't think about me. I don't want any favor or I don't want everyone to accept me. All I care about is that they accept education as an issue."
Nevertheless, Malala is proud of her country and elated to be home. "I had never been so excited for anything. I've never been so happy before," she told Reuters.
"I miss everything about Pakistan ... right from the rivers, the mountains, to even the dirty streets and the garbage around our house, and my friends and how we used to have gossip and talk about our school life, to how we used to fight with our neighbors."
Mushtaq Yusufzai reported from Pakistan, Alice Tidey reported from London.