Saudi Arabia's royal family gave Malaysian Prime Minister Najib Razak a $681 million gift, an investigation revealed Tuesday — but officials ruled there was no corruption involved.
Malaysian Attorney General Mohamed Apandi Ali told reporters that he was satisfied that the funds in Najib's account were "not a form of graft or bribery" and that "no criminal offence" had been committed in relation to the funds, according to Reuters reports.
"There was no reason given as to why the donation was made to PM Najib, that is between him and the Saudi family," Reuters reported the attorney general as saying.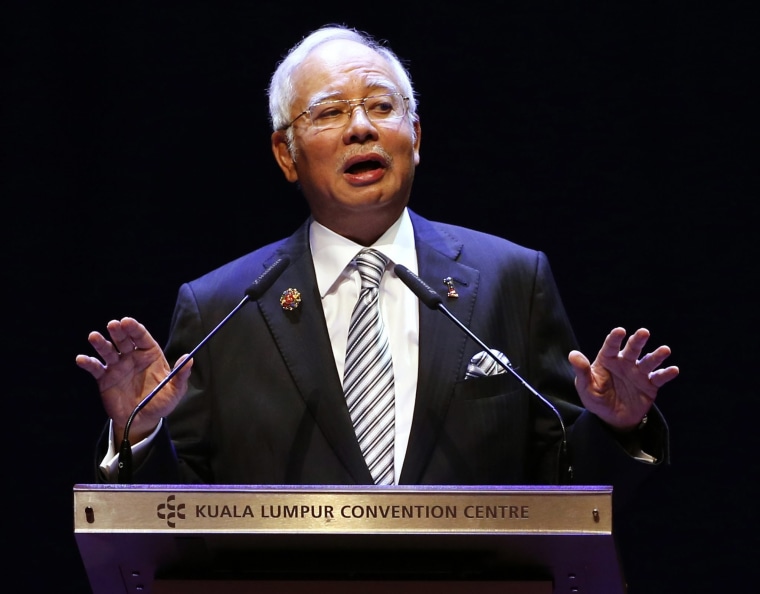 Dow Jones reported that the AG also told the press conference that Najib returned $620 million of the cash to his Saudi donor as it "wasn't utilized."
According to Reuters, Apandi told the press conference that there was no need for Malaysia to seek "legal assistance" from any other country in order to investigate the funds, because he had found that no offence had been committed.
In addition, the attorney general reportedly said that he was satisfied that no offence had been committed in relation to SRC International, a former subsidiary of heavily indebted state fund 1Malaysia Development Berhad (1MDB). SRC had been probed over the alleged misappropriation of fund worth $932 million.
Malaysia's anti-graft agency said on Dec. 31 that it had sent two reports to the attorney-general's office on its investigations into 1MDB. The agency was looking at the troubled financial state of the fund, as well as transfers allegedly made from the fund to Najib's personal bank accounts.
Related: Princes Vie for Power in Saudi Arabia
The Malaysian Anti-Corruption Commission (MACC) did not reveal its findings at the time or say whether any wrongdoing was involved. It would be up to the attorney to decide any further action, it had said at the time.
1MDB had been at the center of one of Malaysia's worst political scandals that has been blamed for damaging investor sentiment in Malaysia as well as hammering the value of the ringgit, which was one of Asia's world-performing currencies in 2015.
Najib toughed out criticism in early 2015 over financial mismanagement at the fund — which had racked up debts of about $11 billion — but faced greater pressure when the Wall Street Journal reported in July that almost $700 million in funds had flowed from 1MDB to his personal bank account.
In August, the prime minister, who has repeatedly denied any wrongdoing, said that the funds were a donation from a Middle Eastern benefactor that he declined to name. Then in December, the WSJ reported that the funds in question may have been channeled from the prime minister to politicians and projects to help Najib's UMNO party win 2013 elections.
Although asset sales have helped reduce 1MDB's debt by about $9.4 billion, according to a December announcement by Najib, the fund still faces investigations in Switzerland, Hong Kong and the U.S., according to reports.
At the height of the scandal in mid-2015, Attorney-General Abdul Gani Patail — who had led probes into 1MDB — was suddenly replaced by Apandi, a former federal court judge with strong ties to UMNO, which has held power in Malaysia since 1957.
On Tuesday, Lim Kit Siang, the parliamentary leader of the opposition Democratic Action Party, said that it was inappropriate for Apandi to make a decision on whether offences were committed in the cases because the attorney general was appointed by Najib himself.
"It was very controversial circumstances when Gani Patail was sacked. It is a conflict of interest," he said.
Reuters contributed to this report, which first appeared on cnbc.com.