Four people were killed while riding a water rapids attraction at Australia's largest theme park on Tuesday, authorities said.
A "malfunction" ejected two victims from their raft and caused two others to become "trapped" on the Thunder River Rapids at Dreamworld, according to ambulance service official Gavin Fuller.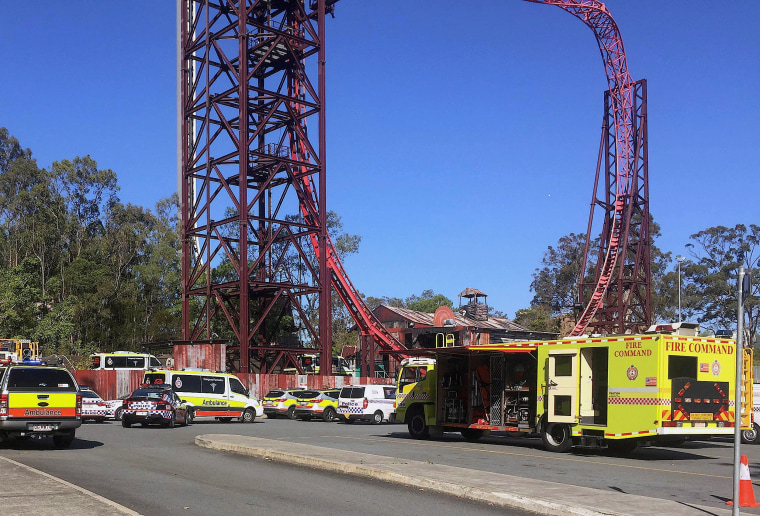 He would not say exactly how they were killed, only that their injuries were "incompatible with life." Officials did not identify the victims but said they were two women, both aged 42, and two men, aged 38 and 35.
Queensland Police said in a separate statement that the victims had been injured by a "conveyor belt," referring to the moving ramp that pulls rafts out of the water at the end of the course.
Aerial footage showed one of the ride's six-seat, circular rafts turned on its side at the bottom of this sloped mechanism.
Dreamworld — Australia's largest theme park — describes the Thunder River Rapids as a family attraction with a "moderate thrill," suitable for kids aged as young as 2 if accompanied by an adult.
The park invites riders to "travel down a foamy water track past the Gold Rush Country, speeding up to 45 kph [around 28 mph] through the turbulent rapids."
Police established a crime scene around the ride and Dreamworld closed the park "until further notice."
Dreamworld said it was "working as quickly as possible to establish the facts around the incident and is working closely with emergency authorities and police to do this."
"Theme parks are a place for family fun and happiness, not tragedy," Australian Prime Minister Malcolm Turnbull said in a statement. "This is a very, very, sad, tragic event. Our thoughts and prayers are with the families of those who lost their lives."
He called for a "thorough investigation" into the incident.
Thunder River Rapids was built in 1986, according to Australian theme-park database Parkz. The database said the ride was built by Swiss-based company Intamin, but a spokesman for the firm told NBC News that this information was incorrect, and that it played no part in designing or manufacturing the ride.
American track Olympian Matt Centrowitz tweeted that he was on the ride just 15 minutes before the incident happened.
The park is located around 30 miles from Brisbane.