Rosanne Cash keeps her head down and shows up for work. Daughter of country icon Johnny Cash, Rosanne has recorded eleven number 1 singles, blurring the genres of country, rock, roots, and pop. She has received one Grammy and twelve nominations, as well as other awards and accolades. A prolific writer, she has authored Bodies of Water, Penelope Jane and recently penned her memoir Composed. Her last record album, The List, won the Americana Music award for Best Album of the year and was a critical and commercial success.
She is currently writing an album of songs about Southern people, places and themes with her life partner and musical collaborator, John Leventhal.
The Lettie G. Howard is one of few surviving examples of the fishing schooners once in wide use in the North Atlantic. The designated National Historic Landmark arrived at South Street Seaport Museum in 1968. In 1994, after an extensive two-year rebuild, she was certified as a Sailing School Vessel by the U.S. Coast Guard and began carrying students of all ages on educational voyages.
This year Lettie turns 120 years old. In celebration of this milestone the South Street Seaport Museum has undertaken a campaign to raise a quarter of a million dollars for critical repairs and restoration. Working in partnership with New York Harbor School, plans are to have Lettie sailing with students in 2014.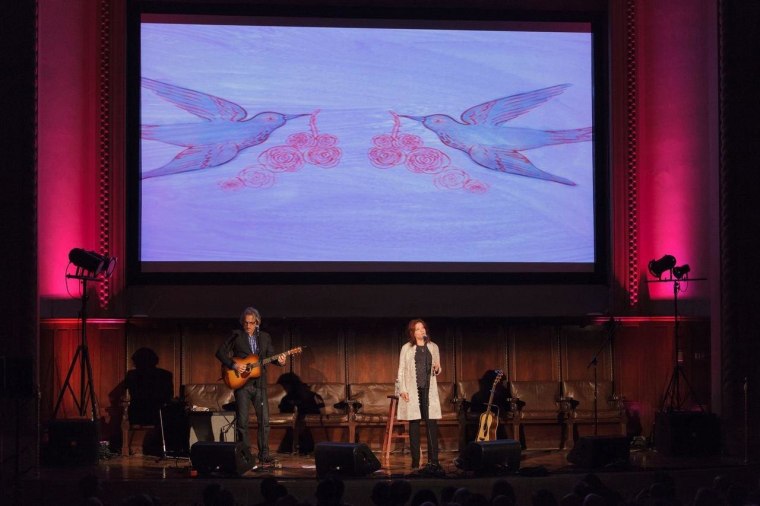 UPDATE: The South Street Seaport Museum has met its goal to raise $250,000 to restore 120-year-old schooner Lettie G. Howard, thanks in large part to a recent gala fundraising performance by singer-songwriter Rosanne Cash. Repairs will begin following interviews with shipyards. The goal is to make Lettie seaworthy once again so that she can continue to train future generations of students.
Interview Conducted Via Email By: Giacinta Pace
Q: What is your charity?
Rosanne: The South Street Seaport Museum and its schooner, Lettie G. Howard.It started with my friendship with Captain John Doswell. He took me and my family out on the John J. Harveyfire boat several years ago and we became friendly. After that, I went on a couple of sails on the Pioneer around the harbor and grew more and more interested in New York's maritime history and the beauty of the harbor, and the steadfast work of the folks at the Seaport Museum. Lettie G. Howard is one of New York City's most important vessels, but with age it fell into significant disrepair. It's beautiful, historically important, and it has a unique role in that it is a teaching vessel. There aren't many of those.It's so important not only because it's educational but because it connects people to the maritime history of New York City.
 Q: How are you involved?
Rosanne: I love the people at the Seaport Museum and the Museum of the City of New York. On April 8th I held a special performance to raise money to restore Lettie. Personally, this is important to me because New York is a maritime city, and the reason we are such a great city is because we started at the harbor front. I love that history, and my own family history.  They were sailors and mariners and came over from Scotland in the mid 1600s.  William Cash, one of my ancestors, was a whaler. In 1839, Captain Cash shipwrecked on one of his early voyages off the coast of Long Island, on a ship called the Edward Quesnel. I've been to the spot where the ship foundered many times. It's an eerie kind of time travel.
Q: How can people help? 
 Rosanne: Well, I hope people learn more about Lettie and understand the importance of preserving history. Once they do, they can donate to the Seaport Museum to help them reach their financial goal. I encourage people to visit the southstreetseaportmuseum.com website to learn more!
Q: What is the nicest thing someone has done for you?
Rosanne: My husband read aloud to me when I was recovering from brain surgery and I will never forget it. [On November 27, 2007, Cash was admitted for brain surgery for Chiari Malformation Type I. Although the surgery was a success, the recovery was slow. She resumed writing, recording and performing in late summer of 2008.] It was a quiet kindness that fit who I am and what I like. In fact, during the whole recovery, so many people were kind to me-- brought me food, flew in from other states, gave me movies and books-- I will never forget those kindnesses. 
Q: What is the charity act that has been the most satisfying for you?
 Rosanne: I recorded a song called 'Jim And George' about 15 years ago, and it was just sitting there, unreleased. I gave it to theChurch of St. Luke's in The Fieldshere in New York City a couple months ago, for their outreach programs for homeless LGBT youth and People Living With AIDS.They put it on their website and sell downloads for $1.99, and every cent goes to their programs. It was really satisfying for me that a song I wrote about a gay couple, which had never been released, is now helping people with AIDS and LGBT youngsters who live on the streets.