A man arrested in connection with the shooting of famed former Red Sox slugger David Ortiz in the Dominican Republic over the weekend has been charged as an accomplice to attempted murder, a spokesman for prosecutors said Tuesday.
The Public Ministry of Santo Domingo East said in a statement it is seeking to keep Eddy Vladimir Feliz Garcia in detention. Authorities have said he was arrested at the scene of the Sunday night shooting at Dial Bar and Lounge in the eastern part of the city. Police have said he was beaten by several bar patrons after the shooting.
Some earlier reports had identified Garcia as the suspected shooter, but Tuesday's statement does not say Garcia is accused of firing the single shot from behind that wounded Ortiz, 43, and injured a television host who was with the former Red Sox player.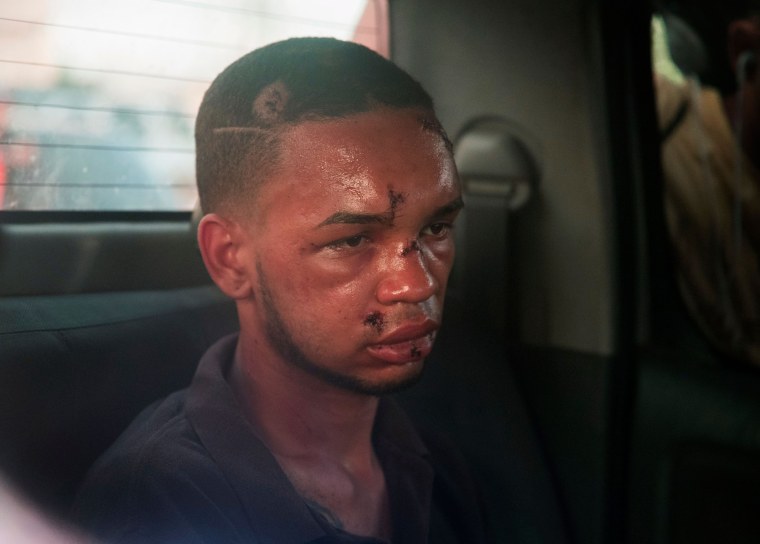 There was a second arrest in the case, a spokeswoman for the national prosecutor's office reportedly told journalists via WhatsApp, but there was no indication that the person arrested was the suspected shooter, according to The Associated Press.
Police have said that two men showed up on a motorcycle and that one of those people shot Ortiz. Garcia was captured by bar patrons and beaten before being handed over to police, while the other escaped on foot.
Garcia's family told NBC Boston that he is a fan of Ortiz, who is known as "Big Papi," and had nothing to do with the shooting.
His lawyer, Deivi Solano, said Garcia had no idea whom he picked up or what was about to happen when he stopped to take a fare, the AP reported.
"He didn't know what they were going to do. He's a fan of David's," Solano said.
A motive in the shooting is unclear. Ortiz, who is from the Dominican Republic, had his gallbladder and part of his intestine removed by surgeons in the Dominican Republic hours after the shooting.
He was flown back to Boston on Monday and is being treated at Massachusetts General Hospital.
Ortiz's spokesman, Leo Lopez, said Tuesday that the baseball star was doing well after surgery, and that "he is walking, a few steps this morning, but it's step by step."
"We are really excited about it because it's just one day after surgery," Lopez said.
Ortiz' wife, Tiffany Ortiz, said in a statement that was released Wednesday by the Red Sox that he was able to stand and take some steps Tuesday.
"His condition is guarded," she said, and he would remain in intensive care at the hospital for a few days, "but he is making good progress towards recovery."
Tiffany Ortiz also thanked supporters "for their endless love and well wishes."
Ortiz played 20 seasons in Major League Baseball, 14 of them for the Red Sox. He led the team to World Series titles in 2004, 2007 and 2013. That 2004 title was Boston's first world championship since 1918.
The baseball star was widely hailed for a speech he gave at Fenway Park days after the Boston Marathon bombing, in which he declared: "This is our (expletive) city, and nobody going to dictate our freedom! Stay strong!"
The Red Sox have said they would offer all available resources to his family to aid in his recovery.
The Dominican public ministry said in Tuesday night's statement that other people who might be connected to the shooting have been identified.
It added that it and the national police would be working without rest to get to the bottom of what occurred and to hold those responsible accountable.