PARIS — A man was arrested and charged for "threatening to kill" newly-elected French President Emmanuel Macron, French officials told NBC News on Monday.
The 23-year-old suspect was arrested last Wednesday in the Paris suburb of Argenteuil and charged on Saturday with "individual terrorist activity," said Agnes Thibault-Lecuivre, a spokeswoman for the Paris prosecutor's office.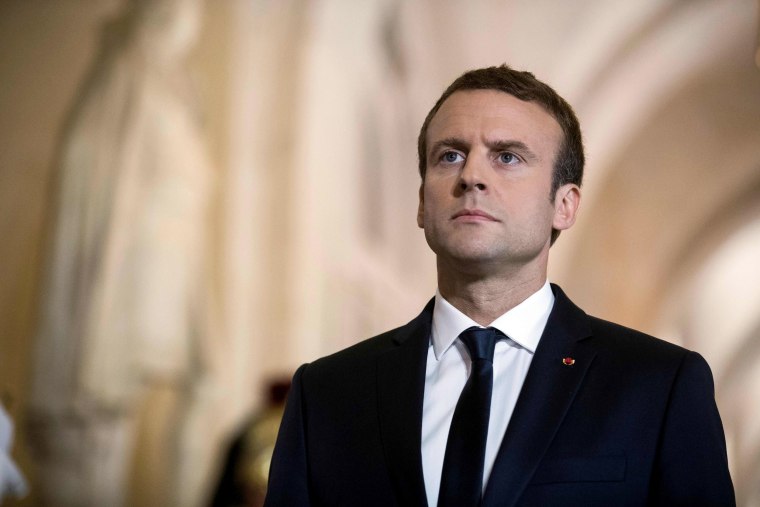 The suspect allegedly planned to assassinate Macron on July 14, during Paris' Bastille Day military parade along the Champs-Elysee. It is the same military parade that U.S. President Donald Trump is expected to attend alongside Macron.
After the parade, Macron was scheduled to head to Nice to mark the anniversary of the Islamic extremist truck attack that killed 86 people in the southeastern city, according to the Associated Press.
Without giving specific details on the arrest or the threat made against Macron, Thibault-Lecuivre told the AP on Monday that the 23-year-old suspect's plans were vague and not yet finalized, and that he appeared to be acting alone.
She also told the AP that the suspect allegedly expressed nationalist views.
Macron, a centrist, won the French presidential election in May over far-right candidate Marine Le Pen. His party, En Marche!, won an overwhelming victory in parliamentary elections in June.
Word of the arrest comes just two weeks after Paris was hit by yet another suspected terror attack, when a self-proclaimed jihadist was killed after plowing his car into a police van on the Champs-Elysee. The suspect's Renault, which had been packed with a least two gas canisters and weapons, erupted and burst into flames, authorities said. The driver, who had left a "martyr" letter to his family, died at the scene.
Nancy Ing reported from Paris and Daniella Silva reported from New York.