"The day dawned clear and cool. At 7 A.M. the town had a Sunday appearance, except for the shuttle buses drawn up in front of Union Station, waiting.By 10 A. M. there were 40,000 on the slopes around the Washington Monument. An hour later the police estimated the crowd at 90,000. And still they poured in." —From the NYTimes 
And still they poured in, until several hundred thousand people filled the national mall for the March on Washington for Jobs and Freedom. It was on that
cool and (*) clear day standing before a packed crowd lining the Lincoln Memorial that famously Martin Luther King Jr. gave his iconic speech. His sermon on August 28th, 1963 would come to be known as the "I Have a Dream" speech, now seared into our collective national memory as one of the most seminal moments of the Civil Rights Movement. At the time it was a speech that was equal parts political manifesto and pure poetry.
The papers on that day recorded that bit of history with their own sense of poetry. E.W. Kensworthy writing for The New York Times penned an amazing A1 article for the morning edition.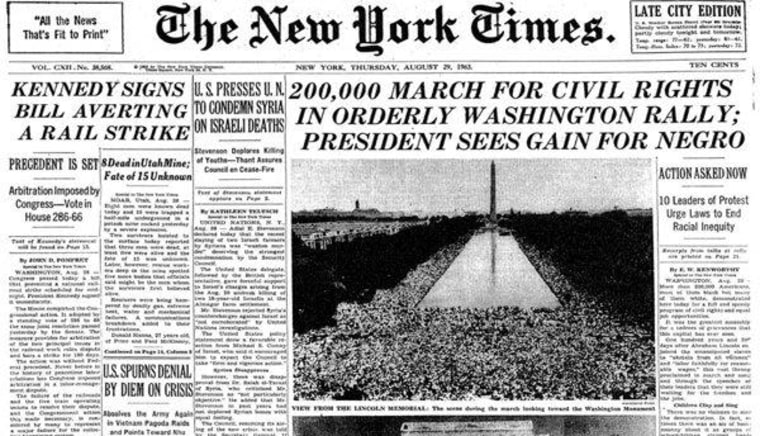 But also at the time, some reporters didn't recognize the importance of Dr. King's speech. This weekend The Washington Post apologized for missing in their coverage of the event how monumental his words were then.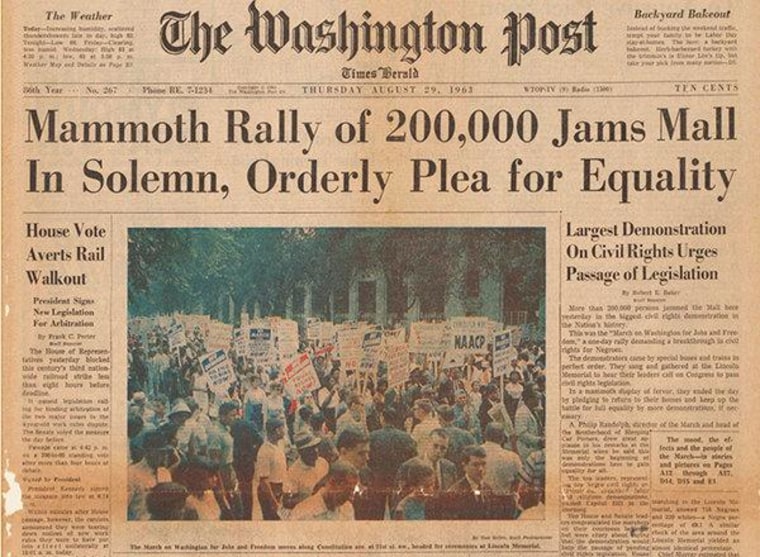 Tomorrow – on the fiftieth anniversary of the "Great March" and MLK's great speech, MSNBC will have the rare opportunity to play that speech in its entirety. That will be at 8 pm ET during All In with Chris Hayes. You do not want to miss it.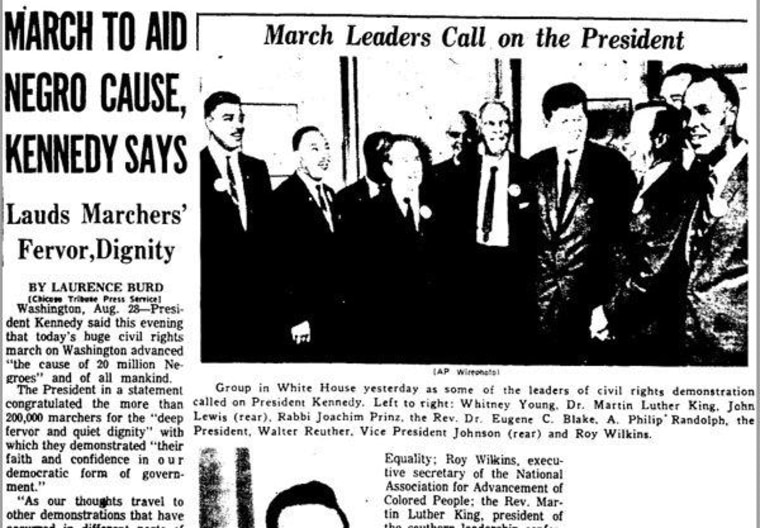 More after the jump...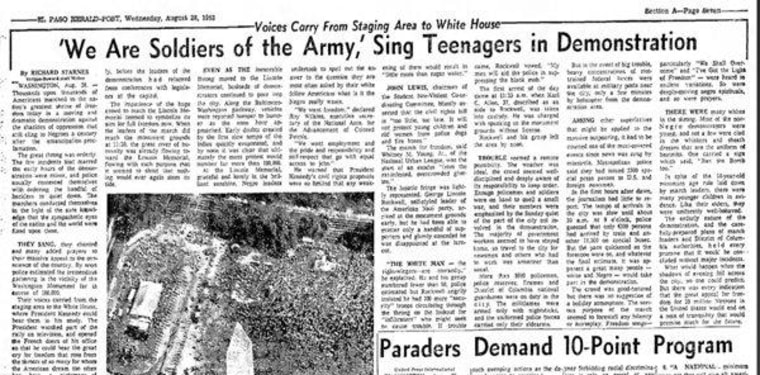 "Thousands upon thousands of Americans marched to the nation's greatest shrine of freedom today in a moving and dramatic demonstration against the shackles of oppression that still sling to Negroes a century after the emancipation proclamation.
The great throng was orderly. The few incident that marred the early hours of the demonstration were minor, and police usually contented themselves with ordering the handful of hecklers to quiet down. The marches conducted themselves in the light of the sure knowledge that the sympathetic eyes of the nation and the world were fixed upon them." —El Paso Herald-Post (Scripps-Howard), August 28, 2963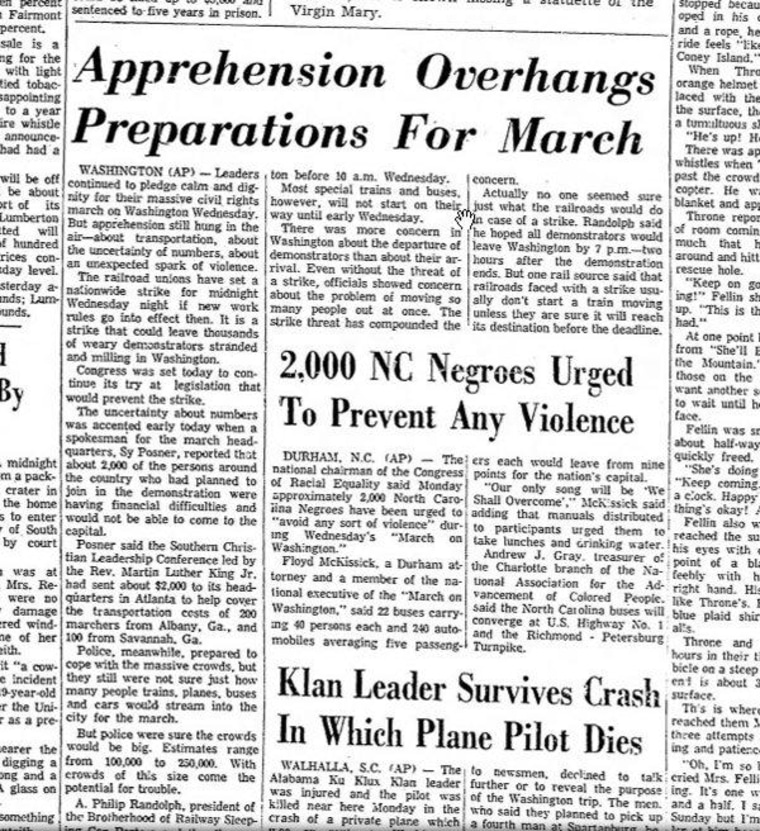 "The uncertainty about numbers was accented early today when a spokesman for the march headquarters, Sy Posner, reported that about 2,000 of the persons around the country who had planned to join in the demonstration were having financial difficulties adn would  not be able to come to the capital.
Posner said the Southern Christian Leadership Conference led by the Rev. Martin Luther King Ju. had sent about $2,000 to its headquarters in Atlanta to help cover the transportation costs of 200 marchers from Albany, Ga., and 100 from Savannah, Ga.
Police, meanwhile, prepared to cope with the massive crowds, but they still were not sure just how many people trains, planes, buses and cars would stream into the city for the march.
But police were sure the crowds would be big. Estimates range from 100,000 to 250,000. With crowds fo this size come the potential for trouble." — The Robesonian (Lumberton, North Carolina) (AP), August 27, 1963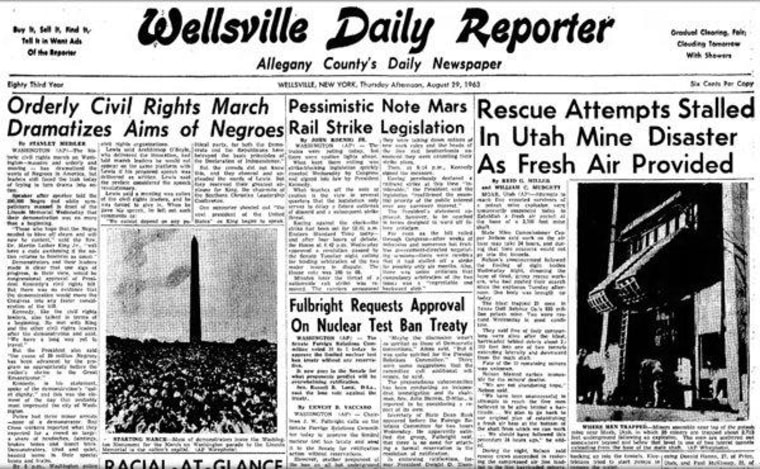 "'Those who hope that the Negro needed to blow off steam and will now be content,' said the REv. Dr. Marti Luther King Jur., 'will have a rude awakening if the nation returns to business as usual.'
Demonstrators and their leaders made it clear that one sign of progress, in their view, would be congressional approval of Presidnet Kennedy's civil rights bill. But there was no evidence that the demonstration would movve the Congress into any faster consideration of the bill. — Wellsville Daily Reporter (AP), August 29, 1963