Fresh-faced centrist Emmanuel Macron may have a lead going into the final round of the French presidential election, but a brash campaign ambush by his far-right rival underscores how voters could still upend his ambitions.
Marine Le Pen upstaged political outsider Macron in his hometown of Amiens Wednesday, showing up unexpectedly to talk with striking workers at a factory that is set to close as production moves to countries with lower labor costs.
While Le Pen took selfies with supportive workers outside the factory gates, Macron was jeered as he arrived after meeting officials.
The maneuver was a political coup for Le Pen. She is billing herself as the champion of a working class weary of globalization and the European Union as she pitches to the supporters of Jean-Luc Melenchon — the hard-left candidate who fell out of the race after taking 19 percent of the vote in Sunday's first round.
Le Pen's marriage of populist economic policy and right-wing, anti-Muslim ideology — combined with a softening of the party image — has seen her smash the Front National (FN) party's previous election record with 7.5 million votes in the first stage, and propelled her into the presidential runoff. In the 2012 presidential election the FN received 6.42 million votes and in the 2015 regional elections it got 6.82 million.
If she wins on May 7, the 48-year-old would become the first female president of France and simultaneously rewrite the continent's political playbook, given her pledge to take France out of the European Union and her indication she might pull it out of NATO.
Le Pen announced Monday that she would temporarily step down as FN party leader in a bid to broaden her appeal and further "detoxify" her image.
The decision marks the latest divide between Le Pen and her father — who founded the FN in the 1970s — and is an important break for the candidate whose political career has largely been defined by her family.
Comfortable beginnings
Le Pen was born in a rich Parisian suburb in 1968, the youngest daughter of far-right politician and military veteran Jean-Marie Le Pen and his wife Pierrette LaLanne. In 1972 Jean-Marie Le Pen founded the National Front and quickly became a household name.
As a daughter of France's most infamous politician, Marine Le Pen had to learn how to cope with the stigma attached to a last name that had become synonymous with antisemitism and Holocaust denial.
The candidate has said teachers called her sisters the "daughters of a fascist," and recounted how at 8 years old, politics almost killed her as a bomb intended for her father ripped through the family home.
"In France we respect women, we don't beat them, we don't ask them to hide themselves behind a veil as if they were impure."
Her family, and its politics, were continually splashed across the nation's front pages and reached a fever pitch when Marine Le Pen's mother, Pierrette LaLanne, ran off with her father's biographer. A bitter and public divorce ensued, with Jean-Marie Le Pen refusing to pay LaLanne's maintenance claims, saying if she needed money she should find work as a cleaner. LaLanne responded by posing half-naked scrubbing floors in French Playboy.
It is perhaps not a surprise that Le Pen initially resisted a career in politics and in the public eye, opting instead to become a lawyer. After studying at one of the top law schools in France, she became a public defender, representing those who could not afford a lawyer. It was during this time that she represented illegal immigrants facing deportation, a fact her rivals have used against her.
It was through law that Le Pen came full circle to work for the FN, becoming the head of the party's legal department in 1998. At 30 she was elected as a regional councilor for the ex-mining town of Hénin-Beaumont in France's northern rust belt.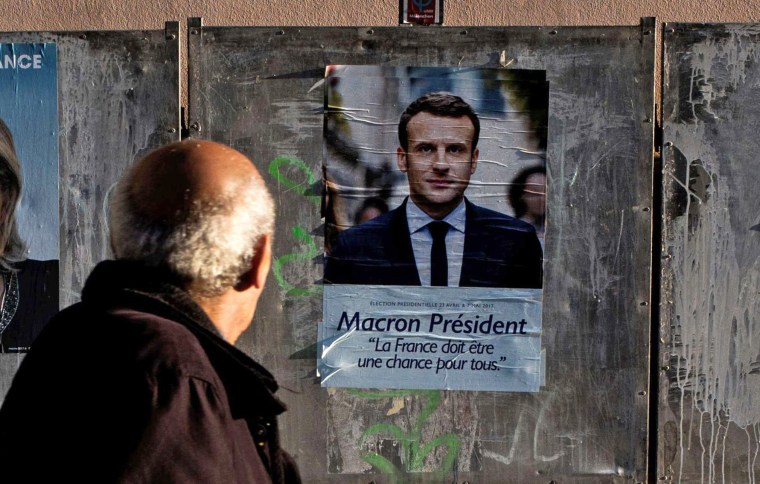 It was from this depressed town in the Pas-de-Calais region of France that Le Pen lodged her vote in the first-round of the presidential election on April 23. She won 22 percent of the vote while Macron got 24 percent.
The En Marche! candidate is currently tipped to win the runoff on May 7 with a resounding 59.5 percent of the vote, according to Bloomberg polling. Despite Le Pen's strong start on the second-round campaign trail, it will be difficult for her to sufficiently close in on Macron, who has been endorsed by politicians from across the political spectrum.
When her father reached the final round of the presidential election in 2002, French voters scrambled to the polls to ensure he did not win, instead electing President Jacques Chirac with 78 percent of the vote. Most pollsters expect a similar outcome in next week's election, predicting moderate voters to rally once again to shut out the FN.
A family affair
For the vast majority of Le Pen's career, family and politics have coexisted. Until the age of 46, Le Pen lived at the grand family home on the outskirts of Paris, which also served as the unofficial party HQ.
In her thirties Le Pen rose through the NF ranks, before taking over party leadership from her father in 2011.
As leader Le Pen has worked to soften the party image, steering the party away from some of her father's overtly anti-Semitic and racist rhetoric. In 2015, she expelled her father from the party after he repeated his view that the Holocaust was a "detail of history."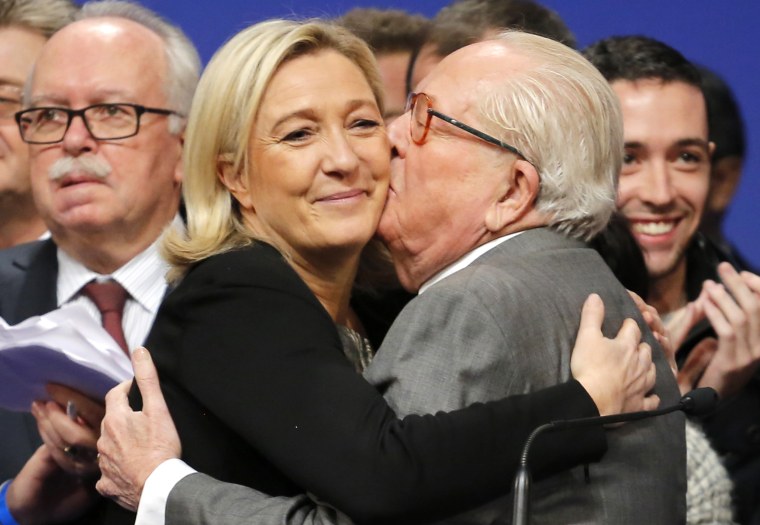 In the run up to this year's election, Le Pen dropped her last name from campaign handouts, referring to herself as simply Marine. It has been widely reported that the pair no longer speak.
Despite her efforts to change the party's image many of Le Pen's policies remain similar to those of her father. The party has long advocated clamping down on immigration and securing borders, and throughout her campaign Le Pen has consistently made the country's Muslims a target.
"In France we respect women, we don't beat them, we don't ask them to hide themselves behind a veil as if they were impure. We drink wine when we want, we can criticize religion and speak freely," she said during a rally earlier this month, in comments clearly aimed at Muslims.
During the rally, Le Pen pledged to suspend all visas from non-European migrants hoping to join their families in France — often code for immigrants from mainly Muslim North Africa and the Middle East.
Related: Macron Campaign Hit by Hackers With Possible Russia Links
Le Pen has also failed to keep the party free from controversy, and the FN is currently under investigation for fraud. As a member of the European Parliament, Le Pen is accused of using EU funds to pay for two of her assistants for non-parliamentary work.
Her links with Russia have also raised questions after the FN borrowed 9 million euros in 2014 from the small First Czech Russian Bank. The bank's licence was later revoked.
She has also on occasion reverted back to older and harsher FN rhetoric. She recently told local radio that the French were not to blame for the anti-Jewish policies of the government during the Nazi occupation in World War II.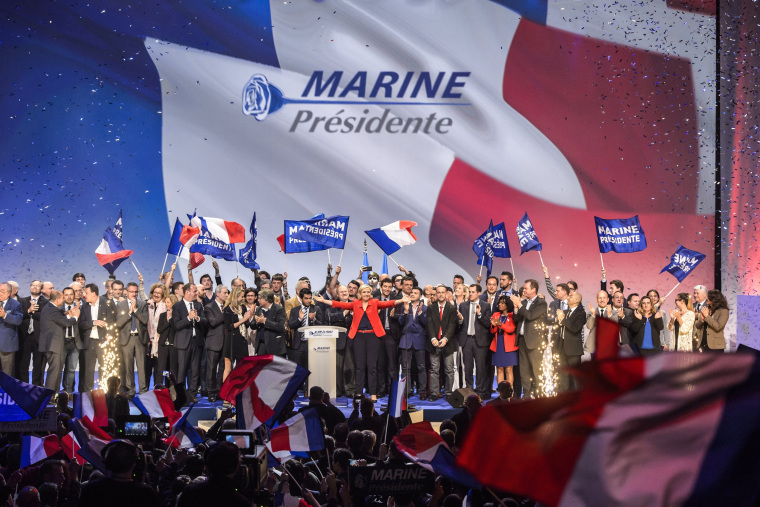 While Le Pen has distanced herself from her father, her support network remains in part a family affair. Le Pen's partner Louis Aliot is the FN's vice president and her niece, Marion Maréchal-Le Pen, one of the party's two lawmakers.
Both of Le Pen's former husbands — she is twice-divorced and has three children — worked in some capacity for the National Front. While Aliot, a former rugby player and current member of the European parliament, played a central role in Jean-Marie Le Pen's 2002 presidential campaign.
However, despite Aliot's status in the party he has not been prominent in Le Pen's campaign. This is in contrast to Macron's wife Brigitte Trogneux who is often photographed with her husband and — in an unusual move in France — appeared with him hand-in-hand on stage at a rally following last Sunday's vote.
Instead Le Pen has portrayed herself as a strong and independent woman, now even temporarily leaving behind her party to become a presidential candidate for "all of France."
Le Pen supporters hope her strategy will work as she is currently polling 19 percent behind Macron. If the polls are right, for Le Pen to become the first female French president, she will have to catch up.