WASHINGTON — Marine veteran Trevor Reed, who was wrongfully detained in Russia for three years before he was released as part of a prisoner exchange last year, was injured while fighting in Ukraine, the State Department confirmed Tuesday.
"We are aware that Trevor Reed was injured while participating in fighting in Ukraine," deputy spokesperson Vedant Patel said at a news conference. "Mr. Reed has been transported to Germany, and he is receiving medical care."
Patel did not say how Reed was injured or give his condition. Reed was transferred to Germany by a nongovernmental organization, which Patel did not name.
Reed is being treated at a U.S. military hospital in Landstuhl, Germany, a defense official said.
Patel stressed that while he was in Ukraine, Reed "was not engaged in any activities on behalf of the U.S. government."
White House press secretary Karine Jean-Pierre sidestepped questions about what effect the revelation that Reed had been fighting in Ukraine could have on the U.S. government's ability to bring home two Americans imprisoned in Russia — businessman Paul Whelan and Wall Street Journal reporter Evan Gershkovich.
"What I can concede is that the teams are doing everything that we can, using every avenue that we can to bring Paul and Evan home," Jean-Pierre said.
Privately, a U.S. official said the government is "extremely concerned" about how the Reed situation will be seen in Moscow.
A Reed family spokesperson declined to comment on the reports.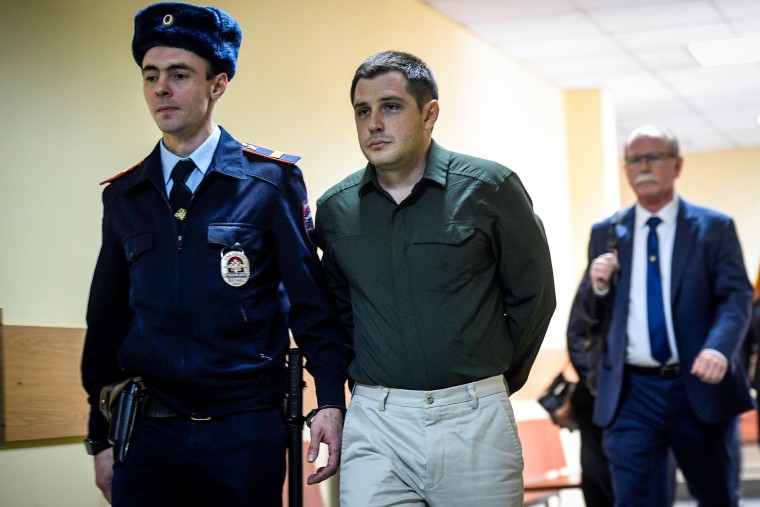 Reed was arrested in the summer of 2019 in Moscow after Russian authorities said he assaulted an officer while he was being driven to a police station following a night of heavy drinking.
Reed, his Russian girlfriend and his family denied the charges. The U.S. ambassador to Russia called the evidence flimsy.
Despite the objections, Reed was sentenced to nine years in prison.
Reed was released in April 2022 in exchange for Russian drug trafficker Konstantin Yaroshenko, who had been serving a 20-year federal sentence for conspiring to smuggle cocaine into the U.S.
It was not immediately clear when Reed traveled to Ukraine or how he came to be fighting there.
"Since the beginning of this war, we have warned that U.S. citizens who travel to Ukraine, especially for the purpose of participating in fighting there, that they face significant risks, including the risk of capture or death or physical harm, as well," Patel said.
Whelan, the American businessman imprisoned in Russia, said in a statement Tuesday that he was sorry to hear Reed had been injured.
"But a hostage's release isn't an end point. They have to live with the aftermath after the hostage takers and others move on. I can't imagine the anger, vengeance, and grief they must feel," Whelan said. "I hope he finds some peace now."
Whelan has been jailed in Russia since December 2018. Russia charged him with espionage, which he and the U.S. government deny. Russia sentenced him to 16 years in prison in 2020. The State Department says he is wrongfully detained.
After his release, Reed advocated for the releases of Whelan and basketball star Brittney Griner, who was also sentenced to prison in Russia. Griner was freed in an exchange between Russia and the U.S. in December.
Reed enlisted in the Marines as an infantryman in 2011. During the Obama administration, he was a member of a Marine unit that provides presidential support.
Among other things, Reed protected then-Vice President Joe Biden at Camp David, Maryland, according to his family. He was discharged from the Marines in 2016.
Julia Jester and Peter Alexander reported from Washington. Corky Siemaszko reported from New York.