The feisty and fresh-faced niece of French presidential runner-up Marine Le Pen has quit politics amid simmering campaign disagreements over the direction of their family's far-right party.
Marion Marechal-Le Pen, 27, is one of only two National Front (FN) lawmakers. Her decision to not stand for re-election in June's parliamentary elections exposes increasing divisions within the party founded by her grandfather, Jean-Marie Le Pen.
The charismatic Marechal-Le Pen — who was prominent during her aunt's bid to lead France — said her decision was "gut-wrenching" but added she wanted to spend more time with her three-year-old daughter and gain experience in the world of business.
"You know my story. You know I've been in this political world all my life," she wrote in a letter to a local paper. "At 27, it is time for me to leave it for a while."
Marechal-Le Pen added: "I am not giving up the political fight forever. I have the love of my country embedded in my heart and I cannot remain indifferent to the suffering of my compatriots."
On Sunday, Marine Le Pen secured almost 11 million votes — more than 1 in 3 of the total cast in France's presidential election — but was defeated by centrist Emmanuel Macron.
However, that represents a record-setting peak for the FN — about twice the number of votes Jean-Marie Le Pen gathered in 2002 — and the result cemented the party's place in France's political establishment.
"As a political leader I profoundly regret Marion's decision, but, alas, as a mother, I understand her," Marine Le Pen tweeted Wednesday.
"Marion isn't really going away, she is there waiting in the wings"
Marechal-Le Pen was aged just 22 when she became the youngest elected lawmaker since the French Revolution, winning her seat in southeast France on an anti-immigrant ticket.
She quickly became a face of the FN. She has been widely tipped as a future party leader and a potential rival to Marine Le Pen. However, Marechal-Le Pen is more socially conservative than her aunt.
During the presidential campaign the pair clashed on issues such as abortion rights, the euro, and economic protectionism. In a clear put-down in the run-up to the election Le Pen said that if she won, she would not give her niece a role in her government because she was "too young."
Related: Divisions Scar France as Le Pen Propels Far-Right to Mainstream
Since taking over the leadership in 2011, Marine Le Pen has softened the party's image.
Le Pen — whom a French court once ruled could be described as a "fascist" — has steered the FN away from some of its overtly anti-Semitic and racist rhetoric in an effort to broaden its electoral base.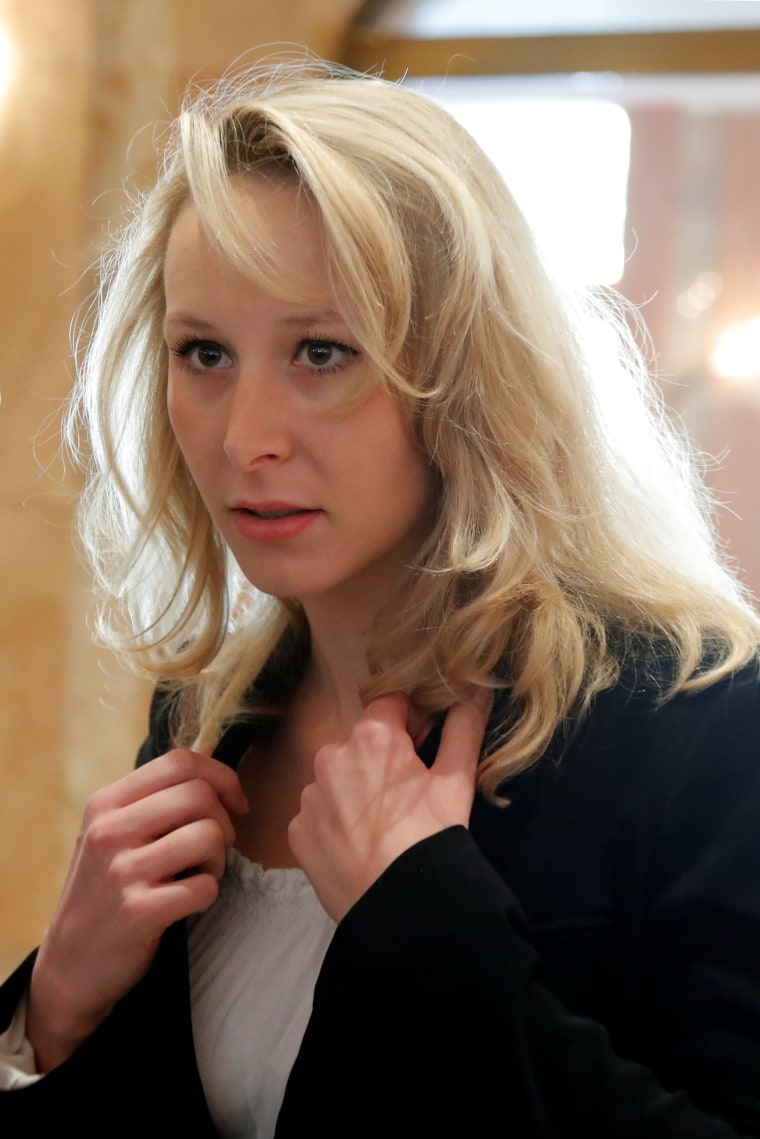 In 2015, she expelled her father after he repeated his view that the Holocaust was a "detail of history."
Earlier this year, Marine Le Pen dropped her last name from campaign handouts. She has also specifically targeted female voters and changed the party's logo from a flame to a blue rose.
Marechal-Le Pen is seen as a leader of the traditionalist and Catholic party faction, which feels let down by her aunt's efforts to bring the party more into the center.
Extremely popular in their heartland in the country's southeast as well as among the young voters, some experts say Marechal-Le Pen's departure may damage the party's prospects at the ballot box in June.
But others say her departure will allow Marine Le Pen to reunite her party and re-brand it in her image.
Related: France Shrugs Off Populism With Huge Vote for 'Nobody'
"It can be read both ways," said Marta Lorimer, a researcher at London School of Economics European Institute. "It can be seen as abandoning the ship at a time when Le Pen is vulnerable to criticism or it might mean that the FN is more united as those on the right of the party have to silence their criticism, because they can't see an alternative to Le Pen."
Valérie Igounet, a historian who studies the extreme right, described Marechel-Le Pen as "the most popular woman in the party," adding that her exit "could have consequences for the legislative elections in June."
Marechal-Le Pen's views are more in line with those of her grandfather, offering a different vision of what the FN should be.
"The FN is basically two parties living under the same umbrella," said Rainbow Murray, an associate professor of French politics at Queen Mary University London. "Marion Marechel-Le Pen represents the old guard espousing more traditional Catholic values while [Marine] Le Pen has tried to pull the party more into the center."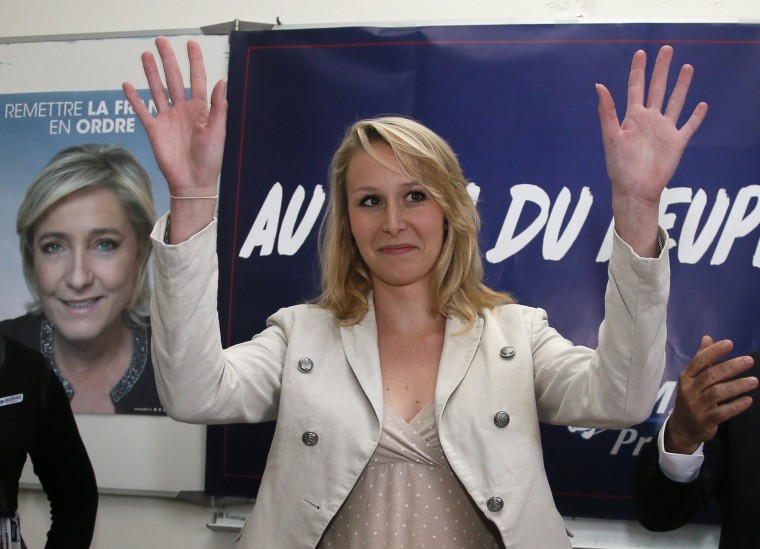 Ilohna Lahdelma, a researcher in European politics at the University of Oxford, agreed saying it gave Le Pen "another chance to redefine her party."
However, experts agree that Marechal-Le Pen's remains a threat for her aunt.
"Marion isn't really going away, she is there waiting in the wings," Murray said. "If [Marine] Le Pen fails to build on her success .... in five or 10 years' time she will be well-placed to make a comeback. She can wait for Le Pen to fall on her own sword."