LVIV, Ukraine  — As far as Stanislav Ivanov is concerned, the war in Ukraine is not being fought between armies but is instead being waged by the Russian military against helpless civilians like him. 
He speaks from experience. The 36-year-old photojournalist and his wife, Irina, 36, not only survived three weeks in the besieged city of Mariupol but also managed to escape.  
"This war is savagery," Stanislav said. 
"No rules. No rules," Irina, a metallurgical engineer, said. 
"It's not a war between the Ukrainian army and the Russian army but between the Russian army and Ukrainian civilian people," Stanislav added. 
In the four weeks since the Russian invasion of Ukraine, Mariupol has come to symbolize the brutal extremes of the war, with the southern port city facing no running water or electricity and a dwindling supply of food amid the constant threat of missile strikes and shelling. Many of those who have managed to get out describe harrowing and almost miraculous escapes.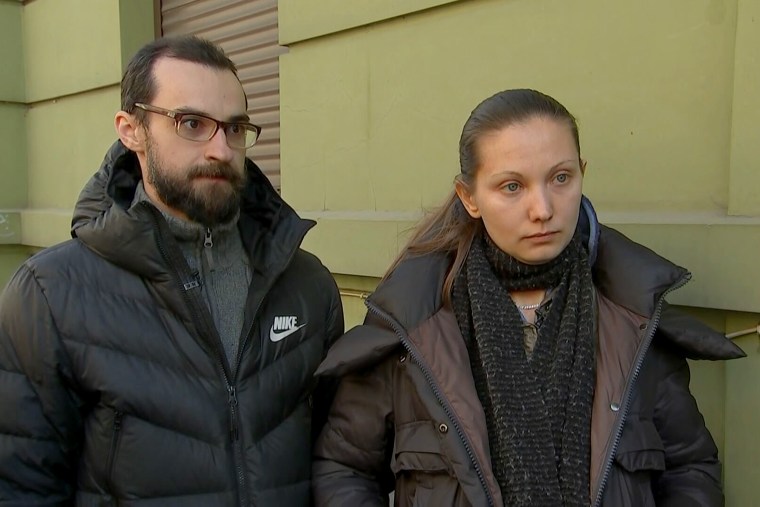 At first, the Ivanovs thought they could ride out the fighting. When the air raid sirens sounded and gunfire echoed Feb. 24, the first day of the invasion, they grabbed their cat, Kotya, and rushed to their tiny basement. It was just the beginning of a three-week odyssey to escape the now decimated city.   
"In the first few days, we didn't grasp the danger," Stanislav said. 
By March 2, the situation in Mariupol had become increasingly deadly. The Ivanovs fled their home to take shelter in the city's TerraSport arena.
The center quickly filled to a capacity of 2,000 people, and survival became ever more challenging. First, the lights went out. Then, the water stopped running. Toilets backed up. Food had become scarce. 
During their first of three attempts to escape the city in their Skoda Fabia car, Ukrainian soldiers would not let them through a checkpoint because they said the land mines and shelling were too dangerous. 
A couple of days later, they tried to escape again but were blocked by the Ukrainian forces who, they say, told them the Russian forces were shooting civilians.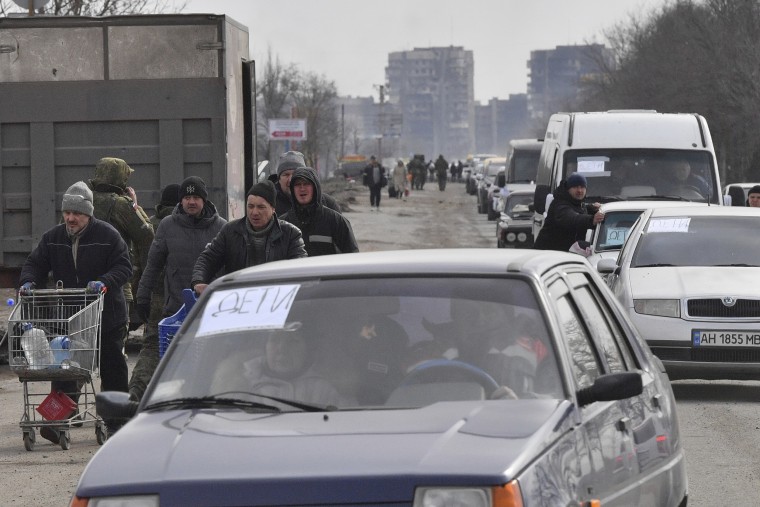 On the morning of March 17, the Ivanovs were shocked to discover shelling had destroyed vehicles on each side of their 13-year-old car, but not theirs. 
Irina's sister, her husband, their 3-year-old son and Kotya packed into the Ivanovs' vehicle, which Irina dubbed their "miracle car." 
They approached the Ukrainian checkpoint gingerly, fearing they would be turned back again, but instead soldiers waved them on. What they did not know was that Ukrainian and Russian officials had negotiated a humanitarian corridor for Mariupol residents.
Their "miracle car" was among the 6,500 vehicles that managed to make it out of Mariupol through the corridor March 16 and 17.
The so-called humanitarian corridor did not mean a guaranteed safe passage.  
"We heard airplanes flying around us and they bombarded everything around,"  Irina said. 
Twenty-six hours after they left Mariupol on a perilous journey that included Stanislav gripping the wheel as bullets whizzed by, seeing missile strikes and almost running out of gas, they reached Lviv. Stanislav said he had made that trip in less than four hours in the past.
Anastasiia Hrechkina, 22, says she contemplated killing herself to avoid dying of starvation before she managed to hitchhike out of Mariupol. And she didn't leave alone — she left with her mother, sister, aunt, cousin, a friend and two dogs. 
"We had to leave. We didn't know if we're going to wake up the next day because they were bombarding us so much," said Hrechkina, who before the war worked at a nongovernmental organization in Mariupol and is now staying with relatives in the Dnipro region in central Ukraine. 
She said she and her family had planned to go to the theater in the center of the city to seek shelter the day before it was bombed.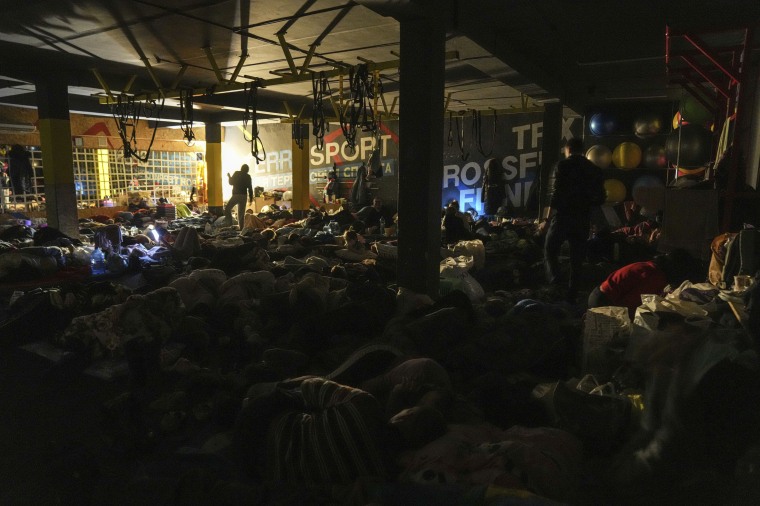 "It does not exist anymore," Hrechkina said about the theater near which she used to sit and drink coffee with her friends. "There's no more Mariupol."
Things got so dire that they were even contemplating killing themselves in the city. 
"My sister told me that if we run out of foods … we will commit suicide together," she said
With no car, the group of six resorted to hitchhiking at 5 a.m. March 17. 
When a driver finally stopped and saw how distraught they were at the idea of separating, he took pity on them. They abandoned all the luggage they had planned to take, jammed in and sat on one another's laps. 
The dogs came with them, but Hrechkina had to leave behind cats and a parrot. 
"We just set them free," she said of the cats. "The parrot is unfortunately there inside our flat. I think he's going to die." 
If it weren't for the stranger who picked her up, Hrechkina fears she and her family would still be stuck. 
"If they would not do it, I don't know if maybe I would be still there inside, inside the city," she said.