Mariupol has been crushed by Russia's war.
Its streets have been pounded by shells and airstrikes, its people left without water or heat in the freezing winter and its leaders forced to plead for aid that can't make it through.
The deadly Russian strike on a children's and maternity hospital in the besieged city Wednesday brought the world's attention and outrage. But with efforts to create a humanitarian corridor failing day after day, there has been little sign of an end to Mariupol's suffering.
Encircled and bombarded, the port city in Ukraine's south has been without electricity, heat, water, food or medical supplies for days. With bodies piling up in the streets, officials have turned to burying the dead in mass graves.
"It's a complete catastrophe," said Oleksandr Sosnovskyi of the place he has called home his entire life but has now been forced to leave behind.
"The shells hit anywhere and everywhere. There is no safe place in the city," Sosnovskyi, 39, said by phone Monday from Zaporizhzhya, 120 miles northwest of Mariupol. 
Aid groups, local officials and residents — most of whom have made it out of the city — also paint a dire picture of the conditions endured by those still trapped and tormented by Russian shelling.
Temperatures at night are below freezing, bringing bitter cold but also the relief of snow that civilians have resorted to collecting for scarce drinking water. People are fetching firewood to stay warm. Stores have been looted for what little provisions remain.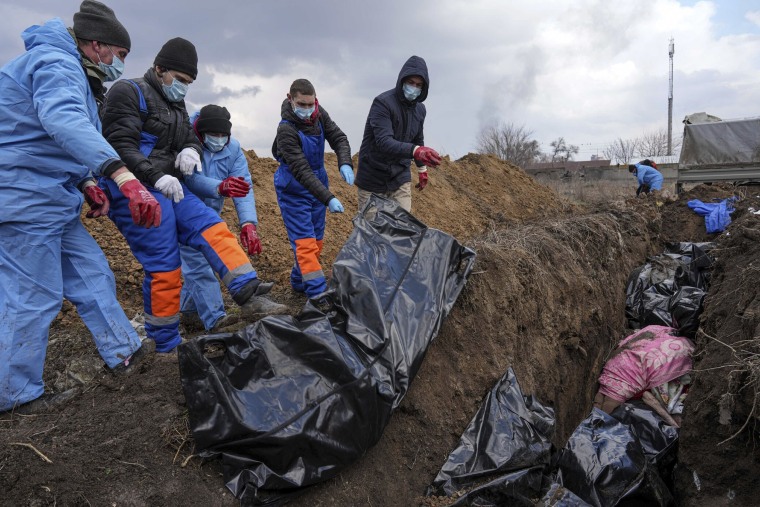 Maxim Naumenko left the city shortly after the Russian invasion and headed northwest to Dnipro, in central Ukraine. He has been struggling ever since to establish contact with friends and family left in the city. 
But on Thursday morning, he got a call from his college friend Roman, whose wife had given birth at the hospital a day earlier and was in the basement when the strike happened.  
"He said the situation is awful," Naumenko, 24, told NBC News via the messaging app Telegram.
"He was hit by a shockwave, because he was outside the hospital when the blast happened," he said. "He only had mild injuries. His wife and child were OK."
Naumenko, a social worker, said the hospital attack in his hometown left him in complete shock. "It's just inhumane," he said.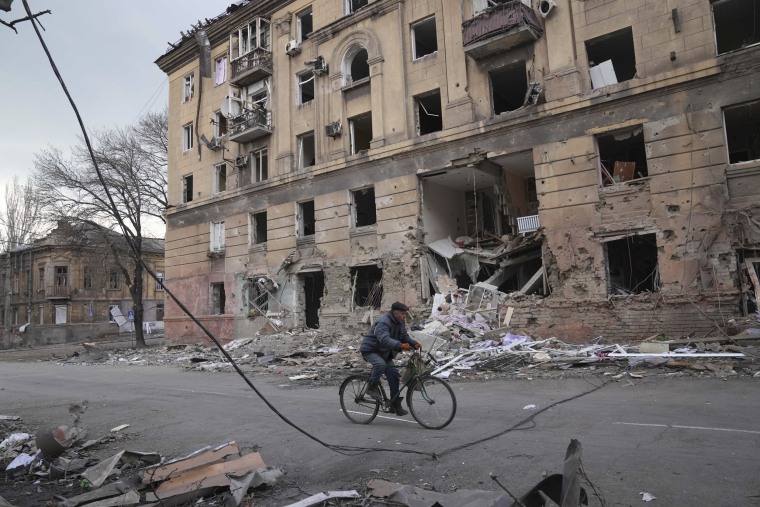 Roughly 200,000 civilians have attempted to evacuate the city in recent days without success. The destruction — and the death toll — is mounting.
Deputy Mayor Sergei Orlov said on MSNBC that his estimate of 1,200 civilian deaths in the city is likely too low, with the final numbers likely three or four times higher.
"We cannot imagine how it's possible," he said. 
Russia has made significant gains on the ground in the country's south in an apparent bid to cut off Ukraine's access to the sea.
Capturing Mariupol, a strategic port city of 400,000 people in the southeastern Donetsk region, could allow Russia to build a land corridor to Crimea, which it annexed in 2014.
NBC News spoke with one resident still inside the city and several Mariupol natives this week who managed to escape. 
Yuri Bakulin has been posting videos from inside the city on social media, showing him driving along quiet, snow-covered roads.
He said he had decided to stay despite the deteriorating situation. His family has access to water via a well, he said via Telegram on Thursday, as well as generators for electricity.
Bakulin, 19, said he was due to finish his studies before Russia invaded. Now, he said, he had found purpose in visiting families who have no internet to contact their loved ones and filming videos to send on and show they are still alive. He said he was just trying to "not fall into a stupor."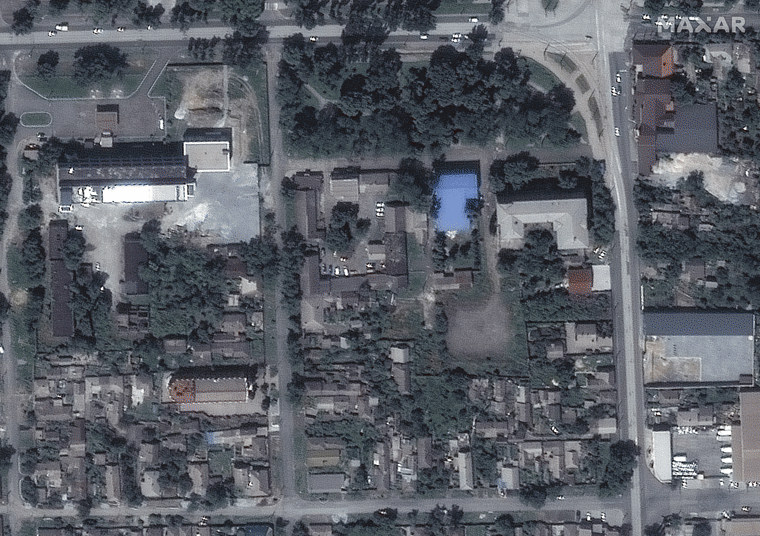 Sosnovskyi and his wife decided they had enough and drove out on March 3, just as Russian forces were encircling the city.
"It was a miracle we escaped," he said.
Before the war, he managed an art and culture platform. With no heat, food stores shuttered and shells unceasing, "people go to basements and sit there, hungry and cold," he said.
A week later, the situation for those who didn't make it out has only grown more dire.
The cold was making some people sick. Some desperate residents have even started to attack each other for food and steal gas from cars, a local International Committee of the Red Cross official said.
Andrii Voytsekhovskyy, 28, said he felt enormously lucky to have escaped his hometown when he did.
The missionary fled to the city of Ternopil, in western Ukraine, with his wife and son the day after Russia attacked.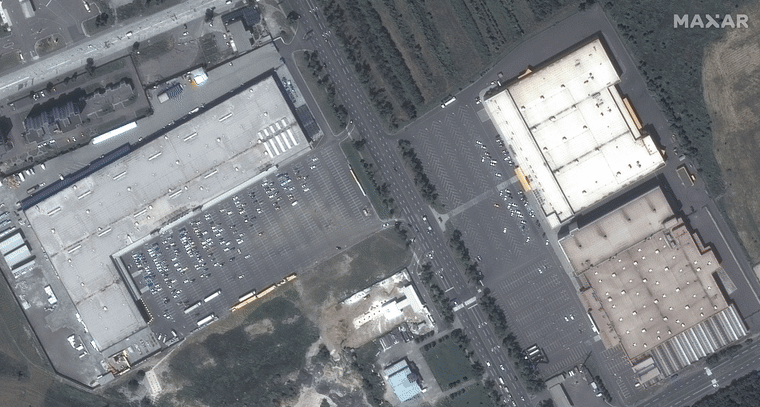 "Now I understand we made the right choice," Voytsekhovskyy said by phone from Ternopil on Monday.
He regretted, though, that he had not been able to convince his mother and grandmother to join them in fleeing.
Both Voytsekhovskyy and Sosnovskyi said they were desperate for any information on the loved ones who stayed behind in the besieged city. 
Naumenko, like so many across Ukraine who have been displaced by the fighting, has been glued to Telegram for updates.  
On Wednesday, he said, he saw a message in a chat where people share the latest news and images of the destruction in Mariupol.
His apartment building had been hit by three shells. 
Naumenko said he didn't know if his home was still intact. 
"I am trying to remain optimistic, but I have little hope," he said. "It feels like hell in Mariupol right now."