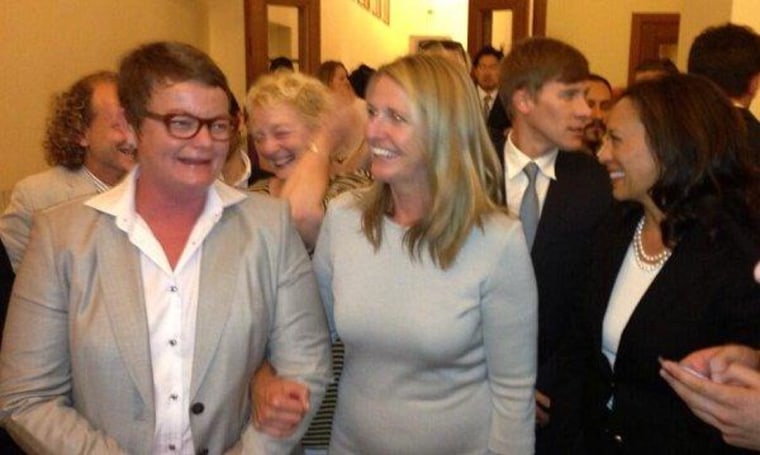 Following Wednesday's Supreme Court rulings, it was clear marriage equality would return to California, but it was far less clear when. As of yesterday, reports suggest it would take at least 25 days, though Gov. Jerry Brown (D) issued instructions to counties to "begin issuing marriage licenses to same-sex couples in California as soon as the 9th Circuit confirms the stay is lifted."
That stay was lifted this afternoon.
The U.S. 9th Circuit Court of Appeals on Friday cleared the way for gay marriages to resume in California.
The court lifted its stay on an injunction which ordered state officials to stop enforcing Proposition 8. With the court's action, counties can now begin issuing same-sex marriage licenses.
The 9th Circuit's order is online here (pdf). It reads, in its entirety, "The stay in the above matter is dissolved effective immediately." That's it; that's the whole thing.
And as a consequence, same-sex couples can marry in the nation's largest state right now, and many are already doing so as I type.
The above photo shows Kris Perry and Sandy Stier, the defendants in the Prop. 8 case, as they prepared to get married by California Attorney General Kamala Harris (D). It was posted by David Stevenson at the Bay Area's KTVU.
California is the 13th state in the nation to now have equal marriage rights for all.
ADDING: Video catches California Attorney General Kamala Harris ordering the resumption of same sex marriages.
ADDING: It was to our great delight that we learned that two of the named Prop 8 plaintiffs, Paul Katami and Jeff Zarrillo, were to be married during the hour of our show. Here is their wedding, officiated by Los Angeles Mayor Antonio Villaraigosa.