Tennis legend Martina Navratilova has hit out at what she called the BBC's "old boys' network," alleging that John McEnroe was paid at least 10 times what she was for commenting at Wimbledon.
"It was a shock because John McEnroe makes at least 150,000 pounds — I get about 15,000 pounds for Wimbledon," Navratilova told the BBC's Panorama program in an excerpt of an interview airing later Monday. "Unless John McEnroe's doing a whole bunch of stuff outside of Wimbledon, he's getting at least 10 times as much money than I am for very comparable work."
McEnroe's pay package was disclosed last July when the U.K.'s public service broadcaster for the first time published the list of its highest-paid on-air talent. The former professional tennis player was shown to earn between 150,000 pounds ($209,000) and 199,999 pounds ($279,000) for a two-week engagement with the network.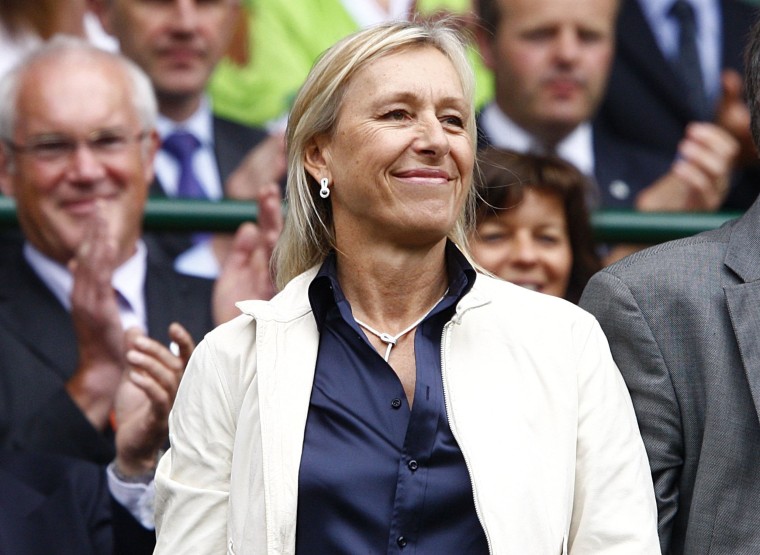 The BBC, which is publicly funded, has been heavily criticized over its massive gender pay gap and lack of minority presence since it released its list of top-paid stars last July. Last month, the broadcaster's former China editor Carrie Gracie resigned from her role in anger over what she called "incompetent" efforts to close the gender pay gap.
The former Grand Slam champion — Navratilova won 18 single titles, including a record nine Wimbledon women's trophies — said she asked if she was paid an amount comparable to a man doing a similar duty, and was told yes she was.
"We were not told the truth that's for sure," she said. "The bottom line is that male voices are valued more than women's voices."
But the BBC defended McEnroe's pay package in an statement emailed to NBC News, describing the two commentators' work as "simply not comparable."
"John and Martina perform different roles in the team, and John's role is of a different scale, scope and time commitment," the statement read.
According to the statement, Navratilova was on air 10 times for the BBC during Wimbledon 2017 — including three live match commentaries — and her contact allows her to seek out paid appearances with other U.K. broadcasters.
"Along with [sports commentator] Sue Baker, John is regarded as the face of our Wimbledon coverage," the BBC said about the tennis champ who won seven Grand Slam single titles, including three Wimbledon singles trophies. "He is widely considered to be the best expert [and] commentator in the sport, highly valued by our audiences and his contract means he cannot work for another U.K. broadcaster without our permission."
"His pay reflects all of this; gender isn't a factor," the BBC said.