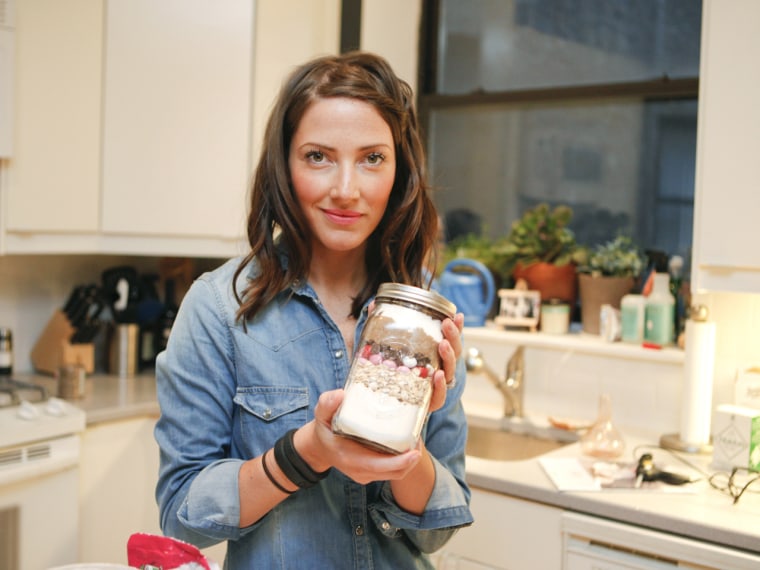 By Chelsa Skees, TODAY contributor
Valentine's Day is the perfect excuse to make some sweet, handmade gifts for your loved ones. For this round of DIY, I decided to go with a jar theme, for really no other reason than I just adore Mason jars and they are great to stuff full of sweets and flowers.
I don't think of Valentine's Day as strictly a couples holiday – these gifts are for everyone: parents, friends, or significant others!
First up, let's show our moms how much we love them by giving them an adorable cookie mix. These are great to give to anyone you know who loves to bake (or just loves to eat yummy treats!). Take your favorite recipe and add each ingredient so each layer is prevalent. Keep in mind that these jars look better the more textured layers you can add. I made mine festive by adding peanut butter M&M's in Valentine's day colors.
Ingredients (listed in the order they should go into the jar):
1 1/3 cup all purpose flour
1 teaspoon baking powder 
1 teaspoon baking soda 
1/4 teaspoon salt 
1 cup cooking oats 
1/4 cup peanut butter M&Ms (or plain chocolate, preferably in their Valentine's colors) 
3/4 cup semi-sweet chocolate chips
1/2 cup brown sugar, packed
1/2 cup white sugar
1/3 – 1/2 cup chopped pecans
Directions:
After you add your cookie mix into the jar, decorate the outside with ribbon and use a small note card to write a handwritten message. Make sure it includes the following additional instructions: Combine all contents of the jar in a bowl with one beaten egg, 1/2 cup of melted butter, 1 teaspoon of vanilla. Mix all ingredients well, roll cookie dough into 1 1/2 inch balls on a cookie sheet, and bake for 10 minutes at 350 degrees. 
Want a rundown of how it's done? Here's a super-fast version:
Sweet cocoa
Have a loved one living in a cold climate? Give some hot cocoa for two! To make it extra special, throw in some heart-shaped marshmallows. This gift can be as simple as putting your favorite cocoa in the jar with some store-bought marshmallows – or you can create your own mix if you're feeling ambitious. I used an entire 16 oz. can of my favorite mix by Ghirardelli Chocolate Company.
The directions are simple: Just pour the mix into the jar and top with marshmallows! Decorate it however you'd like and don't forget to write sweet nothings on the card. It's perfect for aprés-ski!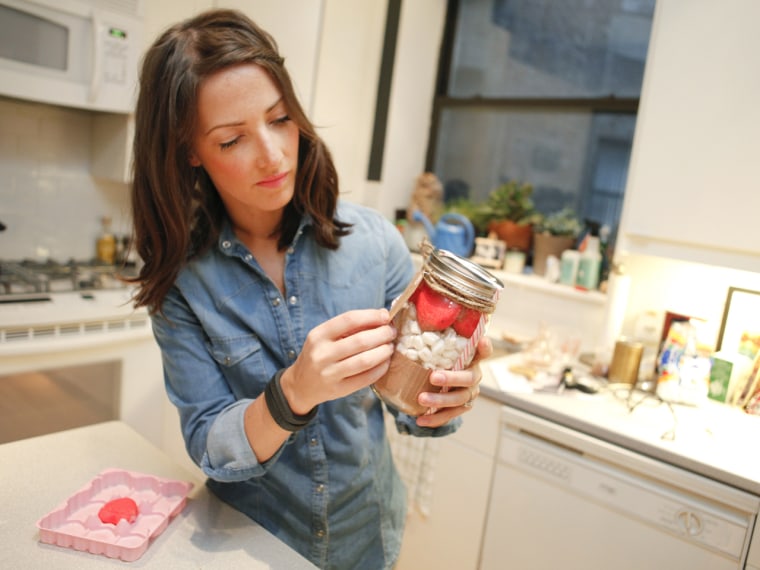 Flower power
Finally, I didn't want to leave out my girlfriends, so I made them vases complete with their favorite flowers. Since everyone has different taste in home décor, I customized each vase to fit their style.
You can create two different looks simply by using some spray paint and sand paper. All you'll need is 16 oz. or 24 oz. Mason jars. The first look – chic and modern – is a simple matte white vase. This is obviously really simple but does require some patience since you will have to spray a few different coats and rotate the jar several times to secure an even application. I set my jar on an old newspaper and started spraying (following the directions on the back of the paint can). Once dry, which typically takes about 10 minutes, rotate and repeat. You know you're done when the jar is evenly covered in its new white outfit.
The second look you can create has a very rustic feel to it and looks gorgeous with fresh flowers. Use the same method I explained above, but first spray paint your jar with a gold color. Once dry, add the matte white paint. After about 10 minutes – or when the paint is completely dry – use a small piece of sand paper and scrub away some of the white, letting the words "Mason Ball" as well as that rustic gold shine through. Before giving the jars away, make sure you clean their insides with warm water and soap to wash away any remnants of paint chemicals, so the flowers' water doesn't get contaminated. 
Another great gift for a friend is to repurpose old vases you may have laying around the house – add special words or messages using a hot glue gun! On a clean vase, write your message and once dry, spray over entire jar using the same method above. This is a super cute customized vase that will surely put a smile on anyone's face. 
Enjoy your DIY project – and happy Valentine's Day! 
More from TODAY:
Valentine's Day gifts for that special someone: yourself
Martha Stewart's chic Valentine's Day crafts