At least 24 children and a pregnant teacher were killed by a former police officer who went on a shooting and stabbing spree at a day care center in northeastern Thailand on Thursday shortly after he appeared in court on drug charges, police said.
As he fled, the attacker drove into a crowd of people and shot bystanders before he traveled home, where he killed his wife, their child and later himself, police said, before they confirmed that at least 38 people were slain in the deadliest rampage in the country's history.
The attacker used a 9mm handgun but mainly attacked the children — who were 2 to 5 years old — with a knife, police said at a news conference Thursday.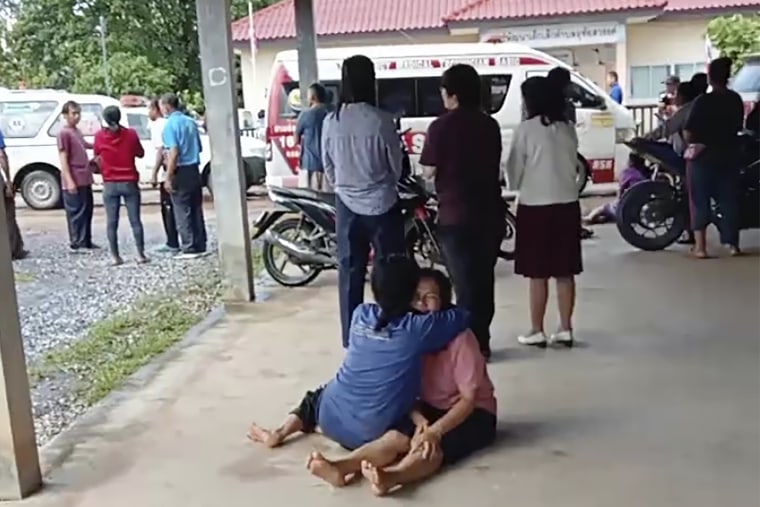 "He started shooting, slashing, killing children at the Utai Sawan day care center," Paisal Luesomboon, a police spokesperson, told the TV channel ThaiPBS.
At least 12 people were wounded, eight of them seriously, and were receiving medical treatment, the office of Police Gen. Surachete Hakparn said.
Among those who were killed in Uthai Sawan, which is 310 miles northeast of Bangkok in the province of Nong Bua Lamphu, were 21 boys and three girls, police said.
The suspect, whom police named as Panya Khamrab, 34, had served at Na Wang Police Station in Nong Bua Bamphu province until he was arrested with methamphetamines last year, officials said.
Khamrab died by suicide after the rampage, the officer in charge of the case, Col. Jackrapat Wijitwaitaya, told NBC News.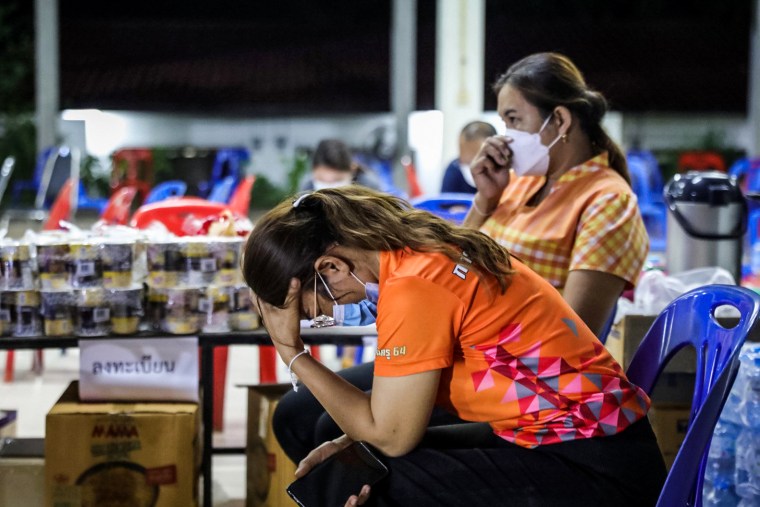 The suspect had appeared in court hours earlier Thursday on a drug charge that led to him being fired from the police last year.
Khamrab entered the center at lunchtime, when about 30 children were present, local official Jidapa Boonsom told Reuters. One teacher who was shot dead was eight months pregnant, she said.
The attacker forced his way into a locked room where the children were sleeping, Jidapa said. More children would have been at the center had it not been for a spate of heavy rain.
Pictures circulating on social media, which NBC News has not verified, show children's bodies lying in a room with alphabet posters and colorful learning material on the walls.
Police urged people not to share graphic pictures and videos of the scene.
In a statement on Facebook, Prime Minister Prayuth Chan-ocha called the shooting a "shocking incident." He said he had ordered Lt. Gen. Yanyong Wech-Osoth, the commander in chief of the police, to fly to Nong Bua Lamphu "to take necessary actions and all involved parties to provide immediate relief to all affected people."
Deputy Prime Minister Prawit Wongsuwan traveled Thursday to Uthai Sawan to meet the victims' families, his office said, while the prime minister was expected to visit Friday.
The government said it would provide financial aid to the victims' families to help cover funeral expenses and medical treatment.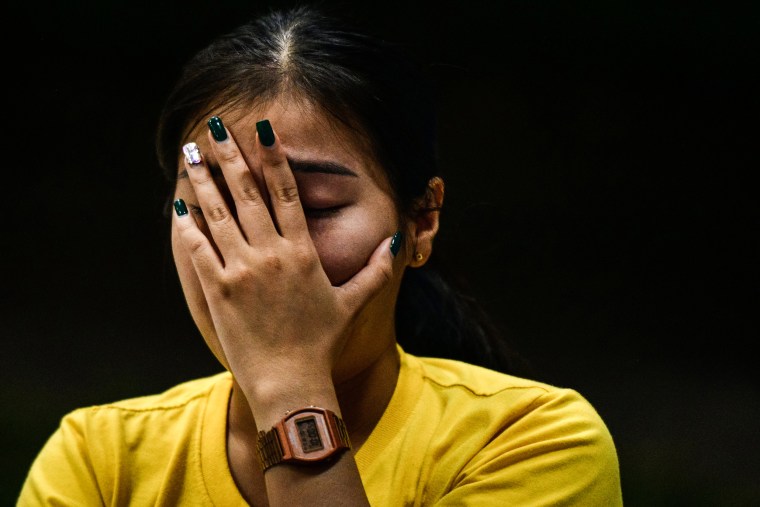 The U.S. Embassy in Bangkok said in a statement it was saddened by the news and offered its "deepest condolences to the victims and their families."
Gun ownership is high in Thailand compared with some other countries in Southeast Asia. Illegal weapons, many brought in from strife-torn neighboring countries, are common.
Mass shootings are rare in the country, where gun laws are strict and possession of an illegal firearm carries a prison sentence of up to 10 years, but not unknown.
In 2020, a soldier who was angry over a property deal gone sour killed at least 29 people and wounded 57 others in a rampage that spanned four locations.
Jon Ungphakorn, a former Thai senator, wrote on Facebook that Thailand should have "strict gun control and restrictions like Japan, England and many European countries" but added that it would require a citizen-led government to be realized.