Defense Secretary James Mattis defended his commander in Afghanistan just days after NBC News revealed that President Donald Trump suggested the four-star general be fired during a meeting with his national security team last month.
Speaking to reporters at the Pentagon on Monday, Mattis said that allies around the world have confidence in Gen. John Nicholson, but he would not say if Trump also does.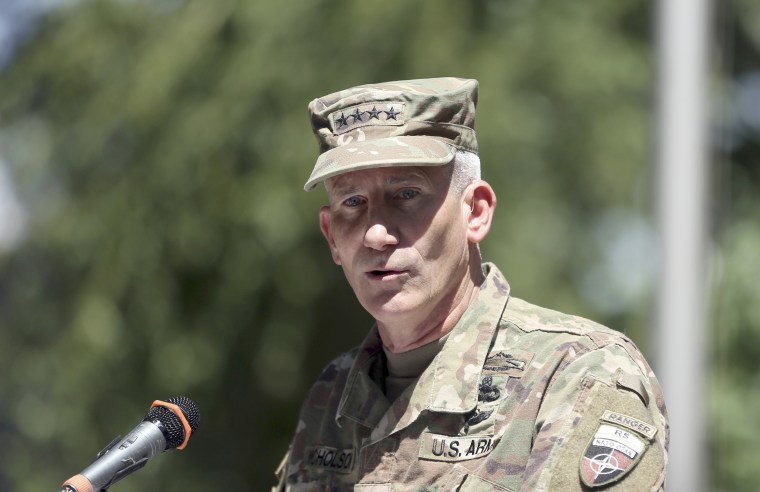 Asked whether he supports Nicholson staying on the job, Mattis said, "Of course." But questioned about whether the president shares that view, Mattis said, "Ask the president."
"I will tell you right now he is our commander in the field," Mattis said of Nicholson. "He has the confidence of NATO, he has the confidence of Afghanistan, he has the confidence of the United States and the president again is looking at all aspects of our effort over there as he must for his responsibilities as a commander in chief."
At a July 19 meeting in the White House Situation Room, Trump repeatedly suggested that Mattis and Chairman of the Joint Chiefs of Staff Gen. Joseph Dunford should replace Nicholson because he is not winning the war, senior administration officials told NBC News earlier this month.
Trump left the nearly two-hour meeting without making a decision on U.S. strategy in Afghanistan.
On Monday, Mattis said the long-awaited review of the strategy is nearly finished. "I believe we are close," he said. "We are very, very close." But he said a decision on whether to deploy more American troops has not been finalized.
All options remain on the table for the future of the U.S. military in Afghanistan, including a complete withdrawal and using more private security contractors, he added.