SINGAPORE — China's placement of weapons systems on manmade islands in the South China Sea is designed to intimidate and coerce others in the region, Defense Secretary James Mattis said Saturday, laying out a sharp criticism of Beijing at an international security forum and threatening larger consequences if militarization continues.
"China's policy in the South China Sea stands in stark contrast to the openness that our strategy promotes, it calls into question China's broader goals," said Mattis, who said he would be traveling to Beijing this month.
"The U.S. will continue to pursue a constructive, results-oriented relationship with China, cooperation whenever possible will be the name of the game and competing vigorously where we must ... of course we recognize any sustainable Indo-Pacific order has a role for China," he said.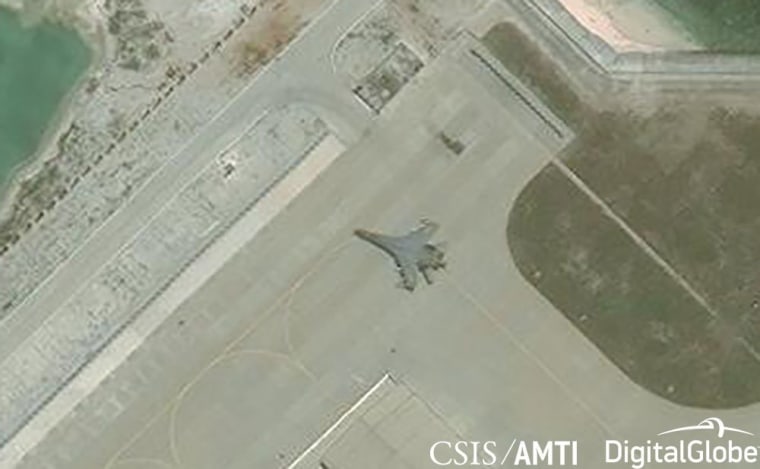 The Pentagon leader's comments at the annual Shangri-La Dialogue came in the wake of a tumultuous few weeks between the U.S. and China.
Last week the U.S. withdrew an invitation for Beijing to participate in the exercise known as Rim of the Pacific. China had participated in the exercise in 2014 and 2016.
The Pentagon said the decision to disinvite the Chinese Navy was triggered by what it called strong evidence that China has deployed weapons systems on the islands, and called on China to remove them.
The U.S. response to China's weaponization of the islands continued on Sunday, as two U.S. warships sailed close to the Paracel Islands, which lie north of the Spratlys. It was the latest freedom of navigation operation designed to challenge Beijing's claims. China protested the maneuver.
China says it is within its rights to build up defenses on islands in the South China Sea that it believes are its sovereign territory.
"Despite China's claims to the contrary, the placement of these weapon systems is tied directly to military use for the purposes of intimidation and coercion," Mattis said.
He acknowledged that China's militarization of islands was a reality but warned of further consequences.
"I believe there are much larger consequences in the future when nations lose the rapport of their neighbors ... eventually these (actions) do not pay off," Mattis said.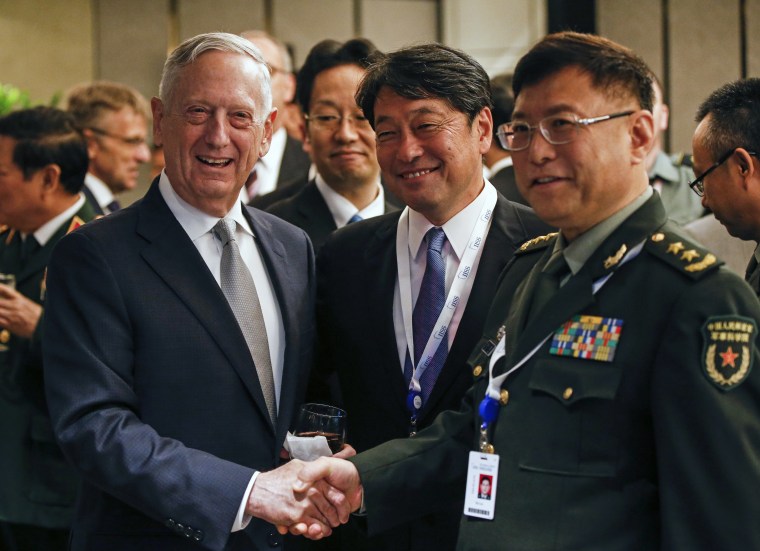 Mattis' comments triggered an equally pointed reaction from a Chinese official at the meeting.
He Lei, the head of the Chinese delegation to the dialogue, said the islands were Chinese territory and it was "a sovereign and legal right for China to place our army and military weapons there."
"We see any other country that tries to make noise about this as interfering in our internal affairs," said He, who is deputy president of the Academy of Military Sciences at the People's Liberation Army.
Mattis also sought to calm nervous allies in the region.
South Korea and Japan have expressed concern that Trump may put U.S. security interests ahead of theirs in pursuing a deal with North Korea.
Japan's Defense Minister Itsunori Onodera, who also spoke at the forum, said it was important not to reward North Korea for only agreeing to dialogue.
Trump announced Friday that the summit he had canceled with Kim Jong Un is now back on. The summit is expected to take place in Singapore on June 12.
Mattis said the Pentagon will "hold the line" and support the diplomatic effort to secure the "complete, verifiable, and irreversible denuclearization of the Korean Peninsula."
When asked if Trump's approach toward allies, including a recent decision to put certain tariffs on Canada, Mexico and the European Union, was unproductive, Mattis acknowledged that there had been "some unusual approaches".
"But I'm reminded that so long as nations continue dialogue, so long as they continue to listen to one another and to pay respect to one another, nothing is over, based on one decision," Mattis said.