MANILA - The Philippines raised the alert level at its Mayon volcano on Monday after a loud explosion in the wake of increased activity made a hazardous eruption likelier, prompting authorities to close all schools and urge residents to stay indoors.
Mayon, the country's most active volcano, has been spewing ash, lava, and pyroclastic material since Jan. 13, displacing close to 40,000 residents in the central province of Albay.
The Philippine Institute of Volcanology and Seismology (Phivolcs) raised its alert on Mayon to level 4, signifying a hazardous eruption is imminent, from level 3, which warns that such an eruption could be "weeks or even days" away.
"We strongly advise all people, both residents and tourists, to avoid the danger zone, and airlines to avoid flying near the volcano summit," agency chief Renato Solidum told a news conference.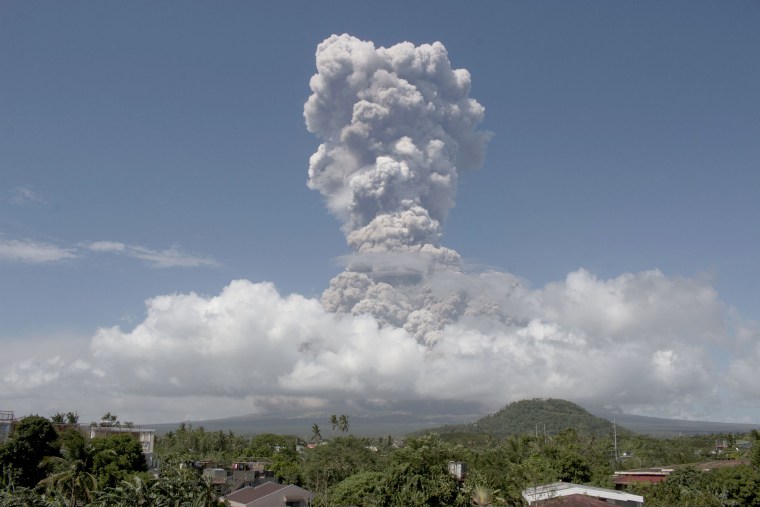 The danger zone around the 8,077-foot volcano has been expanded to a radius of 5 miles, he added.
Solidum said the agency had recorded increased seismic activity and "lava fountaining and a summit explosion" from Sunday night, indicating more explosions ahead, including a hazardous eruption.
A level 5 alert signifies a hazardous eruption is underway.
Albay province has run out of emergency funds and more people would be evacuated once government financial help arrived, said provincial governor Al Francis Bichara.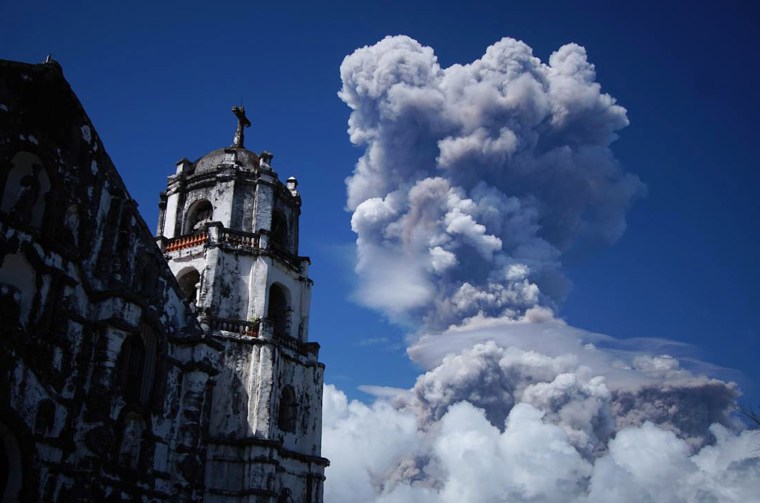 He ordered schools to suspend classes, amid ash fall warnings following the explosion at the volcano.
In nearby Camarines Sur province, with visibility being heavily obscured in a few towns because of the thick gray ash fall, Jukes Nunez, an Albay provincial disaster response officer, told the Associated Press by telephone.
"It was like night time at noon, there was zero visibility in some areas because the ash fall was so thick," Nunez said.
In Daraga, nine miles south of Mayon — and just outside the danger zone — Lynbee Navio said the volcano has produced an eerie rumbling that comes and goes.
It "sounds like thunder from afar," said Navio, a 29-year-old information officer in the Bicol region.
Photos, video and local news reports showed bright red lava spilling down the volcano's slopes. Plumes of ash and smoke rose as high as 16,000 feet, darkening the sky and blanketing the surrounding villages in a layer of gray ash.
At an evacuation center in the town of Guinobatan, six miles from the volcano, Lorafe Blancada, 29, said that people were wearing face masks or pressing wet cloths to their faces to keep from breathing in the ash.
Blancada's home is within the danger zone, and she spent the last week at the center with her two daughters, sleeping on pieces of cardboard and tarps on the crowded floor as they await a possible major eruption. "We're nervous. We're afraid, especially the children," Blancada said. "Even though we've done this before, there's no way for us not to be afraid."