Updated Friday 4:10 pm ET: Denis McDonough, one of President Obama's top foreign-policy advisers, will be named the president's chief of staff this afternoon, according to the White House.
"Denis has been one of the President's closest and most trusted advisors for nearly a decade, dating back to when he helped set up then Senator Barack Obama's Senate office," a White House official tells NBC's Kristen Welker. "He has relied on his intellect and good judgment ever since- most recently as a member of the President's national security team. In that capacity, Denis has played a key role in all of the major national security decisions - from ending the war in Iraq to winding down the war in Afghanistan; from our response to natural disasters in Haiti and Japan; to the repeal of 'Don't Ask, Don't Tell.' As a veteran of Capitol Hill, Denis understands the importance of reaching across the aisle to make progress for the American people -whether it's on jobs and economy, health care or education, reducing the deficit or addressing climate change."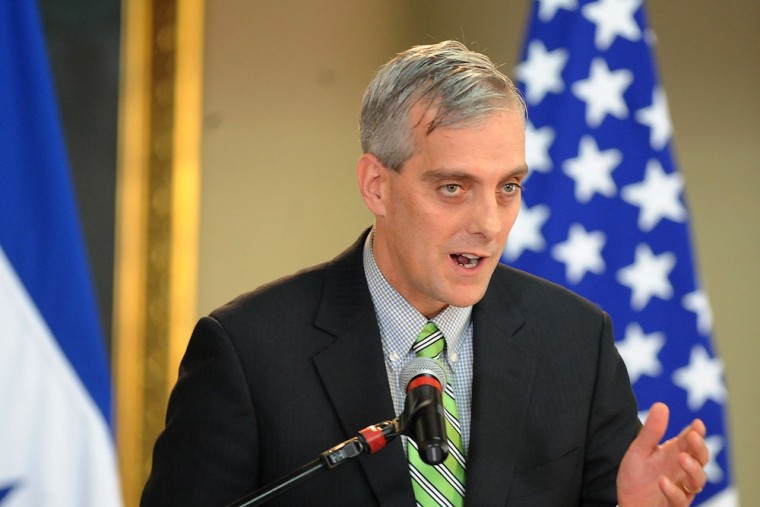 The president will make the widely expected announcement at 12:10 a.m. ET from the White House East Room as part of a slew of promotions for administration staffers.
McDonough will become Obama's fifth chief of staff, replacing Jack Lew, who was nominated by the president to become Treasury Secretary. Lew took over the post from Bill Daley, who was inserted in the post after Rahm Emanuel left the White House to run for mayor of Chicago. Longtime Obama adviser Pete Rouse briefly served as acting chief of staff between Emanuel's exit and Daley's entrance.
Five chiefs of staff is the most for a president in the modern era, since at least Harry Truman.
President Bill Clinton and Ronald Reagan also had four chiefs of staff. President George H.W. Bush had three, including James Baker, who also served in the position for Reagan, the only person to serve in the post for two different presidents in at least the last 50 years. President George W. Bush had two.
Rob Nabors -- the president's current director of legislative affairs, who was involved in the fiscal cliff negotiations -- will be named assistant to the president and Deputy White House Chief of Staff for Policy.
Tony Blinken will replace McDonough as assistant to the President and Deputy National Security Advisor.
Dan Pfeiffer, a 2008 Obama campaign veteran, who was White House communications director, will be named assistant to the president and senior adviser, a role held currently by David Plouffe. Jennifer Palmieri, who was the deputy communications director, will become director.
Other staff announcements: Danielle Gray will be named assistant to the President and Cabinet Secretary; Katy Kale assumes the title of assistant to the President for Management and Administration; Lisa Monaco will be named assistant to the president and Deputy National Security Advisor for Homeland Security and Counterterrorism (assuming John Brennan is confirmed as head of the CIA); Miguel Rodriguez will be named assistant to the president and director of legislative affairs, replacing Nabors; David Simas will become assistant to the president and deputy senior advisor for communications and strategy.