An aid convoy began to cross into Syria's eastern Ghouta on Monday, bringing the first relief to the besieged enclave since one of the deadliest government assaults of the seven-year war began two weeks ago.
However, the 46-truck convoy organized by the United Nations and key aid agencies was stripped of vital medical supplies before entering the rebel-held enclave.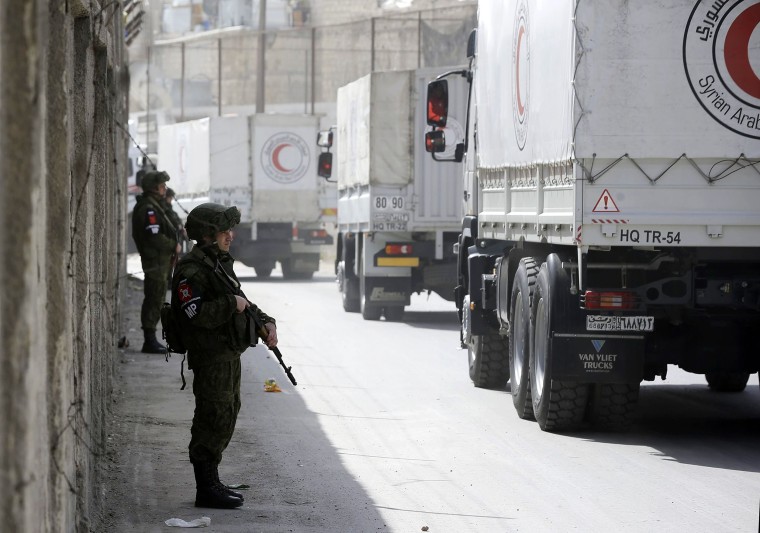 Tarik Jaserevic, a spokesman for the World Health Organization, said that many of the supplies in its shipment were rejected — including all trauma, surgical, and dialysis kits and insulin — during Monday's obligatory routine inspection conducted by Syrian authorities.
Eastern Ghouta is home to some 400,000 people. It has been under a crippling siege and daily bombardment for months. More than 600 civilians have been killed in the last two weeks alone.
The U.N.'s humanitarian office said the convoy with health and nutrition supplies, along with food for 27,500 people in need, entered the town of Douma in besieged eastern Ghouta.
Ali al-Za'tari, a senior U.N. official accompanying the convoy, told Reuters he was "not happy" to hear loud shelling near the crossing point into eastern Ghouta despite an agreement that the aid would be delivered under peaceful conditions.
Za'tari said the convoy had been scaled back from providing food for 70,000 people to providing for 27,500.
The United Nations says Syria has agreed to let it bring the rest of the food for the full 70,000 in a second convoy in three days.
"The convoy is not sufficient," Za'tari said.
The only previous U.N. delivery of assistance to eastern Ghouta so far this year was on Feb. 14, when a convoy with assistance for 7,200 people reached Nashabiyah, a town in the suburbs.
President Bashar al-Assad vowed on Sunday to continue a military push into the biggest remaining opposition stronghold near Damascus, saying the offensive did not contradict five-hour cease-fires arranged each day by his main ally Russia.
In comments broadcast by state television on Sunday, Assad dismissed Western statements about the humanitarian situation in eastern Ghouta as "a ridiculous lie."