Donald Trump, dogged by fresh allegations of making inappropriate advances toward women, has set his sights on an unlikely target: Mexican billionaire Carlos Slim.
Once referred to as the "richest man you've never heard of," Slim is a telecom tycoon who has risen the ranks of wealth all the way to top. Declared the richest man in the world in 2010 by Forbes magazine, this year, he's now sitting as the fourth richest, with a net worth of $50 billion.
The 76-year-old's investment portfolio includes more than 200 companies in Mexico, plus a variety of American companies, including the New York Times. With 17 percent of the paper's shares, Slim is its largest individual shareholder.
"He doesn't know anything about his personal life and to be honest, he doesn't care about his personal life."
That stake, plus Slim's history of generous donations to the Clinton Foundation, was used by Trump to suggest Slim is part of a media smear campaign against him. Trump said New York Times reporters are "not journalists, they're corporate lobbyists for Carlos Slim and for Hillary Clinton."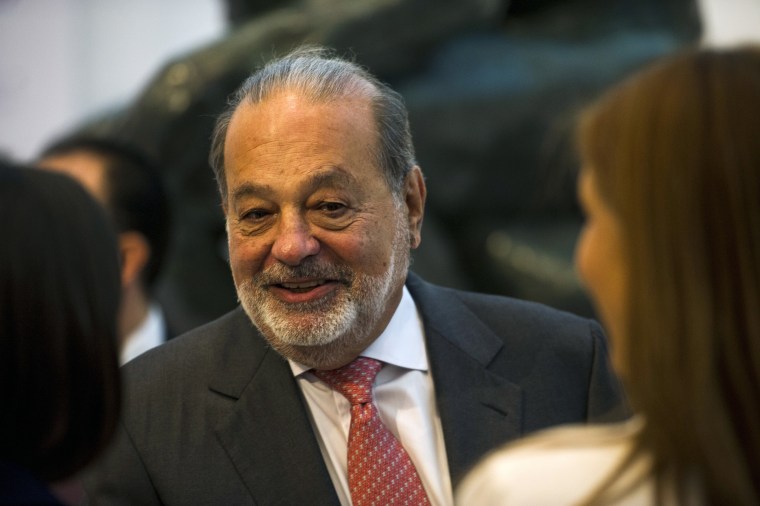 "These are lies being pushed by the media and the Clinton campaign to try to keep their grip. They are all false. They're totally invented," Trump said at a Greensboro, North Carolina, rally.
Related: Trump Imagines Shadowy 'Conspiracy' Behind Women Accusing Him of Misdeeds
"We're going to let foreign CEOs decide the outcome," he said. "We can't let this happen, we're not going to let this happen, where they decide the out come of our elections."
The Wall Street Journal first reported on Trump's intention to accuse Slim of working with The New York Times to help Clinton's campaign, days after the Times and other media outlets published detailed accounts from women who said Trump groped them or kissed them without their permission.
Slim's spokesman, Arturo Elias, told CNBC Trump's allegations about Slim were false.
"He doesn't know him. He's never met him in any way. He doesn't know anything about his personal life and to be honest, he doesn't care about his personal life," Elias said. "We never get involved in politics in Mexico, much less in the United States."
And the New York Times said Slim wields no influence over its reporting.
"Carlos Slim is an excellent shareholder who fully respects boundaries regarding the independence of our journalism. He has never sought to influence what we report," New York Times publisher and chairman Arthur Sulzberger, Jr. said in a statement.
Either way, Trump hasn't held back in expressing his distaste for Slim or the newspaper.
"I know why I get bad treatment in the New York Times: because it's owned by Mexico," Trump said at a campaign rally back in February. "I don't know if you know. A rich guy in Mexico actually has power at the New York Times. I wonder why they don't like us, you know? I just wonder."
Slim is a bit more than a "rich guy in Mexico": he dominates every aspect of the economy there. According to a 2009 New Yorker profile of him, almost every day, nearly every Mexican contributes to his bottom line.
Related: In Attacking Carlos Slim, Trump Invokes Mexico, Again
He came from impoverished beginnings. Slim was one of six children born to Lebanese immigrants in Mexico. He realized the value of investing young, opening his first checking account at just 10 years old and attending his first board meeting — for a mining company he thought he might want to put money on — when he was a teenager.
After graduating with a civil engineering degree, Slim started buying stock in companies and slowly started building his fortune. His big break came in 1982, when Mexico's economy plunged, and Slim invested in dozens of companies at record-low prices.
His empire grew to the point where some refer to Mexico as "Slimlandia," reported The Guardian in 2010: Mexicans get cared for at Slim's hospitals, they eat at his restaurants, they talk on his phones, and more.
Slim has donated at least $250,000 to $500,000 to the Clinton Foundation, according to the Wall Street Journal. Tensions between Slim and Trump peaked in 2015, when Slim's Ora TV network dropped a project it had been working on with Trump following the real estate tycoon's speech in which he accused Mexico of sending "rapists," crime and drugs to the U.S.
Related: Three-Day Work Week Would Make Us All Healthier, Carlos Slim Says
At the time, Trump was able to laugh about the friction between him and Slim. During an interview with David Letterman shortly after his Mexico comments, Trump said he knew Slim personally, and said, "He is a good guy."
When Letterman ribbed Trump about Slim being richer than him, Trump quipped, "I don't feel so good when you mention Carlos Slim."