TEHRAN — Man's best friend might not have too many pals in Iran, but they can count on Ghasem Fathalipour.
The soft-spoken Tehran native works as a taxi driver and runs a hostel in order to support his passion: helping the city's beleaguered canine community. Fathalipour says he usually spends between $300 and $400 a month of his own money on feeding and protecting dogs — a huge proportion of his income.
"I love animals, especially dogs," the 44-year-old told NBC News. "I just want them to be happy and fed, or at least fed before the municipality finds and kills them."
Local governments across the country poison stray dogs to stop the spread of diseases such as rabies and cut down on the packs that roam cities and their outskirts. And while a small number people have them as pets, dogs are deemed unclean by some Islamic scholars and are shunned by many across the Muslim world.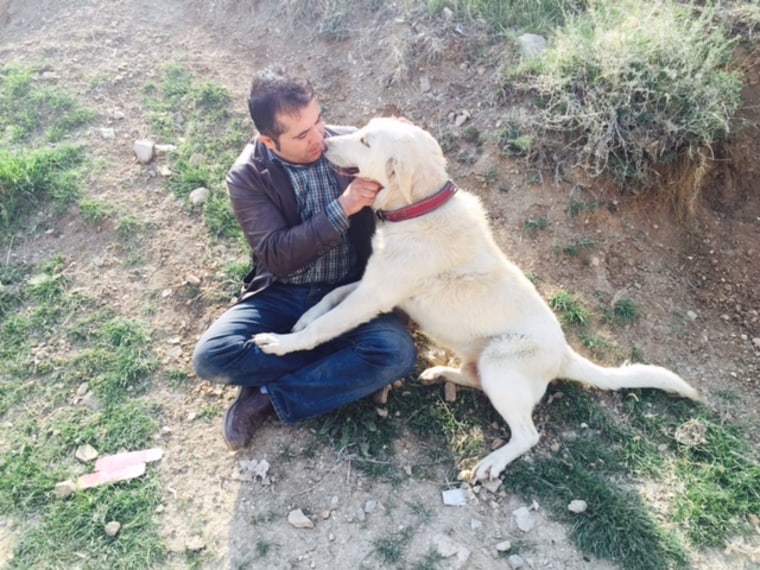 Around 14 years ago, Fathalipour decided to do something about the abuse and neglect he said he saw around him.
Since then he has built a routine. Around four times a week, he loads bags of chicken off-cuts into the back of his dented pickup and heads for mountains surrounding Tehran — a city of around 13 million.
On a recent such trip, clusters of dogs emerged from the dusty shrubbery to greet him when he reached the foothills. A handful of tail-wagging mongrels surrounded Fathalipour's vehicle as soon as it stopped.
"There are no more stray dogs in the city — they have all been killed."
The taxi driver distributed bits of chicken, making sure the dominant members of the pack did not gobble up more than their fair share. He also placed collars around some of their necks to try to make them look like pets and thus less of a target to municipal exterminators.
"The dogs are very clever, they know the sound of my car and come to me," he said. "Some of them also know the sound of the municipality car and run for cover," Fathalipour added, referring to the dog-catchers.
He tries to take the most vulnerable or frightened dogs to the makeshift shelter he set up and helps finance to make sure they he can give them their vaccinations and then hopefully find them homes.
When Fathalipour set up the refuge nine years ago, it was only the second in Iran — now there are about 15 throughout the country.
Fathalipour says he's recently noticed a shift in attitudes toward dogs. There is growing awareness of their mistreatment on social media, regular citizens are adopting dogs and even the occasional pro-dog protest, he said.
He points to a horrific incident in the city of Shiraz last year. Two municipality workers were filmed torturing dogs to death by injecting them with acid. The footage went viral in April 2015 and sent shock waves through the country. At one point a crowd of protesters gathered outside the local government building.
"The authorities came out and listen to them," he said. "A few years ago they would never have listened things are changing — slowly but they are changing."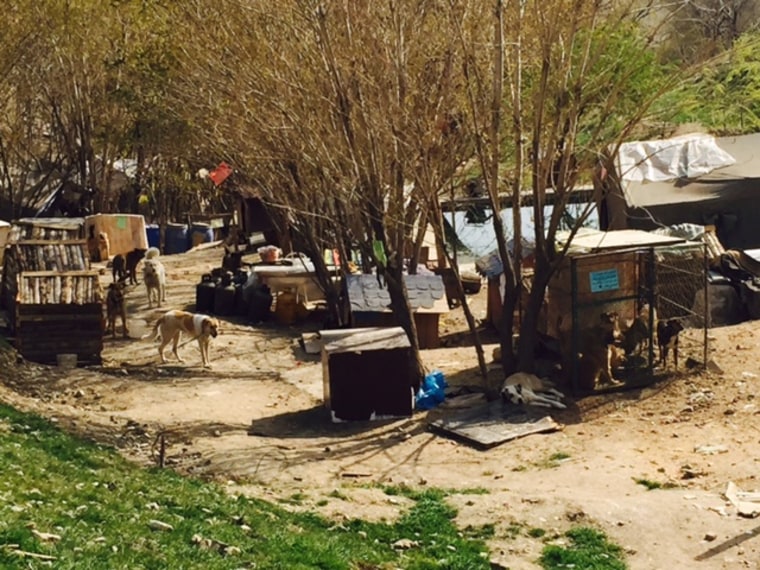 But, he says, there is still much to be done. When asked why he does look for and feed stray dogs in the center of the Tehran, Fathalipour becomes somber.
"There are no more stray dogs in the city — they have all been killed," he said. "A stray dog wouldn't last a minute out here."
Officials at Iran's Environment Ministry, which is in charge of keeping track of stray dogs and controlling their numbers, did not respond to NBC News' requests for comment on this story.