SEOUL, South Korea — In American and South Korean tabloids, the wife of the North Korean dictator has achieved an unusual degree of celebrity.
She is, in a sense, the Kate Middleton of North Korea, and perhaps the nation's second most iconic millennial-generation member, behind her husband, Kim Jong Un.
For months, publications have been quick to release "details" of the singer's supposed home-made pornography. According to unproven reports, Kim Jong Un ordered the execution of nine members of her former orchestra, the Unhasu Orchestra, for similarly making and selling sex videos.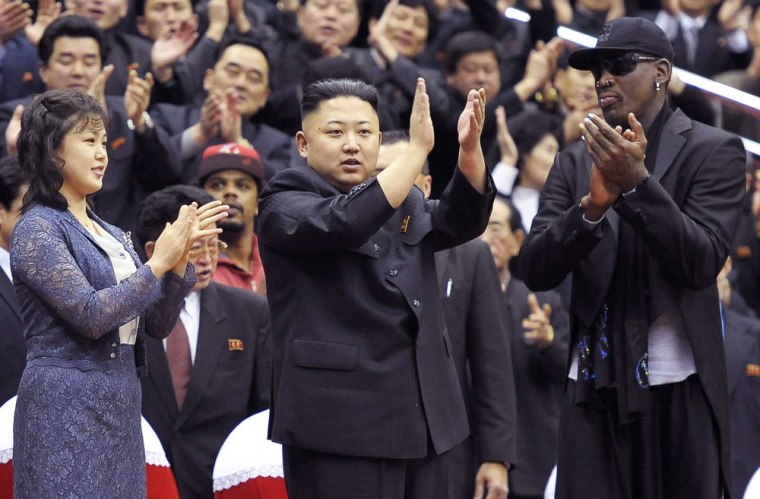 The porn rumors are "just non-sensical," according to Adam Cathcart, North Korea expert at the University of Leeds. "If a film is 'for sale in China,' as the rumor insisted, then it is going to be locate-able," he said to GlobalPost. "Not only that, but these would be well-known individuals in North Korean society. You don't spend your life learning the violin, win a competition in Russia, and play with a French orchestra in Paris all with the backing of the state and then start making pornographic films."
Still, interest in Ri Sol Ju as a celebrity doesn't seem to die.
This month, the South Korean newspaper the Chosun Ilbo alleged a former love triangle — detailing how the former singer won a fierce battle for her kingly husband.
Drama and romance aside, the real story behind Ri Sol Ju — even down to her true age — remains a big question mark. That's thanks in part to North Korean state media, which have opted to keep the details of its ruling family largely secret, peddling narratives of legend and triumph.
According to the prevailing account, Ri was born around 1984 into a well-to-do family in the northern city of Chongjin, now a lively trading hub near the Chinese border. After an exhaustive vetting process by Kim Jong Un's aunt, one of the most powerful figures in the country, the couple wed in 2009 or 2010.
At the time, the current leader's father, Kim Jong Il, was still on the throne but suffering from poor health. His third and youngest son, Kim Jong Un, had not yet emerged as the most obvious successor.
But Kim Jong Il died of a heart attack in December 2011, an event that appears to have brought Ri into the public eye. She made her first state media appearance at his funeral, according to the North Korean Leadership Watch, the go-to blog for tracking the nation's elites.
Since then, she's become renowned for her progressive sense of style, apparent taste for designer handbags, and her grace and beauty as a former Unhasu Orchestra singer.
But other than that, little is known about Ri and her daughter, who is thought to have been born in 2012. "You'll find more about her in the American and Japanese media than [in North Korea's news service]," said one defector in Seoul who asked not to be named. "Whether what the American media say is true, well, a lot of statements about North Korea are not true everywhere in the world."
In fact, foreign intelligence services or academic experts are rarely knowledgeable on Ri. Two North Korea experts contacted by GlobalPost were equally baffled on where to dig up reliable information.
Rather, the only known first-hand accounts come from a few unexpected eccentrics: retired dribbler Dennis Rodman and Kim Jong Il's former sushi chef, Kenji Fujimoto. 
The duo is a rarity in managing to get close to North Korea's inner sanctum — or at least in telling the world about it.
In the 1980s and 1990s, Fujimoto worked as the Dear Leader's personal sushi chef in Pyongyang, where he met Kim Jong Un as a toddler. On an invitation from the boy dictator, Fujimoto returned to Pyongyang in September 2012.
There, he met Ri for the first time. "She is just so charming. I cannot describe her voice, it's so soft...," he told CNN. "She said to me, 'Welcome to the republic. Our comrade the Supreme Commander missed you the most. He was always talking about you. Thank you for coming.'"
After saying goodbye, she handed him a Christian Dior handbag.
More recently, Rodman has made two trips to North Korea in March and September 2013. Speaking to The Guardian, Rodman supposedly slipped up and accidentally revealed the secret name of Ri's baby. "I held their baby Ju-ae and spoke with Ms. Ri [Sol-Ju, Kim's wife] as well," the retired dribbler told The Guardian.
Another interpretation: Rodman appears to have been deployed to help humanize Kim Jong Un, and — ironically — to make him appear more mature, argues Cathcart.
"The function of the unseen child is to make good on all the Party propaganda about Kim Jong Un acting as a 'father' (or sometimes 'mother') to the childlike North Korean people. He may not be 30, but at least he knows how to be a father, and can be imagined as a parental figure, not a kid on rollerblades or the basketball court."
Meanwhile, "Rodman meets the kid to spread the word to the outside world that Kim is human. Of course the day that news was being released, all these porno/execution rumors started, indicating that counter-propaganda — if in fact that's what these rumors add up to — is working quite effectively."
This story originally appeared on GlobalPost.
More coverage from GlobalPost: