Three large wildfires burning in southeastern Australia could merge into one colossal "mega-fire" and threaten the suburbs of Sydney, officials warned Monday.
A state of emergency was put into effect in New South Wales on Sunday after more than 200 homes were destroyed and many more damaged beyond repair by the country's most widespread bushfires for more than a decade.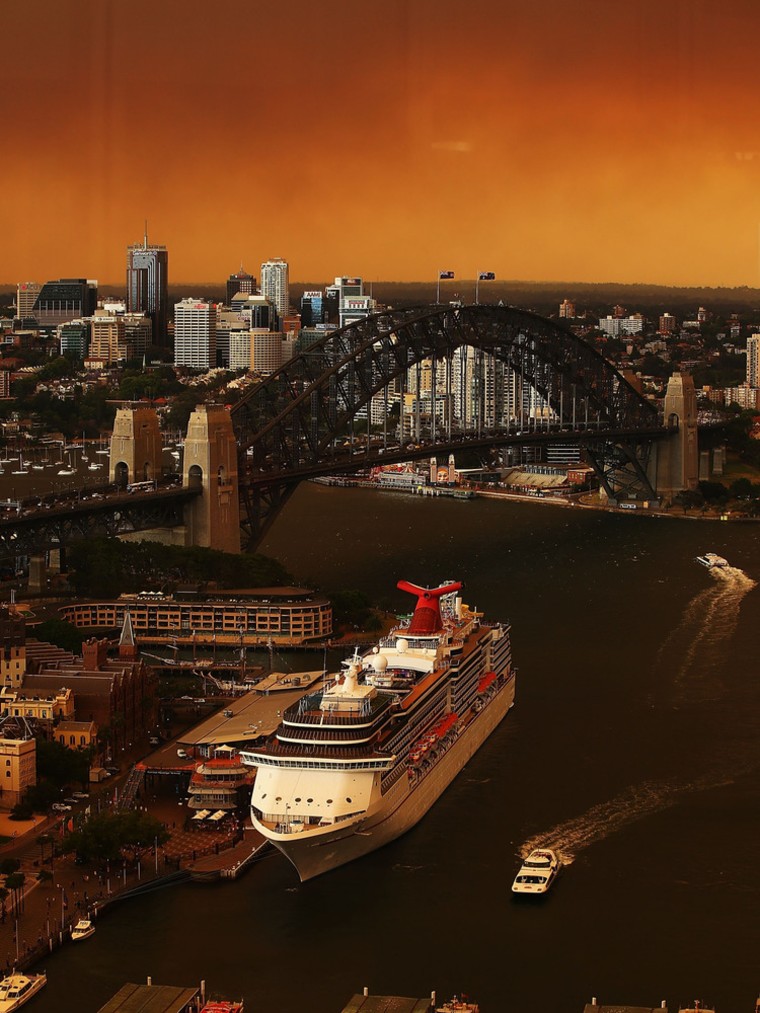 More than 62 wildfires were burning across the state by 6 a.m. Tuesday local time (3 p.m. Monday ET), of which 14 were raging out of control, according to Channel 7 News, which reported that 120,000 hectares were ablaze or had been destroyed. 
The largest blaze has a 190-mile front and was burning just a two-hour drive from Australia's largest city.
The fires have created dramatic scenes in the skies over Sydney, which is home to 4.6 million people, with some of Australia's most famous landmarks framed by black smoke and a red glow from the horizon.
"We are worried these [three] fires have the potential to join up and become a mega-fire," New South Wales Fire Inspector Andrew Luke told NBC News. "We are focusing back-burning operations in an attempt to stop this happening but conditions over the next 48 hours are deteriorating and it's really going to come down to how these develop."
About 1,200 firefighters were battling blazes across the state. New South Wales Rural Fire Service Commissioner Shane Fitzsimmons said personnel had volunteered to help from across Australia, and even New Zealand.
This effort on the ground is being backed up with 83 aircraft which were dropping water on the flames from the air.
In an emotional tribute to the work of his colleagues, Captain Bill Shields of the New South Wales Rural Fire Service described firefighters in an interview with the Sydney Morning Herald as "ordinary people doing extraordinary things."
The 190-mile wide blaze was burning near the town of Lithgow, in the Blue Mountains region. A second smaller fire was directly to its south and a third fire was raging to the southeast.
This third fire is "on the doorstep" of Sydney, burning near the suburb of Springwood. If this fire merges with the other two -- forming a "mega-fire" -- officials are worried their chances of containing the blaze will be severely reduced.
The firefighters' task ahead looked to be even harder Monday with news that thunderstorms forecast through the week would not bring as much rain as first thought.
"Most of the thunderstorm activity will be unaccompanied by moisture," Fitzsimmons told a press conference. "There are some reports of rain but it has not been extensive, and the potential for rain on Tuesday evening has gone. We are being told to expect 2 mm [0.08 inches] at best, which is inconsequential in terms of a firefighting effort."
Meanwhile, fire officials said they had arrested five people on suspicion of lighting smaller blazes just two hours' drive north of Sydney, near the city of Newcastle.
An 11-year-old boy was among the arrests and has since been charged with "two counts of intentionally [causing a] fire and be reckless as to its spread," the New South Wales Rural Fire Service said.
His arrest comes after a fire which burned more than 12,000 acres of bushland in the nearby area of Port Stephens.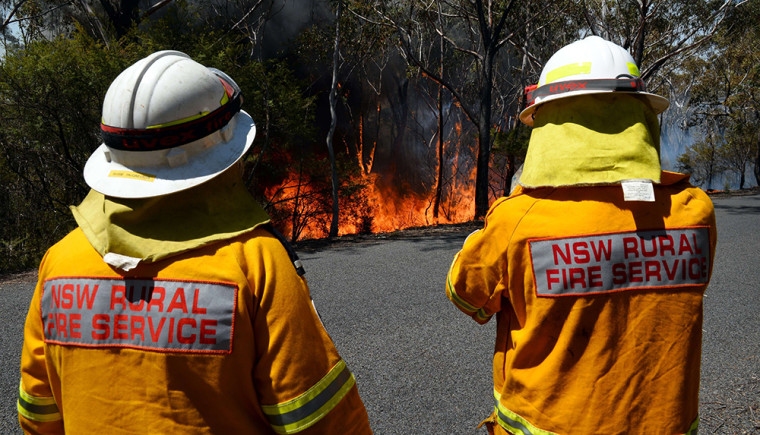 The wildfires have been extraordinarily intense and early in an annual fire season that peaks during the southern hemisphere summer, which begins in December. 
Wildfires are common in Australia, though they don't tend to pop up in large numbers until the summer. This year's unusually dry winter and hotter than average spring have led to perfect fire conditions.
In February 2009, wildfires killed 173 people and destroyed more than 2,000 homes in Victoria state. 
The Associated Press contributed to this report.
Related: