LONDON — Meghan, the Duchess of Sussex, has dismissed a U.K. media report claiming that she decided to skip King Charles III's upcoming coronation over his response to a letter she sent him about "unconscious bias" in Britain's royal family.
Both Buckingham Palace and representatives of the Duke and Duchess previously confirmed that Prince Harry would attend the coronation without Meghan, who plans to remain in California with Prince Archie and Princess Lilibet.
The coronation will occur on Archie's 4th birthday.
"The Duchess of Sussex is going about her life in the present, not thinking about correspondence from two years ago related to conversations from four years ago," a spokesperson for the Sussexes told NBC News. "Any suggestion otherwise is false and frankly ridiculous."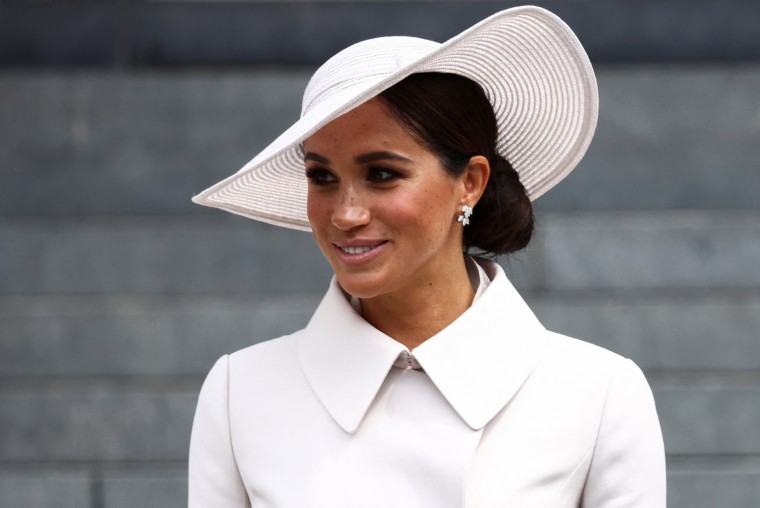 "We encourage tabloid media and various other royal correspondents to stop exhausting the circus that they alone are creating," the spokesperson added.
The comment comes after a report in British newspaper The Daily Telegraph citing an anonymous source claimed that Meghan would not be attending the May 6 event over the king's response to concerns she raised about unconscious bias — beliefs and stereotypes that people may not be fully aware they carry — following her bombshell interview alongside Harry with Oprah Winfrey in March 2021.
NBC News was not able to independently confirm these details and Buckingham Palace declined to comment on the report.
During the interview, Meghan had said that a member of the family had made a comment speculating on how dark their then-unborn son's skin would be, sparking widespread outcry and questions around who made the comment.
A spokesman for Charles, then heir to the throne, previously dismissed claims that he had discussed the subject.
In the immediate aftermath of Harry and Meghan's interview with Oprah, Buckingham Palace issued a statement saying the royal family was "saddened" to learn the extent of the challenges faced by Meghan and Harry.
"The issues raised, particularly that of race, are concerning," the statement said. "While some recollections may vary, they are taken very seriously and will be addressed by the family privately."
Prince William also previously commented on the interview, saying in March 2021 that the royals are "very much not a racist family."
The king's coronation will see Harry reunited with the rest of the family for what appears to be the first time since the release of his tell-all memoir, "Spare."
It had previously been unclear whether Harry or Meghan would participate in the major event in the wake of their announcement three years ago that they would "step back" as senior royals.
The lingering animosity between the sides was on full display recently in the Netflix series "Harry & Meghan," in which the couple also discussed the subject of unconscious bias.